As Jacque Heim, Artistic Director of Diavolo Dance Theatre, told the audience at Sunday's Lester Horton Dance Awards, "Dance is always on the verge of being extinct, like a rare animal." In a city where film is king and "movement" is something you pray for on the gridlocked 405 freeway, the art of dance is indeed an endangered species. Yet in the careful hands of the Dance Resource Center of Los Angeles and in the close-knit dance community itself, concert dance has found a loving protector.

The Lester Horton Awards are sort of the Oscars of Los Angeles concert dance, and Sunday's presentation certainly had that awards show feel, complete with live performances and tributes, rambling speeches, and genuine heartfelt moments.

The awards are named for the late Lester Horton, who was the first choreographer to have an integrated black/white dance company in the 1950s. The diversity of dance styles performed by his company - jazz, modern, tap, and world dance, among others - was certainly reflected in the evening's nominees. Yet as far as the actual winners went, there actually wasn't that much diversity, since the prolific Pennington Dance Group, led by John Pennington, won half of all the awards.

Pennington, a protégé of the late Bella Lewitzky's modern dance company, won the Horton for Best Male Performance for "Reflections on Kreutzberg;" Short-form Choreography for "Out Of;" and Revival, Restaging or Reconstruction both for "Reflections on Kruetzberg" with Emma Lew Thomas and for "Spaces Between" with Diana MacNeil. He also took home an award for Excellence in Teaching. Pennington pieces were further honored for technical achievement in lighting (Andrew N. Milhan for "On the Brink of Time"), music (Paul Des Marais for "Reflections on Kreutzberg") and set design (Newell Taylor Reynolds for "Spaces Between").

The other multiple winner of the evening was Linda Sohl-Ellison, artistic director of Rhapsody in Taps, who took home Hortons in Long-form Choreography for "Stroke of the Oarsmen" and in Company Performance for "Banderillas" and "Stroke of the Oarsmen."

Receiving one award each were Sarandon Cassidy and Rogelio Lopez G for Small Ensemble Performance for Ptero Dance Theatre's "Orpheus and Eurydice;" Maria Gillespie for Best Female Performance in Oni Dance's "Bandits;" Jill Sanzo's "Celebration of Dance" for Production of Festival or Series; and Monica Favand for Costume Design for Ptero Dance Theater's "Where the Body Ends."

Interspersed between the awards were morsels of dance performance: Jim Peace and Lisa Clyde's tribute to Fred & Ginger, a smashing 1940s tap tribute by Sean and John Scott along with Sarah Reich, and a sort of robotic modern piece by man of the evening John Pennington.

The real show Sunday night, however, was not in the dance. It was in the presentation of special awards to lighting designer Eileen Cooley for Service to the Field, to eccentric dance journalist and sometime harpist/public-access show host Victoria Looseleaf for Furthering the Visibility of Dance, and to legendary dancer/choreographer Jaime Rogers for Lifetime Achievement. Jacque Heim's introduction of Ms. Looseleaf brought down the house as he poetically played with the meaning of her name - perhaps Looseleaf refers to Eve in the garden, he mused. A nearly-naked "Adam" escorted her to the stage carrying a juicy red apple.

The dance finale conceived by honoree Jaime Roberts was titled "Rambling Thoughts/Eclectic Impulses," and, in all deference to this unparalleled Broadway and Hollywood choreographer, this pretty much described the acceptance speech for his award. If this had been the Oscars, the musical hint to wrap up would have played several times over. Still, in its spontaneity and authenticity, it embodied the spirit of honoring dance.

Perhaps the most moving acceptance speech was given by Eileen Cooley, who said of the Los Angeles dance community, "I know you by how you dance." Simply and elegantly, this statement defined the intimacy and generosity of the evening and spoke to the power of concert dance itself, in which to express oneself through movement is to be known.
Linda Sohl-Ellison
Photo © & courtesy of Craig Schwartz
---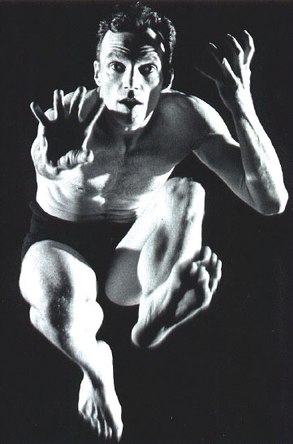 John Pennington
Photo © & courtesy of Chris Campolongo
---
Hearing Change - Denesa Chan
Photo © & courtesy of Tim Agler