The world of dance is big, and here in New York, it's thriving. From classical ballet at Lincoln Center to the downtown modern scene, companies are more experimental and groundbreaking than ever, constantly pushing the boundaries of dance, striving toward new heights of innovation in choreography and movement. Yet in the midst of this exciting growth, the dancers seem to stay small, sometimes to terrifying extremes.

The pressure society puts upon women to be thin is weighty, and the prejudice against fat women is palpable. This discrimination is arguably felt most strongly in the dance community, as female dancers are expected to embody an unnaturally thin figure. Pressure is applied from an early age, and dancers are often completely disregarded if they fail to meet these daunting physical demands.

"You start hearing stories about how people get pushed out of dance because of their size."

Meet Marina Wolf Ahmad, a big woman with an even bigger vision for the future of dance. Marina is the director and founder of Big Moves, one of the only organizations in the world dedicated to getting all body types into the dance studio and onto the stage.

A native of San Francisco, Marina first started dancing at the ripe old age of twenty-eight in a class offered at her gym. Hungry for more serious training, she began taking classes at a local community college, and was eventually taking so many classes that her dance advisor suggested she work toward obtaining a certificate. During her time studying in the community college environment, Marina started feeling the need for more size acceptance in dance.

"The majority of the feedback from the instructors was not supportive. And the students - I was definitely made to feel isolated and alienated in class."

Marina found herself feeling strong and powerful in her improving dance ability, but without any outside support. She began questioning women at size acceptance conferences about their own relationships with dance, past and present, and started to hear stories of how unwelcoming the dance community has been to overweight women.

"At age twelve or thirteen when you start developing tits and ass, as that song goes, and your teacher says, 'You're too big for ballet,' most pre-teens are going to drop. They can't handle that - it's devastating."

Hearing these stories, Marina realized that there was much work to be done.

"There's a need to offer a healing, supportive space for these women to get back into dance, and there's a need to start working toward supportive youth programs that train the dance teachers to be accepting of all sizes that come through their classes. Dance is such a wonderful thing, and everyone should have access to it, and there's a difference between wheelchair access' and real emotional or psychological access - right now, dance is not psychologically accessible to most people."

The first official Big Moves event was a community service project Marina coordinated while working toward her dance degree. This day long series of dance workshops, which took place in November of 2000, featured both dance classes and discussion groups on size acceptance in the dance world.

By the Spring of 2001, Big Moves had produced it's first show, Bodies in Motion, a modern showcase which featured both original works created for Big Moves and pieces performed by guest artists from other companies. Since then, Big Moves has given rise to several of it's own performance groups such as the modern ensemble, Mass Movement, and the hip-hop troupe, Phat Fly Girls.

The overall reception of Big Moves in San Francisco was positive, and Marina found that the majority of the dance community understood the need for more size acceptance and diversity. Big Moves continued to expand in California, and when Marina moved to Boston in 2004, she brought Big Moves with her to the east coast.

Big Moves hit the ground running in Boston with a sassy sexy vaudeville flavor, focusing on more popular dance styles such as hip-hop, jazz, musical theater, and belly dance, while also incorporating performance styles such as spoken word and comedy. Their first east coast performance took place in Cambridge, Massachusetts during the spring of 2005.

And now, Big Moves is preparing to present their first official New York performance November 3rd and 4th in a two-night engagement at the Interborough Repertory Theater in the West Village. Gargantua: Fear of a Fat Planet, an "out-of-this-world sci-fi dance odyssey," is a full-fledged musical complete with a score of popular songs, dancing, and an original script to hold it all together.

Gargantua: Fear of a Fat Planet is the story of a plus-sized space captain who is sent on a diplomatic mission to the planet Gargantua. In act one, the captain meets and befriends the Gargantuans, who live in a paradise of dance, feasting, politics, philosophy, and size acceptance. But their utopia is threatened when the evil Dietrons invade! The Gargantuans repel the attack, and the second act is a celebration of Gargantuan proportions! Think of it as a futuristic Nutcracker.

The members of the New York company hail from diverse backgrounds, but most everyone has dance or movement experience. Currently, the company is made up of seven dancers, but that number is expected to grow as word gets out about Big Moves.

"At Big Moves, we take pride in welcoming all body sizes and shapes. Most plus size performance projects enforce a glass ceiling, where it's okay to be plus sized, but only to a certain point. There's still kind of a notion of what female beauty should be. Big Moves will take all shapes all sizes as long as you come to rehearsals, get better, and are really dedicated to dancing. Not just fat people - all sizes."

Although Big Moves is still a new organization, Marina has big dreams for it's future, which include more touring productions, tackling age discrimination and stereotyping in dance, a series of books and videos, a clothing line, and the possibility of a ballet company! However, the most important advancements will come about through the education of the dance community. Marina is planning to create a national Big Moves credentialing program for dance teachers focusing on both body mechanics and, more importantly, learning support and acceptance for dancers of all sizes.

"The growth is going to be in youth services and training services, and then, over time, because of the work in those areas, we're going to see more dancers of different sizes come up. I want this to be a career destination for people. I think a lot of times the young girls don't see people like them out there dancing, so they can't even dream about it. Not that every little ballerina goes on to become a grown up ballerina, but by expanding the vision of who that role model is, we're going to keep people invested in that dream for a lot longer. I mean people drop out of dance because they feel badly about their bodies, and they're not plus-sized! We're there for the thin dancer, we're there for the fat dancer, we are there for every dancer who wants to dance regardless of their body size, and we are there to change the world that they are dancing in so they can feel comfortable there again. I think that's the power we can bring."

While the future of Big Moves is bright, Marina admits her many dreams will take time to be fully realized. Conquering such deeply rooted stereotypes and discrimination is no small task. However, remaining present and not underestimating the power of simply "showing up" will enable Big Moves to do more than just turn heads.

"We have to be out there showing that fat people can contribute to the artistic content of a genre, that we can perform things that move people. Part of the prejudice against fat people is that we can't do those things, so we have to shift that, and part of that is just showing up and doing it. We don't know who's being affected. We just have to keep showing up and doing as much movement and dance as we can. It's more fun for us, and it's more persuasive. All the words and all the articles in the world are not going to show people what it's really like. You have to see it. Good dance bypasses words, and good size diverse dance will make that change deeper and stronger than anything else."

In the end, the size accepting dance community is small, and here in New York, it's just getting started. But thanks to Marina Wolf Ahmad and Big Moves, the dance world has been given a chance to make a difference. If we can accept dancers and their bodies as they are in the present moment, the opportunities for artistic and personal growth are huge. And that is truly big.


---


Gargantua: Fear of a Fat Planet, Friday and Saturday, November 3-4, 2006.
Doors at 7:30 pm, curtain at 8 pm, Interborough Repertory Theater, 154 Christopher Street.
Tickets: $15/advance, $17/door (adults); $10/advance, $12/door (children under 17).
For advance tickets, visit www.bigmoves.org,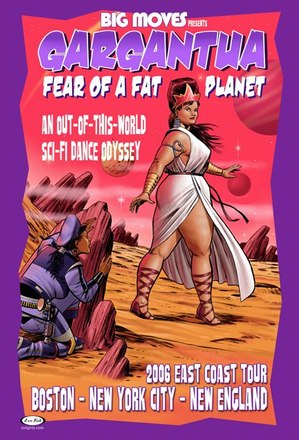 Photo © & courtesy of Big Moves