CHICAGO CHILDREN'S THEATRE
PRESENTS

4-ISH

At The
Harris Theater for Music and Dance
Millennium Park
205 E. Randolph Drive
Chicago, IL 60601
312.332.7777

January 19 to 28, 2007

Chicago Children's Theatre
Jacqueline Russell: Artistic Director:
Claude Binder: Executive Director:

ISH
Marco Gerris: Artistic Director
Gerard Cornelisse: General Manager
Geraldine van Oversteeg: Executive Foreign Accounts
Arvid Silor: Production Manager
Mike den Ottolander: Lighting Design
Jan Willem Crul: Technical Art Director
Nick Harkin/ Allison Yates: Public Relations
United: Exclusive Production Sponsor

Cast
Marco Gerros: Artistic Director, All-Around Performer
Thor Vandenbossche: Beat Boxer
Micka Karlsson: Acrobatics
Ken Shrisangkhan: Martial Artist
Tio Eerhart: Half Pipe Skater
Sven Boekhorst: Half Pipe Skater
Chris Frank: Roller Skater
Lotte Lammers: Roller Skater
Raphael Hillebrand: Break Dancer
Sebastiaan Ramirez: Break Dancer
Irie Weergang Bove: DJ
Liam O'Callaghan: Acrobatics, Break Dancer
Niels van der Steen: All-Round Street, Break Dancer

Exploding onto the stage with some of the most daring and clever acts seen in a long spell, ISH whipped up a fun storm in their seventy-minute-long performance 4-ISH. The audience was crowded with people who looked to range from six to don't-ask, don't-tell, quite the cross- generational demographic with clumps of teens spanning the wonder years sitting alongside couples with nary a grand in sight.

Stage height banners bathed in blue light, curved ramps flanking the rear stage, a live DJ at his station, and a video screen above him were all that ISH needed for the vignettish acts. They tumbled one after the other in such quick succession that the audience got pumped higher and higher with enthusiasm to a crescendo of sound and movement more like the ecstatic high point of a symphony than traditional dance.

What is ISH? Described in a preview of their appearance, they are a gladly polyglot group of performers from Amsterdam, who have cobbled together a blurring array of talents into an act that is both MANGA and vaudeville. Two women and eleven men skated, danced, flew through aerial acrobatics on inline skates, tap danced, mugged, hipped and hopped and moved without stop. People around me were almost whirling out of their seats with the energy projected from the stage.

Marco Gerris, founder and creative genius behind the production has combined kid kultur with the outer reaches of body movement and brought them to the mainstream. His, and the company's obvious sense of humor immediately made the twisted hats, baggy pants (There's a reason for the looseness, folks!), and alternative color combinations playful instead of mildly threatening. When performers are spinning on their heads and twisting through break dance moves, they need freedom!

Thor Vandenbossche, billed as the "human beat boxer" kept the pace of the show moving. A beat box makes rhythm and sound. Thor did that using his brilliant ability to create sound, voices, tones, and beats using only his mouth. He was fun and funny and probably drove people mad with his imitations and noises when he was a kid.

One vignette had the troupe gliding around a dark stage with the glowing red and blue lights attached to their skates, outlining every acrobatic movement. Another episode, disoriented what we saw with our own eyes as two black-clad dancers scuttled around with crablike movements, white face masks, vaguely reminding me of Japanese Noh theater, attached to the tops of their tilted heads. It was impossible to tell the gender of the figures with their animal movements and gracefully undulating arms.

A battle of virtuoso inline skating on the half-pipes was enough to give me vicarious vertigo as the two skaters, Tio Eerhart and Sven Boekhorst raced from the top of one form and flew up the other, grabbing air, flipping, grinding and stunting with split second timing. Thrilling and scary as this high-flying derring do was, a live cam recorded the skaters from up-close angles and at one point, a huge skating competition featuring Sven in a course of stunts was very much like stadium horse jumping.

Between the slapstick, cartoony skating on BIG wheels, martial arts kata, a dreamy acrobatic/skating pas de deux, and a hilarious skating disco dance parody with the crew clothed in spandex, nylon printed shirts and immense blonde and brownette fros to the immortal tune, Freak Out, there was the best number of the night.

Marco brought out a wooden pallet and started drumming on it. Before long everyone else joined him on their own sounding boards, and putting a new spin on an old musical dance standard, married skating and tap dancing in a hybridized chorus line. To my mind, dancing in unison, particularly when there is percussion involved, is primal and thrilling. Whether it's at the health club in a step class, watching a drill team, step dancing competition, or penguins moving en masse as in Happy Feet, the Goosebumps are the same.

For the finale, each performer was announced by name along with their special skill, reprising the talents that had been the traffic of the stage. Their performance, so filled with energy and life, once again demonstrated that there is always something new under sun, especially in the world of dance and movement.

As usual, I fueled up for the performance at a nearby restaurant. Giordano's on Randolph, known for its stuffed pizza, was the evening's choice, unfortunately, there wasn't time for that specialty. Instead, the tilapia oreganato entree, sautéed in olive oil with tomatoes, leeks, and mushrooms, couched on a bed of fettuccini, filled the bill along with a good tossed salad and plenty of hot, crusty bread. Service was excellent and I only had to cross the street to get to the Harris Theater on time.
4-ISH
Photo © & courtesy of ISH
---
4-ISH
Photo © & courtesy of ISH
---
4-ISH
Photo © & courtesy of ISH
---
4-ISH
Photo © & courtesy of ISH
---
4-ISH
Photo © & courtesy of ISH
---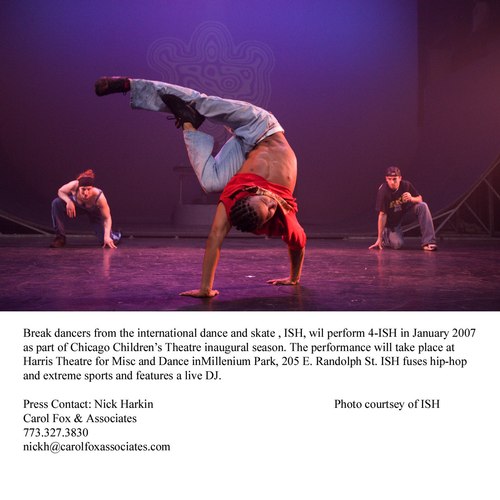 4-ISH
Photo © & courtesy of ISH