While many contemporary tango stage shows seem like venues for dueling tango couples striving to one-up one another, the atmosphere of TANGOX2's Su Historia ("Its History"), which played at New York's City Center from January 24 to 28, 2007, felt like a creative collaboration. Although all of the dancers were strong and solid, the orchestra crisp and emotive and the singers sensational, the show was clearly centered upon its founder, director, choreographer and lead dancer: tango maestro, Miguel Angel Zotto. Lip syncing the voice of a fedora-clad, English-speaking narrator, Zotto set out to tell the story of the company, TANGOX2, as well as the history of Argentine tango.

Although Su Historia did contain some of the obligatory tango show scenes (i.e. men practicing together during times in which it was frowned upon for women to dance tango, tango's beginnings in the brothels of Buenos Aires and tango's arrival to high society Paris), it did so in its own, artistic fashion. The first act chronicled not only historical tango events, but also its stylistic evolution, including demonstrations of such historic tango trends as the playful milonga, tango al revés (danced "backwards," with both partners facing in the same direction) and even the somewhat stilted American style. Emulated perfectly by the dancers in real time, simultaneous background video footage paid effective tribute to Zotto's idols and teachers.

Eulogizing modern tango music and dance, Act II's flashy moves, moods and costumes felt like something out of Las Vegas. Showing off his choreographic range, Zotto's restraint in the first act gave way to top-notch tango fantasia with flying jumps, high kicks and rapidly entangling limbs, as well as a piece in which the scantily clad bailarinas shimmied sultrily behind coiling bandoneones. Act I's elegant frocks were replaced by flesh-colored unitards, g-strings and a multitude of black lace, executed excellently by a talented team of costumers (Renata Shussheim, Jorge Ferrari, Maria Julia Bertotto and Daniela Taiana).

Consisting of a platform extending over the stage where the orchestra initially sat and across which the dancers later paraded, the TANGOX2 set was rather elaborate for a tango show. Constantly changing, eye-pleasing projections of such scenes as the streets of Buenos Aires, including the famed Obelisk, a high-class Parisian nightclub and a geometric, black-and-white backdrop appeared like intricate set changes, complimenting the ever-changing historic periods, choreographies and sentiments.

With proficient, nostalgic performances of such classic tango tunes as "Farol" and "Mi Buenos Aires Querido," male vocalist Claudio Garcés could not have been more tanguero. However, the stunning, caramel-skinned female singer, Vanesa Quiroz, stole the show with spine-chilling renditions of "El Choclo" and "Malena" among others, sending shockwaves through the audience.

And yet, despite the strength of its supporting cast, set, costumes and musical performances, the evening's highlight was most definitely Zotto himself. With inexplicably fancy footwork, he gave new meaning to the tango term, "embellishment," or an optional flourish added by the leader or follower without interrupting the dance's lead-follow flow. Often sliding across the stage on one leg, executing countless taps, scuffs, hops, circles and every other imaginable adornment, Zotto always managed to visually accent the complex tango rhythms and melodies as well as lead his numerous partners with elegance and precision. The consummate performer, he even showed off his Rock and Roll (Argentina's take on Swing dancing) skills, bursting into an energetic rendition of "Hound Dog."

As a merging of the troop's three previous shows, Perfumes de Tango, Una Noche de Tango and Tangos de la Cruz del Sur, a few TANGOX2 fanatics present in the audience could be overheard complaining about Su Historia's lack of new material. That said, historia has demonstrated that one need not "try to fix" what "ain't broke…" And, judging from the Company's successes over nearly two decades, Mr. Zotto has found such a formula.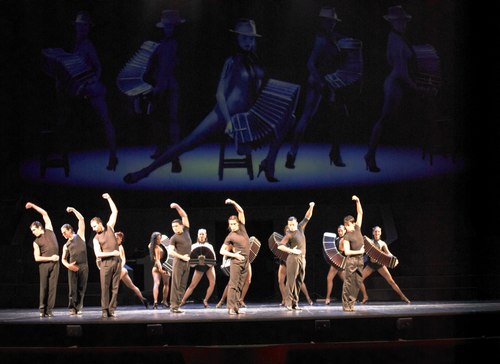 The company of Tango x 2 performs "Su Historia"
Photo © & courtesy of Tango X 2
---
Miguel Angel Zotto and Romina Godoy of Tango x 2 perform "Su Historia"
Photo © & courtesy of Tango X 2
---
Miguel Angel Zotto and Romina Levin of Tango x 2 perform "Su Historia"
Photo © & courtesy of Tango X 2
---
The cast of Tango x 2 in "Su Historia"
Photo © & courtesy of Tango X 2
---
Miguel Angel Zotto and Romina Levin in Tango x 2's "Su Historia"
Photo © & courtesy of Tango X 2