Since the mid-eighties when choreographer Doug Varone first started his company and came to the notice of dance writers, his work has been written about as if it were poetry or psychological literature. In her Jacob's Pillow Notes, writer and teacher Suzanne Carbonneau talks about a quasi-narrativity that suggests enigmatic and fraught situations in his work.

For some time Varone's been hiding out upstate, navel gazing at his past work and hoping to find a breakthrough to something new while occasionally touring older works. He felt he was repeating himself and needed to re-examine what he was creating and who he was. Some men who move to mountaintop cabins do strange, even dangerous things. But Varone turned a fraught situation into an opportunity. He came down from the mountain with a commission from Kansas City's Carlsen Center and something fresh to say in the work that resulted, which he calls Dense Terrain. It had its world premiere in Kansas on May 5. Varone comes home with the new work, giving it a New York premiere at Brooklyn Academy of Music May 16 – 20.

The Kansas City Star's Paul Horsley said it had clarity of design and purpose, but also the feel of an epic work. That has not always been true of earlier works like Aperture or Bel Canto, which each had a playful silliness to them. But with Possession, to Philip Glass's music, his dancers' tornadic traveling about the stage seemed to bring a new gravitas to his work. Later Varone took on George Antheil's player-piano and airplane propeller driven Ballet Mecanique. Choreographically, he couldn't quite meet its musical massiveness, nor did he channel its period avant-garde spirit.

Carbonneau also remarked of his choreography, "The limbs are propelled by movement that is initiated in the torso — the cradle of the heart – and it is directly from the heart that the movement ultimately seems to emanate."

I once asked Varone about that aspect of his choreography, most observable in the hard flung arm movements in many of his dances. They are especially violent or abandoned when he does them.

"Because they begin at the spine, mid-torso, they hurt my back and shoulder blades," he said. "But sometimes it's the only way to open the chest and suggest vulnerability."

For his evening length Dense Terrain Varone, who has won Obie and Bessie awards, once again relies on impressive music, this time by indie film composer Nathan Larson (Boys Don't Cry, Dirty Pretty Things.) Blueland Media created the video elements and set-designer Alan Moyer created a moveable environment. Literature plays an even more overt role in the character (actor Anthony Cochrane) of a scribe who uses spoken and written, but not always intelligible, language as a metaphor for how we are all connected.

Dense Terrain sounds like it may retain Varone's signature speed and the complex, dizzying movement that inform the emotional and psychological landscape of his dances. Yet it also implies his period of introspection may have brought new strata of meaning to probe in his work. Maybe going to the mountain clarifies your view.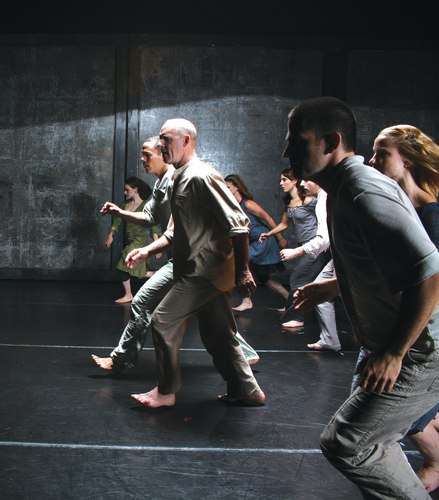 "Dense Terrain"
Photo © & courtesy of Phil Knott
---
"Dense Terrain"
Photo © & courtesy of Phil Knott