Practicing Swing
Photo © & courtesy of Robert Abrams
---
Donatas demonstrates Swing
Photo © & courtesy of Robert Abrams
---
Dancing with style
Photo © & courtesy of Robert Abrams
---
Donatas and Luisa Bykova demonstrate a turn in the lesson
Photo © & courtesy of Robert Abrams
---
Luisa Bykova provides personal attention
Photo © & courtesy of Robert Abrams
---
Donatas provides personal attention
Photo © & courtesy of Robert Abrams
---
Donatas explains the men's part
Photo © & courtesy of Robert Abrams
---
Hustle performance by Donatas and Susan McNamara
Photo © & courtesy of Robert Abrams
---
Hustle performance by Donatas and Susan
Photo © & courtesy of Robert Abrams
---
Hustle performance by Donatas and Susan
Photo © & courtesy of Robert Abrams
---
Food and drink
Photo © & courtesy of Robert Abrams
---
General dancing
Photo © & courtesy of Robert Abrams
---
Donatas and Heather Edwards perform Salsa
Photo © & courtesy of Robert Abrams
---
Donatas and Heather perform Salsa
Photo © & courtesy of Robert Abrams
---
An impressive drop
Photo © & courtesy of Robert Abrams
---
SparkleTutu, the successor to PinkTop, is a pink leotard with tutu liberally covered in rhinestones. SparkleTutu brightens up any room, even if most people wouldn't actually wear a tutu at a ballroom party (my 4 and a half year old neice might, though). SparkleTutu, and thousands of other dance clothing and shoes, are available at OnStageDancewear.com, a dance retailer providing friendly service whether you buy in their store or on the web. Watch ExploreDance.com for future appearances by SparkleTutu in all of the unexpected places we can think of.
Photo © & courtesy of Robert Abrams
---
Yes, I admit it. I brought my own juice to the party. I discovered CherryPharm cherry juice recently and fell in love with it. I now often carry around a couple of bottles to give away to people. It has a high amount of anti-oxidants, tastes great straight or mixed with vodka or water, and has none of that disgusting High Fructose Corn Syrup that is now found in nearly every sweetened beverage. The wine provided at the party was very good, but when that ran out and I needed to be revived after all of the dancing, I resorted to my cherry juice stash. It kept me going until Midnight.
Photo © & courtesy of Robert Abrams
---
Dance makes people happy
Photo © & courtesy of Robert Abrams
---
General dancing
Photo © & courtesy of Robert Abrams
---
The raffle
Photo © & courtesy of Robert Abrams
---
The raffle
Photo © & courtesy of Robert Abrams
---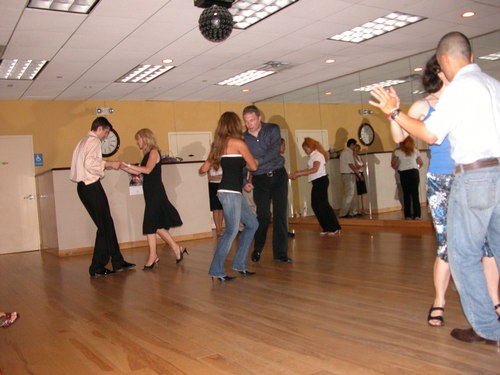 General dancing
Photo © & courtesy of Robert Abrams
---
Beautiful hair in motion
Photo © & courtesy of Robert Abrams