Land ho! This is a first for the United States Merchant Marine Academy – DanceSport Competition.

Four Midshipmen (that includes ladies) from our Dance group did an "about face" from Marine Transportation, Marine Engineering, and other Maritime activities to set foot on terra firma…. They wanted to compete in DanceSport, and who am I to say "No"?

After a few months of working with the Dance group more off than on(!), I thought the time was right to enter them at the Newcomer Level, American Rhythm, Swing and Cha-Cha, before they get shipped to sea for almost one year.

RESULTS: They did very nicely – 1st and 2nd place. This was well deserved, as it was rare that I was able to train all of them together at the same time, more than once or twice per week.

THOUGHTS ON DANCE TRAINING/PRACTICE: Most dancers practice every day before competing. Timing to the music, technique, and trust in your dance partner are all important factors of dance that supposedly increase over time. These Midshipmen never have much free time, but they seemed to have had a lot of fun, and they had the chance to learn about the art of Dance.

ADVICE: Practice! Practice! Practice! Write information down, ask questions of your Coach, be aware of your posture, and smile.

I wish to thank the USMMA Administration for being supportive of the Arts, as this has been both a challenging and rewarding experience for the Academy.

I am now preparing new lessons for the new "recruits", some of whom are also extremely interested in Dance and the other arts…

To my current group, now preparing to go to sea, I know that you will also remember to dance. At ease. Class dismissed. Bon voyage!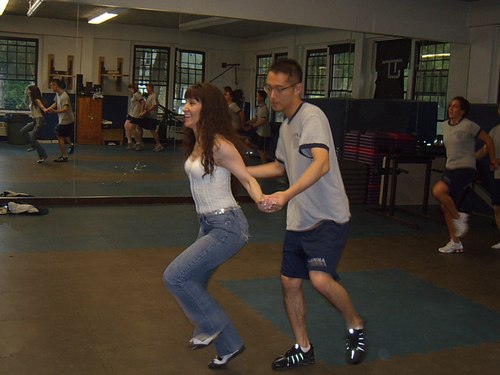 Training
Photo © & courtesy of Marcy Gross
---
The training pictures in the USMMA aerobics area have been great memories for me... Midshipman Yoo decides... "You know... Coach Marcy is making me work hard. I think I will flip her. Yes, and I cannot get in trouble for this one- it's just practice!"
Photo © & courtesy of Marcy Gross
---
At the competition
Christine, Mark, Brandon and Andrea
Photo © & courtesy of Marcy Gross
---
At the competition
Uniformed Castillo congratulates his fellow midshipmen
Photo © & courtesy of Marcy Gross