If X marks the spot, choreographer/dancers Christine Cox and Matthew Neenan have found buried treasure and put it on display with their two-year-old company, BalletX. The company debuted as dance company-in-residence at the Wilma Theater in the first week of November. Cox retired from the Pennsylvania Ballet last year to run the company and Neenan left the PABallet in October. He will continue with PABallet as choreographer-in-residence. Both showed new works in the program of three world premieres that included a finale by Adam Hougland in which each danced as well.

Cox and Neenan added Anitra Nurnberger from BalletNY, Leyland Simmons from Complexions, and Emily Wagner from the Dutch National Ballet, all veteran dancers, as well as recent UArts graduate, Rosalia Chann. They also raided top-notch PABallet dancers — the recently retired Tara Keating and Meredith Rainey who were ready to try something new, or in the case of new mom Heidi Cruz, less fulltime, but more exhilarating work. Brooklyn-born Corey Baker, formerly of Philadanco and now heading his own New York company Ballet Noir, also signed on as a permanent member of the company. As a troupe, they showed mettle and commitment throughout.

Neenan created his show opener, Once Again during a residency at Swarthmore College over the summer. He credits Balanchine as one of his influences but his iconoclastic playfulness makes him more Balancheeky than Balanchinian. He chose a collage of music by Frederich Fasch, Giuseppi Torelli and a Beatles Baroque arrangement for Once Again. In it Keating and Cruz dance out with sprightly, quick-swinging arabesques en pointe. Later they prowl sprucely toward each other like two cats. Two frisky trios which included Rainey and Baker contribute to this dance's cheeriness. Rainey and Cox pair off in a lovely and too brief duet. But the show stopper of the evening that drew a collective gasp came early when the red-haired Wagner raised her torso from a fully prostate position to a high-diving pose while from the waist down she remained horizontal. Just like a mermaid.

All the costumes throughout were made by the Pennsylvania Ballet Principal Martha Chamberlain and her attire for Cox's M.O.M. My Own Memory were the most charming - pale blue breeches for the women topped by lacy, cream-colored tops that she scalloped at the hipline. Her dance is an homage to the pain of watching her mother descend into Alzheimer's disease. Keating dances Cox's character with poignancy and Rainey with resolute strength, in the father's role. Simmons and Baker whip off some astonishingly high barrel jumps, but the dance ends in a melancholy irresoluteness.

Hougland's Risk of Flight opens with the full ensemble of ten dancers spearheaded by Neenan in a "V" formation to Zoe Keating's complex cello pulsings. Drew Billiau designed the lighting for all three pieces and here it was most dramatic. Slowly and purposefully, the formation bore across the stage towards a light from the side flys. Neenan's newly cropped hair gives him a new angularity and resolve. He looked muscular and athletic, very different from his last role in Paul Taylor's Bugle Boy. Hougland gave Rainey and Cruz a sizzling duet which they danced with abandonment that gave flight to the title's Risk. Approaching each other like wrestlers in a match they alternate between tightly held embraces and throwaway rejections plumbing human feelings from lust to shame to forgiveness. They were staggeringly beautiful in a staggeringly beautiful evening. I've never seen either of them perform so well and I heard that from other audience members too.

Throughout, the dancers were totally in command of the material, displaying a confidence born of trust in the beauty of the choreography they were given.

With the PABallet performing at the Academy of Music and the Merriam, Philadanco ensconced at the Kimmel Center's Perelman Theater, Koresh Dance Company taking residence next spring at the Suzanne Roberts Theater in Symphony House, and Ballet X at the Wilma, four professional dance companies will call the Avenue of the Arts home. No other city outside of New York can claim to house its finest companies within a two-block stretch. And BalletX is the mark they will all have to hit.

No further programs until next spring (see www.balletx.org), but see Neenan's 21st Century Carmina Burana and his As It's Going at New York City Center performed by the Pennsylvania Ballet (www.paballet.org) beginning November 14 through November 18th.

New York City Center
West 55th Street
(Betwn Sixth and Seventh Avenues)
212-581-1212 or 877-581-1212 outside Metro area
www.citycenter.org
Mathew Neenan's "Once Again"
Dancers (Left to Right): Emily Wagner, Leyland Simmons, Anitra Nurnberger and Corey Baker.
Photo © & courtesy of Gabriel Bienczycki
---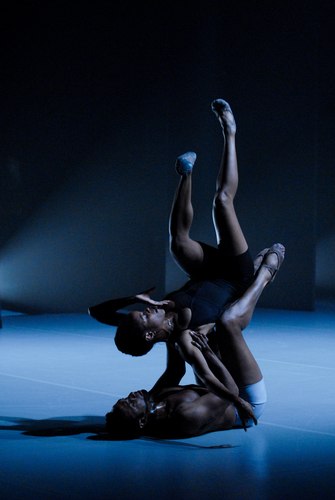 Adam Hougland's "Risk of Flight"
Dancers: Meredith Rainey (bottom) and Heidi Cruz-Austin
Photo © & courtesy of Gabriel Bienczycki
---
Ballet X Logo
Photo © & courtesy of Ballet X