Because a friend of my wife had season tickets to NYCB, but then couldn't attend tonight, I decided at the last minute to review the show. Because it took a little longer than I anticipated to finish my Cedar Lake review, I ended up rushing to the State Theatre with little time to spare. I missed the first available cab which passed me, so I ended up catching a cab heading east near Columbus Avenue. As I got in, I noticed a pack of Seven Stars cigarettes (a Japanese brand as far as I could tell) and a lighter sitting on the seat. Half way to Lincoln Center, the back seat of the cab started to play music. Over and over again. I realized someone had left a phone in the back seat and was probably trying to call the phone to find where it was. I looked inside the pack, but there was no ID, just one cigarette left. I had no time to spare, so I put the phone in my bag, figuring I could figure out who the owner was later and make sure to get it back to him or her. It was a sleek, fancy phone with a touch screen and sliding graphics, definitely an iPhone. I couldn't figure out how to silence it. I finally found a switch on the side and hoped that turned it off. I wrapped it in my jacket just to be sure it was muffled in case it rang again. During the first intermission I checked my bag with the coat and phone inside of it just to be certain it wouldn't disturb the ballet. After the ballet was over, I called the number that was most likely the owner and a guy answered. He asked if I was the driver. I said no, I had been in the back seat of the cab and I thought I had his phone. We arranged to meet uptown on Broadway, which worked out because I was heading that way anyway. When I got out of the subway, I called him again and as we were trying to figure out where we both were, we both looked up and realized we were standing in front of each other. He was so grateful he was shaking. He asked what I wanted for it, and I said he didn't need to give me anything, but he insisted and gave me a $50. This sort of thing happens pretty much never, except that sometimes it does. Several years ago when I was living in Santa Cruz, CA (where I first became obsessed with dance), I was returning from a trip. One of my bags accidentally got left at the San Jose airport. I didn't realize it until I got home an hour later. I drove back over the hill to the airport, but it was gone. Someone found it, found a prescription bottle with the phone number of my pharmacy, called the pharmacy the next day, who called me. I got my bag back and got the person who found it a gift certificate to a nice restaurant in Palo Alto. So, because I decided to go to the ballet at the last minute, I finally had an opportunity to pay forward an act of kindness from long ago.


---

If you are looking for the finest jewelry available, you have some choices. These choices, representing varying price ranges and styles, include searching for pieces made by Oscar Heyman Brothers at selected retailers, visiting Versani for necklaces and more set with gems and modern style, checking out earrings with delicate elegance by Lisa Daniele or attending a performance of the New York City Ballet's Jewels. All give you very good value in a top level product. (Do you have a favorite jeweler you like to take to the ballet? Let us know.)

Jewels is a full evening length, abstract ballet consisting of three acts: Emeralds, Rubies and Diamonds. As the curtain rose on Act I, there was an audible "Ooh!" from the audience. As the curtain rose on Act II, there was an audible "Ooh!" from the audience. As the curtain rose on Act III, there was an appreciative murmur from the audience. Act I presents a forest bedecked with oversized emeralds. Act II is more modern, with bold, red vertical and diagonal lines set against black with what appears to be a large, reddish rock lodged in the heavens. The set for Act III looks like a luxury hotel made of ice. Before Act III starts, make sure to stare at the ceiling of the State Theatre for a while. The chandeliers look like diamonds embedded in trumpets. Watching Act III of Jewels makes it clear how well the dance and the architecture fit together.

Of course, Jewels does not just present variations in color schemes. What is remarkable about Jewels is the way it combines a range of styles within classical ballet, making them seem seamless. The dancing in Emeralds is slower, with a Baroque feeling. The long Romantic tutus are used in the costumes. The stillness of poses and slow extensions fit the music. Rubies, by contrast feels more modern, perhaps with overtones of the 1920s. In addition to the change in the set, there is some partner dancing, some swivels, some moves derived from Country Western dancing. Rubies has an urban, rather than a pastoral feeling, albeit an urban feeling as envisioned by the Dwarves from Oz with the help of a modern interior designer. The women wear short skirts, not tutus. The movement is graceful, but sharp, staccato. There were some funky elbows and poses with Ancient Egyptian overtones. The port de bra was not Octoberish, though. Diamonds seemed to represent a style intermediate between Emeralds and Rubies, as if to emphasize that all styles of ballet are worth dancing. The dancing was often stately, but unembellished. Diamonds used short flexible tutus. The featured soloist, Maria Kowroski, wore a stiff tutu. The movements were often slow, but not languid. The movements felt like they had a hard edge, like a glacier that will slowly, but inexorably, sweep you away.

A close analysis of the sequence of sections within Jewels provides evidence for why Balanchine was such a great choreographer. For instance, in Emeralds, there is a portion that features excellent transitions from a series of slower solos, duets and trios to faster moving large patterns. He clearly understood that even when the dancing is consistently well performed, a full evening ballet needs macro structure to hold the audience's interest. Again in Diamonds, the choreography moved from solo to corps to featured dancers to corps and back.

Not that Jewels was lacking in cool short-term patterns or individual performance with brilliance. In Emeralds, there were often dancers with beautiful lines formed into beautiful lines that would shift and pass through each other, sometimes on the diagonal. A man lifted a woman repeatedly in a sweeping arc. A solo by a woman who twirled en pointe as if to invite the audience in. A beautiful adagio. Spritely petite leaps. The end of Act I, with three men on one knee, each with an arm swept upwards. In Rubies, there were cool off-center groupings. Ashley Bouder was a trifecta of poise, gusto and swoosh; quick, precise and finished movements. Her partner, Benjamin Millepied, was excellent too. She rotated with her arm and leg extended, as if skating, with the help of Mr. Millepied. As far as I know, there was no ice on the stage. There were smooth transitions from featured dancers to a line of dancers. Savannah Lowery kicked to there with conviction. A sequence that started as a simple square dance move only to transform into a partner assisted rotating flight. In Diamonds, the dancing was as bright as the costumes. Sometimes the dancers swayed like graceful snow flurries. Maria Kowroski was as close to being a Platonic form of herself as is humanly possible. A stunning leap circle by a male dancer.

A few other observations. Sometimes the dancers were oriented towards each other and sometimes towards the audience. Look for this the next time you go to the ballet and see how this difference affects you. At times I wondered what Jewels would look like if you put the orchestra on the stage (perhaps with matching green, red and white costumes for each act respectively), rather than in the orchestra pit. NYCB performs some ballets in which musicians appear on stage, so this might be worth a try. There, of course, is nothing wrong with Jewels as is, but Jewels was radical art when it was first performed, so it would be in keeping with its spirit to mix it up a little at periodic intervals. (Not unlike Jefferson who thought that a democracy would periodically need a revolution to stay fresh and functional. Discuss among yourselves.)

At several points, the dancers formed patterns reminiscent of jewels or jewelry. Sometimes they seemed to form the facets of a single gem. Sometimes they formed beads on a necklace. And at least once, they were a diamond complete with sparkles that grew to a carat size unaffordable by mere mortals.

Jewels ended with a parade of diamond couples who formed intricate, interwoven patterns. Again, like some of the signature pieces from Oscar Heyman Brothers, with NYCB and Balanchine you don't see the platinum, just the brilliance of the diamonds. While it is true that style and exuberance do not have to be expressed in diamonds (Versani can create style and exuberance even when working with wood), diamonds certainly help. NYCB's Jewels gives the audience a full set of style and talent, enhanced by the sparkle of precious stones.

My only question after seeing Jewels is, where are the Sapphires? I suppose that Balanchine wanted to leave something for the next generation of choreographers. Maybe Peter Martins or Christopher Wheeldon will oblige?

As a postscript, if you are a member of one of NYCB's patron programs, be sure to check out the small sculpture studies in the Green Room/Patron Lounge by Yasuhide Kobashi, who met Lincoln Kirstein in 1958. They were made in preparation for the large works, Dance and Ancient Song, that are displayed in the State Theatre. If you are not a member of one of NYCB's patron programs, such as Society in C, consider joining. You help produce wonderful dance like Jewels, while getting a few perks and opportunities to learn more about ballet. Like Jewels itself, the NYCB patron programs are very good value.


---

And don't forget that if you are not fortunate enough to be a choreographer with access to NYCB's talented and dedicated costume department, you can still enhance your performances with professional level costumes. Check out Tutus Divine for all of your costume needs, not just traditional tutus. As their current clients will attest, Tutus Divine will give you top level style and service.
NYCB's Abi Stafford and Jason Fowler in Emeralds from Jewels
Photo © & courtesy of Paul Kolnik
---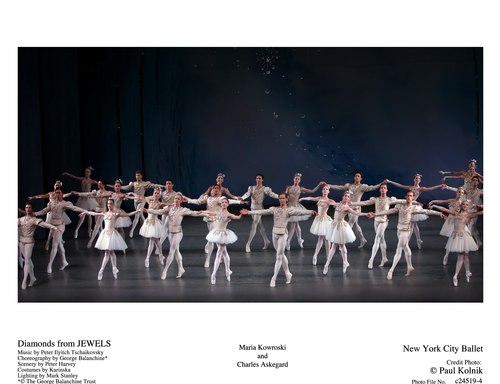 NYCB's Maria Kowroski and Charles Askegard in Diamonds from Jewels
Photo © & courtesy of Paul Kolnik