Elaborate costumes and gorgeous scenery—a patchwork of colors form a Barbizon cliff—grandly usher in the Kirov in Act 3 of "Raymonda." A medieval legend inspired Marius Petipa to create this in 1898. Uliana Lopatkina is a magical Raymonda and Danila Korsuntsev is an able Jean de Brienne. Danced in boots, a Mazurka and especially a Hungarian dance with a jumble of very fast footwork, in over-the-top velvety black and satiny white costumes, help set the opulent mood. Yana Selina does the fast tempo variation in a gold tutu, and then the highlight is Lopatkina's pristine czardas. Her presence is magnanimous, as is Korsuntsev when he creates a geometry weaving extra turns in the corners of his manège.

The Orchestra of the Mariinsky Theatre, led by Mikhail Sinkevich, renews faith in Glazunov. With varying tone and tempo throughout each work, the music is wed to the dancing and the stories.

"Paquita" (Grand Pas) too drips red and gold—not just the dancing but also the painted curtain backdrop by Gennady Sotnikov and a gorgeous array of costumes by Irina Press. Diana Vishneva and Adrian Fadeev lead in bright white. Vishneva is dreamily caught up in her turns. She leaves us with 24 fouettes. Fadeev is hardly there until his finale of leaps.

The Corps wear classical tutus with russet colored bodices. Pairs are ranked next: gold, pink and blue. The variations are done in lush red, black, emerald, and russet. As the soloists emerge, brilliant lighting by Alexander Naumov casts color onto the bright white of their short, stiff, classical tutus. Alina Somova amazes us first with her extended arm and leg meeting some distance above her head. She exudes youth and easy virtuosity, as if it's all in a days work. Petite Valeria Martynyuk is sprite; Ekaterina Osmolkina touches us with her melting sweetness, emitting something like star quality. Last but awesome is Victoria Tereshkina, who pirouettes in second, en manège, with quick, short, leaps in the corners.

The dance premiered in the Mariinski Theatre in 1881, and the same company, the Kirov, is dancing a revival 127 years later, keeping the flame. We won't see another version so rooted in tradition. However, evenings of excerpts, like showcases, are mere souvenir versions of the talent.

Closing the curtain is "La Bayadère" (Kingdom of the Shadows,) or Shades, as we know it. The corps enters from an upstage opening into the blackout, and into the netherworld. Leonid Sarafanov finally bounds into brightness. He was all that we had heard of, a heartthrob in flight. He gives two heaven bound jetés into a forward wing. Later, en manège, he pops up around the perimeter on rod straight legs into the air. He loses steam by the end of the act. Dancing like that is ephemeral. His Nikiya, Alina Somova, raises her leg to impossible heights, but her heavy landings dampen the mood. In the grand pas, flattered by the loud music (by Ludwig Minkus,) she almost takes off.

Aside from the spectacle of Sarafanov as Solor, the corps stole the show, drifting on their gauzy tulle wings in perfect alignment. They file into a stage-filling pattern, or pose in proud formations along the sides. Three Shades execute difficult variations, but with little emotion. Somova was more chilly princess than Indian dancer. Beyond death, neither she nor The Shades need feelings or roles. Only Solor soars, in his blue costume.

After seeing Vishneva so strong and free in her own recent Beauty in Motion program (managed by the same touring agent), she looks less supremely committed in tonight's Kirov mainstay classical works. Sudden questions of the Kirov's leadership have a rattling effect on our perception, at least, of the dancers' performance.
Uliana Lopatkina & Daniil Koruntsev, Raymonda
Photo © & courtesy of The Mariinsky Theater
---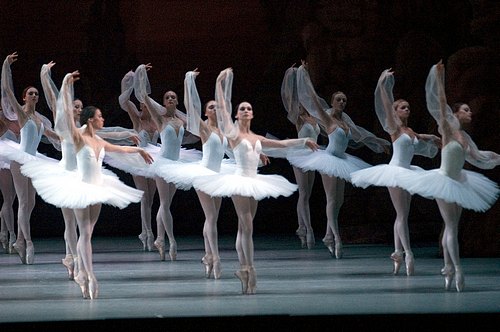 Corps de Ballet, La Bayadere
Photo © & courtesy of The Mariinsky Theater
---
Corps de Ballet, Chopianiana
Photo © & courtesy of The Mariinsky Theater
---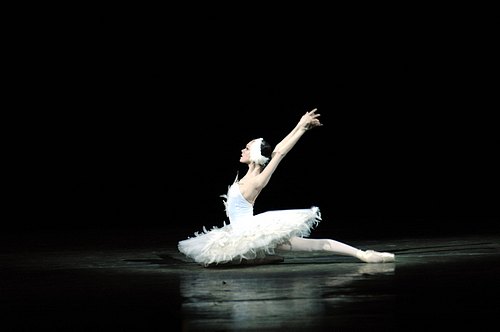 Uliana Lopatkina, The Dying Swan
Photo © & courtesy of The Mariinsky Theater
---
Diana Vishneva & Igor Kolb, Scheherezade
Photo © & courtesy of The Mariinsky Theater
---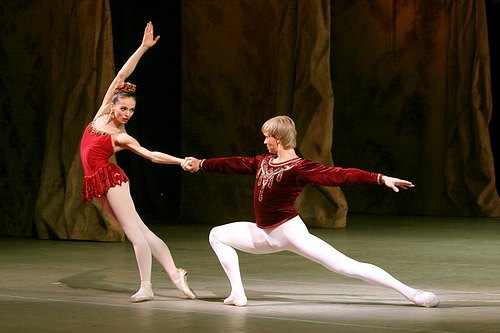 Diana Vishneva & Andrian Fadeev, Rubies (from Jewels)
Photo © & courtesy of The Mariinsky Theater
---
Uliana Lopatkina, Le Corsaire
Photo © & courtesy of The Mariinsky Theater
---
Leonid Sarafanov & Olesya Novikova, Don Quixote
Photo © & courtesy of The Mariinsky Theater
---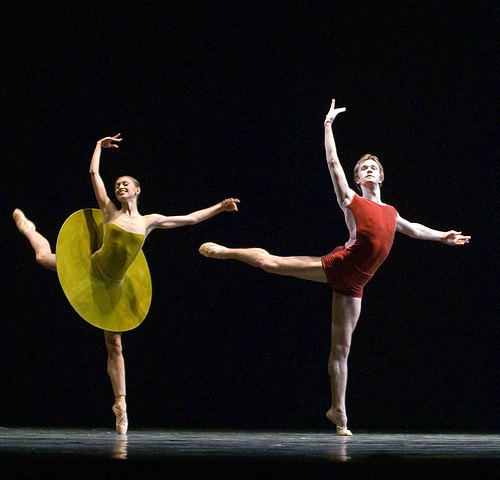 Irina Golub & Maxim Zyuzin, The Vertiginous Thrill of Exactitude
Photo © & courtesy of The Mariinsky Theater
---
Diana Vishneva & Igor Zelensky, Ballet Imperial
Photo © & courtesy of The Mariinsky Theater