'Ballet through the ages' continues in Kirov evenings of early 20th century ballet's by Fokine in which the choreographer worked out his manifesto of ideas about a new ballet with economy of means, no extraneous bravura for its own sake, and sometimes no story.

The sweet Ekaterina Osmolkina responds coyly to the first in a suite of orchestrated Chopin Mazurkas, Waltzes and a Prelude. Later, Igor Kolb partners her in jaw-dropping, beautiful lifts. He escapes into an upstage wing with an almost innocuous mid-air jete. Kolb has very long legs and cuts the air with his sissonne, almost apologetically.

Twenty winged sylphs arranged in rows of five deep are flawlessly in synch. The ballerina gives herself increasing height and earnestness on a pointed foot, as if to see from a better vantage point. She takes Fokine's signature meditation poses to heart, listening hand to ear as she flits around three gorgeous flower-like groupings of sylphs.

Yana Selina begins and ends "Chopiniana" in the center of a filigree of sylphs; there, on the floor, she lies with her legs open and extended to the side in a gravity defying horizontal pose. The romantic painted backdrop is a misty forest glade, based on Orest Allegri's original sketches.

"Chopiniana," April 5,2008, at City Center, is time travel to the Mariinsky 1908, and the birth of 'pure dance.' As in that first famous ballet blanc "La Sylphide," the women wear long romantic tutus. Diaghilev soon changed the name to "Les Sylphides" and Balanchine, several decades later, dressed the women in short classical tutus.

Leonid Sarafanov's final leap out the window in "Le Spectre de la Rose" was breathlessly anticipated. Not everyone could stomach his effeminate costume of rose petals and his purple dancing. I am among those who wept. Sarafanov's hands outline imaginary womanly curves, iterating the scenery's garland wallpaper motif. As Yana Selina drowsily slumps in an easy chair, from behind, his rotating forearms cast a spell over head. She wakes and dances with him. Standing center stage she stops to show us the moment she is suddenly enlivened. So are we. As she's seated again and dreaming of him, he takes his leave, planting a friendly kiss on her head. His leap surprises us in its brevity and forward speed. He's gone before we know it and doesn't call attention to himself. That's the surprise after he's won our hearts with his litheness, jumping full tilt into the air and then later drawing that out with beats. His generous performance asks nothing in return, not even to be admired. The audience was so taken that they didn't give him enough applause.

The other surprise of the evening: Diana Vishneva's exquisite "The Dying Swan." I asked my neighbor in row K, how Uliana Lopatkina, a.k.a. Russia's prima Dying Swan, was the night before. "Very dry," were her breathy, heavily accented words. Vishneva bourrées as if floating on troubled water, her breast puffed out and hyperextended as one might imagine that bird's form. In a featherlike white tutu she couldn't be more swan-like in the expressiveness and line of her arms and hands, which are raised and waving, indeed, beating in desperation. She stays in character while taking her bows, careful not to intrude on our numbing sadness. She's too young for a swan song, but old enough to beautifully imagine it for us.

Fokine was inspired by Indian dances he had seen when he created "Scheherazade" to music by Nikolai Rimsky-Korsakov. The luscious tragedy looks bright, compared to two- dimensional videotaped versions. Fokine and scene painter Leon Bakst designed a scrim of leaping leopards, paisleys, and other lush and stylized characters from "Arabian Nights." When this rises, the Shah's favorite wife, Zobeide (Lopatkina) is entertaining him in a grotto. Silk patterned lanterns hang overhead. The rich scene is adaptable to the narrative, which includes the men going off to fight and Zobeide's tryst with the Golden Slave, Ivan Kozlov tonight. No character is likeable, yet Lopatkina's hands woo us, magically materializing love and heaping platters of food. Lifted, Lopatkina's body twists into calligraphic, Arabic glyphs. Kozlov's bare chest glistens with perspiration and lust. Both brutish and innocent, more than once he leaps toward her only to miss the mark, sliding seductively onto his side, longingly following her with his cat-like eyes. The Shah is a model of forgiveness, but the foolish Scheherazade chooses to die with her Slave she played with. Ahh love.

As the end to an evening of emotional mood swings, the over-the-top sumptuousness was a bit irritating. Does "Scheherazade" in any way speak to our time? It's crucial not to lose artifacts, even as they change over time. It isn't exactly a feel-good dance. Then again, Scheherazade may be a style-setter, just as it was in its day. Have you seen the new spring sandals?
Uliana Lopatkina & Daniil Koruntsev, Raymonda
Photo © & courtesy of The Mariinsky Theater
---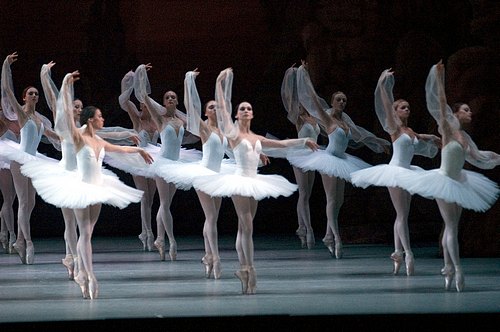 Corps de Ballet, La Bayadere
Photo © & courtesy of The Mariinsky Theater
---
Corps de Ballet, Chopianiana
Photo © & courtesy of The Mariinsky Theater
---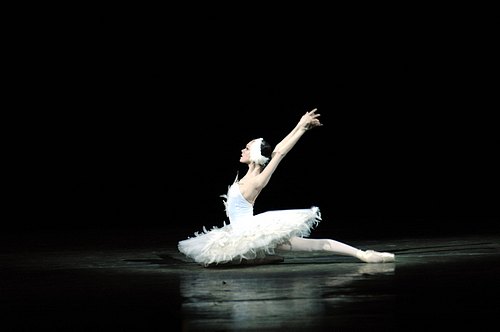 Uliana Lopatkina, The Dying Swan
Photo © & courtesy of The Mariinsky Theater
---
Diana Vishneva & Igor Kolb, Scheherezade
Photo © & courtesy of The Mariinsky Theater
---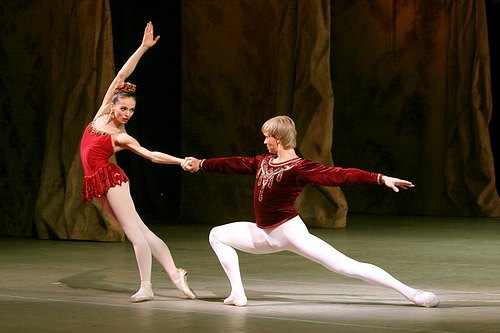 Diana Vishneva & Andrian Fadeev, Rubies (from Jewels)
Photo © & courtesy of The Mariinsky Theater
---
Uliana Lopatkina, Le Corsaire
Photo © & courtesy of The Mariinsky Theater
---
Leonid Sarafanov & Olesya Novikova, Don Quixote
Photo © & courtesy of The Mariinsky Theater
---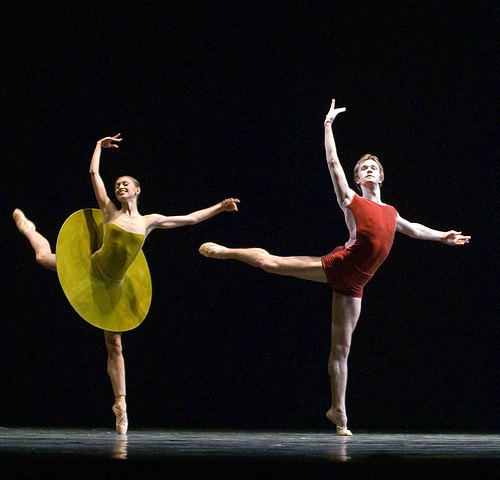 Irina Golub & Maxim Zyuzin, The Vertiginous Thrill of Exactitude
Photo © & courtesy of The Mariinsky Theater
---
Diana Vishneva & Igor Zelensky, Ballet Imperial
Photo © & courtesy of The Mariinsky Theater