Aside from its moral, that dance isn't all fun and games behind the scenes, the subject of "Etudes," classroom practice and its day-to-day tedium, can be tedious to watch. The Kirov's energy appeared to be flagging on April 11th, opening night for this program, admittedly mine was and "Etudes," the curtain-closer, was generally sleep inducing.

But when the dancers onstage lie down and rest at one point, that signals a point of departure in this Kirov season, even if Danish dancer and choreographer Harald Lander studied under Fokine, his "Etudes," created in 1948, is a harbinger of postmodern dance.

The class regimen is consolidated into the evening's epic final third act, beginning with pliés and tendus at the bar, proceeding to floor work, adagio, rehearsal of a romantic pas de deux (in costume,) across the floor leaps, pirouettes, and then jumps.

Through changing positions of the ballet barre and pointed lighting patterns designed by Josette Amiel, who is also credited with staging, the simulation of class becomes a showpiece for the dancers, and a goodbye. We expect "Etudes" to convey the intimacy and atmosphere of the studio; as seen tonight it is a portrait of The Kirov's inner sanctum, and not very touchy feely.

Alina Somova, who looked miscast in many of the roles she danced over the last weeks, singlehandedly redeems "Etudes." Her technique is brilliant; this is her baby. Her hands are exquisitely expressive and her long fingers talk with clarity. Her part in the romantic pas de deux is a postmodern play on it; it's wonderfully soft. She riffs on the classroom steps. Vladimir Shklyarov is her able partner. He and Leonid Sarafanov play the two boys in the class (Sarafanov looks like a child prodigy). He garners lots of applause for his tours, one in which he pirouettes round and round in second while raising and lowering his arms. When he fouettés with his foot shifting front and back of his knee, he sets the rest of the class in motion; the stage is a room of whirling dancers incredibly in synch. Somova's memorable chaînés turns are achingly slow, revving up to speed with the music.

But sharing the classroom drudgery, that these very dancers know so well, strikes me as the antithesis what we've come to the theater for. It could expand with life in performance, but the phrasing tonight was not to-die-for.

Dancers from The Royal Danish Ballet recently performed Lander's scintillating 1942 "Festival Polonaise," at Jacob's Pillow. The post-war optimism in that duet can be recognized in "Etudes." Lander and the studio/class theme (taken up by Balanchine, Robbins, and others) is an early and important example of a ballet reflecting upon itself—a concept central to William Forsythe's choreography. The Kirov performs Forsythe and George Balanchine in the remaining weeks of its current City Center season.

A new face, Mikhail Agrest presided over the Kirov Ballet Orchestra on April 11th. An orchestral arrangement of Karl Czerny music accompanied "Etudes" and it matched the mood of labor, even while it interestingly mapped the drama. One might expect piano scales and leotards, a black and white ballet, yet it's old world and formal; changing corps are clad in short white and then black tutus, as if for evening; the males wear gray with the two boys in white tights and stiff, satiny shirts.

Also on the program, a reprisal of "Chopiniana" with Yevgeny Ivanchenko as the Young Man. "Le Spectre de la Rose" featuring Yana Selina and Igor Kolb, who is less narcissistic than Sarafanov and not nearly as interesting. Kolb doesn't offer such voluptuous hand flourishes, which are ballet mime for "I want to dance," thus, it's not as reassuring to watch him.

Uliana Lopatkina's "The Dying Swan" is brittle as a bone, and beautifully so. Here again, the subject of fatigue is expressed in a theatrical framework. This brief solo, magnificent by both ballerinas, Diana Vishneva and Lopatkina, has us on the edge of our seats and we are far from self-pitying thoughts of fatigue. Especially in Vishneva we see beauty in the end.
Uliana Lopatkina & Daniil Koruntsev, Raymonda
Photo © & courtesy of The Mariinsky Theater
---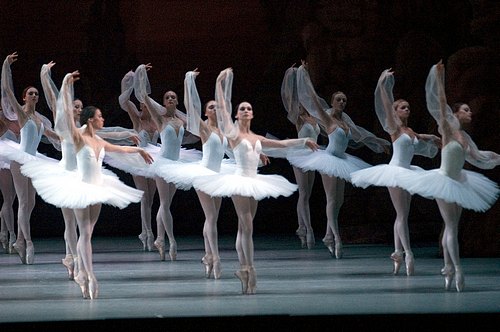 Corps de Ballet, La Bayadere
Photo © & courtesy of The Mariinsky Theater
---
Corps de Ballet, Chopianiana
Photo © & courtesy of The Mariinsky Theater
---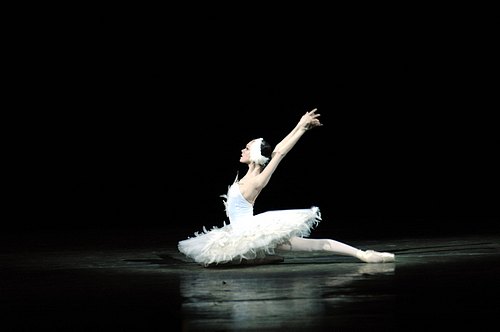 Uliana Lopatkina, The Dying Swan
Photo © & courtesy of The Mariinsky Theater
---
Diana Vishneva & Igor Kolb, Scheherezade
Photo © & courtesy of The Mariinsky Theater
---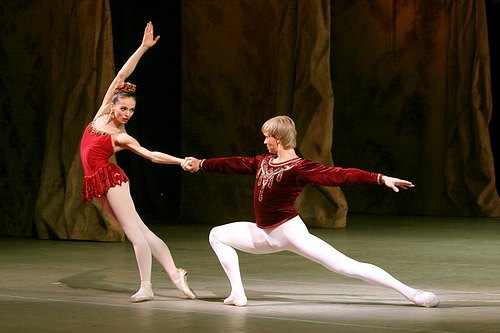 Diana Vishneva & Andrian Fadeev, Rubies (from Jewels)
Photo © & courtesy of The Mariinsky Theater
---
Uliana Lopatkina, Le Corsaire
Photo © & courtesy of The Mariinsky Theater
---
Leonid Sarafanov & Olesya Novikova, Don Quixote
Photo © & courtesy of The Mariinsky Theater
---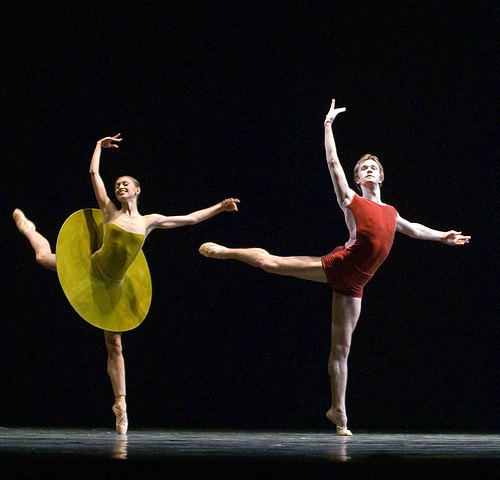 Irina Golub & Maxim Zyuzin, The Vertiginous Thrill of Exactitude
Photo © & courtesy of The Mariinsky Theater
---
Diana Vishneva & Igor Zelensky, Ballet Imperial
Photo © & courtesy of The Mariinsky Theater