This all-Balanchine program in New York City Ballet's repertory week is all-celebration of life, love, music, and dancing.

At its New York premiere almost sixty years ago, at the first New York City Ballet performance, "Symphony in C" was last on the program. Raising the curtain May 13th, 2008, it honored the beginnings of the young company previously known as Ballet Theater.

"Symphony in C," the gem of the evening, has four movements. Each has a principal ballerina and danseur, two pairs of soloists, and a corps of ten or twelve. The cast wears classical costumes and the four ballerinas wear tiaras. In the Second Movement: Adagio, Wendy Whelan sets the elegant tone of the ballet, partnered by Philip Neal. Whelan's marvelous line, supported in arabesque penchée, is the highlight; her head, with sparkling tiara, curls under and impossibly kisses her knee. Megan Fairchild and Benjamin Millepied impress us in the Third Movement, she is well cast in this bouncy Allegro Vivace and he jumps very high. The Fourth is even faster. A trio of men, Tyler Angle with Vincent Paradiso and Troy Schumacher, are incredibly together in jumps and leaps. Angle looks especially bright.

The crisp symmetry of that symphony becomes fragmented, angular, and comparatively clunky in the asymmetrical, modern, 1972 "Symphony in Three Movements," to music by Igor Stravinsky. Though some of the corps formations are slightly ragged, Sterling Hyltin and Adam Hendrickson's flexibility, buoyancy, and effortless look, brings the first movement to life. The décor: pony tails for the females except Abi Stafford and shades-of-pink leotards on the three leads, date this, though it fits the ballet's athleticism.

Effortlessness gives way to deliberate attack and the company's gorgeously silent steps become intentionally audible. Hendrickson claps his legs together in his mid-air sissonne. The dancers running steps are a percussive element. A striking diagonal line of corps, one behind the other, opens their arms out above, one at a time.

This symphony's second movement is a pas de deux. There are some awkward looking positions but Stafford impressively turns most of them into elegance, partnered by Amar Ramasar. They spar lovingly with intertwining, mirroring, or mimicking arms.

In III a group of men jump in perfect unison. In fact, the evening is marked by the men's dazzling esprit de corps. The entire cast, after some very complicated interpolating, ends with a grid-like formation created with the dancers' connected, outstretched arms.

Finally "Western Symphony" is a testament to Balanchine's Americana, that is, the untamed, wild, West (seen in B-movies) that so fascinates newcomers. The men wear white hats like Gene Autry, the singing cowboy, and black Western shirts. The women wear short, can-can style tutus and feather headpieces. The pairs do-see-do to Hershey Kay's orchestrated medley of folk tunes including "Red River Valley," and "Good Night Ladies." Fairchild and Evans make a debonair pair and perform with spirit. But Teresa Reichlen and Damian Woetzel, totally invested, add comic accent to their virtuosity. Woetzel steals a kiss from her after she struts across the stage en pointe. Performing with that kind of intelligence, they reveal the silliness. At the same time, they compel our most serious attention and still convey the absolute exuberance with which Balanchine embraced his adopted home.

While the curtain comes down, they are still pirouetting…in yet another exhilarating and seductive end.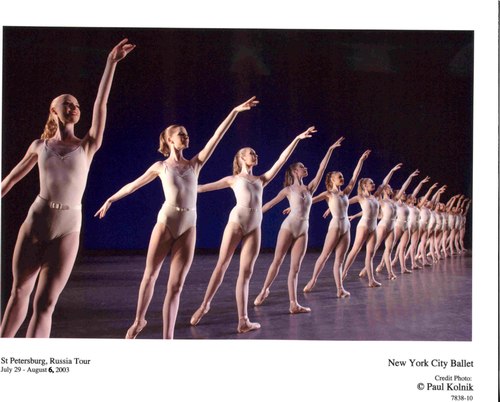 New York City Ballet's Symphony in Three Movements
Photo © & courtesy of Paul Kolnik
---
New York City Ballet's Albert Evans in Western Symphony
Photo © & courtesy of Paul Kolnik