Fashion Week may be over - bright colors are "in," hemlines are lower - but there are two fashions on stage that have not changed in decades: the tutu and the leotard. They remained not only because they flattered the legs and figure, but because they did not impose upon the choreography or restrict advances in technique.
The on-stage fashion in the Romantic Age of the 18th Century with its ballets such as "Giselle" and "Pas de Quatre," found the ballerina in a soft, circular, flowing calf-length skirt topped by an off-the-shoulder bodice, sometimes with gossamer "wings" attached to the shoulder blades. The skirt was decorated discreetly with flowers and small buds circled her head like a crown. She flitted about on the first pointe shoes looking fragile and unattainable. Taglioni, one of the most famous ballerinas of the time, wore a real pearl necklace, one bead of which is purported to be in the Dance Archive of the NY Performing Arts Library at Lincoln Center. (Editor's note: while wearing real jewelry on stage sounds extravagant compared to present practice, the contrast is likely even greater than it first appears because pearls used to be much more valuable relative to other items than they are today. Consider that the mansion in which Cartier is now headquartered was purchased in exchange for, in part, a 128 pearl necklace, valued at $1 million in 1917. The same necklace was auctioned in 1957 for only $151,000.)

Male partners wore costumes in a bodice or jacket that indicated his station in society: in a doublet if noble, with slim pants or in a skirt from waist to just above the knees. He wore a hat or beret with a feather or two. He never appeared in tights alone, until Nijinski appeared in "Giselle" in 1911 without cover-ups and was considered wearing an "indecent" costume. He caused a scandal and was made to resign from the Maryinsky (Kirov Ballet) Theater. But off he went to greater glory at Diaghilev's Ballets Russes.

Women, too, were rebellious. It was Marie Sallé (1707-1756) who appeared earlier in a muslim tunic (1734) and long scarves thereby casting out the voluminous baroque skirt and underpants long before Isadora Duncan decided to go Grecian in a loose tunic and to eliminate shoes. She claimed, that her tinted red dancing slippers had not dried before a performance so she decided to go barefoot instead. Hmmmm.

But it is the short white tutu as we know it - a lampshade effect in the beginning - that gave form to function and the emerging technique that required greater freedom.

Basically, it is a circular skirt below a removable or attached bodice, of 10-15 white layers of stiff crinoline or tarlatan beginning below a smooth, 5-inch waistband. Top layers of the skirt are about 6 inches, and decrease in length until they reach the hip socket and cover the buttocks now attached to thong-type underwear. To keep the skirt from drooping, it used to be the fashion to insert a narrow, circular metal hoop thru the top layer. But it bounced and tipped and became quite amusing until it became eliminated. The objective of a tutu is to create a long-leg look. It takes skill to create and is best left to a costumer. A bodice from the production is attached to suit the style and colors of the ballet being performed. All is held together with invisible hooks and eyes, or Velcro for a fast change.

The first leotard was a full body cover-up including arms, legs, and feet. It is now worn ankle length by both male and female dancers in the classroom, because it is warm and doesn't obscure the line. It was designed by French acrobat Jules Leotard (1830-70) and is now made of stretch material. The waist to ankle form with feet or footless has become known as "tights" for class-wear and is now also worn as chic street wear.

As for that 5-inch smooth waistband above the tutu skirt, it's where the male partner standing 12 inches behind his partner places his hands, thumbs separate from fingers, to stabilize the ballerina in multiple turns and to stop her momentum with a slight squeeze. (Hands on the ribcage are not good form.) There is no end of invention for where the hands are placed for balancing, lifting, descending or promenading in contemporary choreography. The study of pas de deux dance is separate from technique classes and develops the strength of the young male student resulting in upper body strength for spectacular overhead lifts. Correct pas de deux partnering is a science as well as art. Good dance partnerships on stage depend upon trust, mutual intuition and consideration.

The next time you watch a pas de deux on stage, see if the male dancer keeps the emphasis on the ballerina, makes eye-contact with her and doesn't crush that tutu! If the tutu is crushed, the partner is too close to the ballerina. They should be together but apart.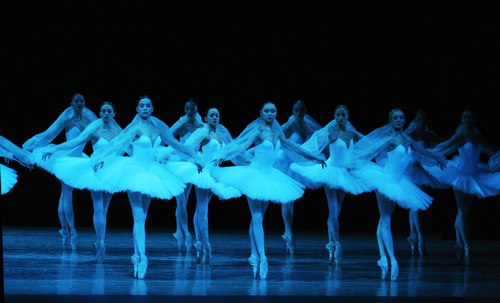 The Kirov Ballet in Kingdom of the Shades scene from "La Bayadere"
Photo © & courtesy of Costas