It had been a while since I was bit by the "I-Need-To-Learn-How-To-Do-That!" bug. But it got me this past weekend at the Friday Night Fever Extravaganza at Stepping Out Studios, where I saw, for the first time, the Hustle.

Over the years I've found my way into many a salsa club and tango class and modern or African dance workshop, but somehow I missed out on The Hustle. Subsequent research has informed me that this is a term applied to a wide range of party dances and what I saw last Friday would properly be called "Latin Street Hustle," or "The New York Hustle." All I knew at the time though was that I'd never seen a dance so elegant, riveting, and utterly tempting.

In the Grand Ballroom at Stepping Out Studios, disco balls sent flecks of light sliding over the walls and over the dancers as they swirled and spun across the wide floor. They moved with precision and grace in a dance defined by endless twirls, flirty little kicks, broad sweeping steps, elegantly erect postures, and the occasional out-flung arm accenting a particularly snappy turn of heel. The Hustle is a showy, mesmerizing dance and I was truly impressed by the level of skill on the dance floor. These people knew what they were doing, and they were having a wonderful time doing it. I was bit, and bit bad. My resolve: Must learn to dance like that too!

The Friday Night Fever is a monthly event hosted by Stepping Out Studio's Simone Assboeck. It's a party with much to recommend it. Besides the fabulous dancing and intoxicating music (spun by DJ Nelson "Paradise" Roman) the price of admission admits access to an open bar, a free buffet of diner foods and snacks, and midway through the night, a special performance series. This time we were treated to a modern dance, salsa, and belly dance show. There was also, in an adjacent room, a Guest DJ playing salsa and merengue.

I will certainly be back for the party next month. And, by then, I'll be ready to get disco hustle on too!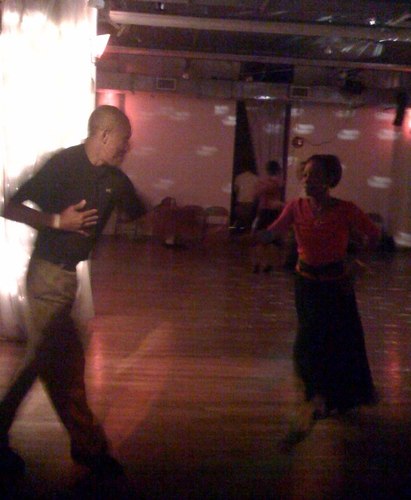 The Hustle
Photo © & courtesy of Sarah Hart
---
Under the disco lights
Photo © & courtesy of Sarah Hart
---
A modern dance performance
Photo © & courtesy of Sarah Hart
---
And some swanky Salsa
Photo © & courtesy of Sarah Hart
---
Belly dancing!
Photo © & courtesy of Sarah Hart
---
And more belly dancing
Photo © & courtesy of Sarah Hart