The cliché Latin lover or macho male was blessedly elsewhere in a program that Pasión Flamenca brought to the Soho Joyce. They gave a generous, passion-filled show Friday evening, October 17th, 2008. It refreshingly brought out the Yin, and steered clear of flamenco stereotypes. The five-year-old New York company debuted this year in the DNA "In The Company of Men."

Romantic love and sexuality isn't the subject of this avant program. Instead they access an essential love of humanity in works that present the flamenco basics without pedantics. Gabriel Garcia Llorca would find what he famously called duende. He sought the spirit in music, dancing, and bullfighting.

The dancers are dressed for a night of fun in the second and final "Estampas Flamencos." Enchanted by one of their own dancers, José Moreno, at an imaginary tablao, they mutter approvingly, "Encantos" (enchanted.) Is it Barbara Martínez's clear, singsong narrative, and Pedro Cortés's lyrical guitar, or Raphael Brunn playing Cortez's melody this time? The tablao scene is a coup of theatricality and puro movement.

Alfonso Cid's muddy, modulated moaning is the predominant background from the group of five performers seated against the backdrop, lest we think that painful memories are far from the revelers minds. Rebeca Tomás begins in a bright red bata de cola dress, swinging its ruffled train. The amimated mound of ruffles suggests a partner in the fun of her glorious dance. At the end of the evening, she's in a simpler and elegant mint green ruffled dress, with velvety chrome green trim and shoes. They have a laminated wood sole and would be the envy of shoe shoppers this fall. Her dancing is bright and sharp, and with her lovely curvaceous line, she conveys fire, if not the ageless hardened sorrow of Soledad Barrios, who Tomás has danced with.

Antonio Hidalgo is the company choreographic director. His trim upright figure and hard-into-the-floor footwork exude his flamenco pedigree. A company signature, he's minus the Chippendale-style pelvic gyrations, and other overt sexual moves of some other male flamenco dancers. While he's alluringly handsome, he doesn't play the cad or gigolo, his dancing has a stabilizing and memorable effect.

On the other hand, Moreno's bigness is about more than size. His shirt hangs out. He wears a white tie with black polka dots, a Seville motif. His demeanor is serious and he dazzles counterintuitively, with a tour de force leaping-turn and lightening-quick pattering feet. When his arms rise at his sides, his downward palms flat, he even creates a sense of ballon that's especially appealing in the intimate space of this theater. He stumbles off waving this way and backward to his upstage audience of five. "Brujo," they call, (bewitching.) Mark Morris could have borrowed some of Moreno's style and charm, which is a mix of heart and hard work.

Pairing off at the end of their evening's reveling, brotherly Hidalgo and Jorge Navarro are arm in arm following Tomás and Moreno out the imaginary door of the tablao.

Three shorter "Tributes" make up the first, flamenco nuevo, half of the program. Navarro solos in front of a projected image of pouring liquid, and watery sounds in Cortés's recorded music. The scene changes to dewy rainforest. "La Ultima Gota de Agua (The Last Drop of Water)" is a tribute to AIDs fatalities, including many in the Flamenco world. It actually recalls all dwindling natural resources. The opener is effectively lighted by Walter Guzman. In this and the other dances before intermission, the company exercises its theatrical arm.

A musical interlude, Cortés's "Recuerdo a Mi TioSavas," remembers Agustín Castellón Campos. The genius guitarist known as Sabicas fathered flamenco fusion. Cortés was his student. He sits and strums while Moreno follows on cajon, a rectangular, upright, wooden box that's both a seat and a drum. Moreno's white-clad feet tap the sides; he massages the front or strikes the top edge. Cortés's fingertips fascinate, in perpetual motion and catching the strings.

A sequence of projected photographs sets the scene for the poetic "Los Mineros," a tribute to the colliers of Rio Tinto in Andalucía. Hidalgo and Navarro are father and son. Standing several feet apart, they shake as if on an elevator lowering into the mine. Martínez sings a miner's ballad and they dance with canes. Between their feet and the thump of the canes, the Joyce Soho, or its lightweight metal bleacher system, is literally jumping. The other dancers clap the beat from the side of the performing area. Removing their miners caps, the two men put down their canes and invite each other to solo. After turning and stamping together with upright pride, they make a chain and travel. Day after day, for generations.

"Los Mineros" is a scene from the company's upcoming theatrical dance production "Flamenclorico: Lore of the Miners." So if your curiosity has been piqued about this traditional flamenco theme or Spanish theatrical dance, look out for the show in the dead of our New York winter. Their distinct choreographies uplift, even while tinged with tragedy.
Barbara Martinez
Photo © & courtesy of Cindy Quezada
---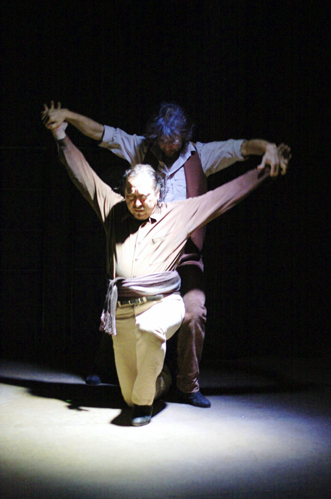 Jorge Navarro and Antonio Hidalgo in "Los Mineros"

Photo © & courtesy of Cindy Quezada
---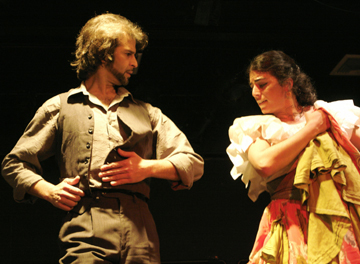 Antonio Hidalgo and Barbara Martinez
Photo © & courtesy of Cindy Quezada