Josh Beamish and his troupe, which he calls MOVE: the company, performed high-energy dance at Joyce SoHo Thursday December 18, 2008. The company style is so singular that I cannot imagine them trying something different. Beamish, the choreographer, is an amazing dancer. It is hard to avert your eyes from him when he is on the floor. Luckily, he treats us to many solo turns. In "Trap Door Party" he performs with five others who come close to his individualist style and skill, but the challenge for them is visible.

"…Party's" repetitious vocabulary offers a calming, visceral experience for the viewer, but each piece begins with a blasting bass line in the music. It's unnecessary. The dance itself does not allow for snoozing. If you have come to the show with a headache, you'll need extra strength remedy afterward. In fact, there is nothing feel-good about "Trap Door Party" or the short curtain raiser "Memento." The later may have been a test and an opportunity for those audience members to exit, those who did not know what to expect. No one left.

Hardcore might best describe the speedy, aggressive, no-nonsense dance style. Even when two males or two females simply walk the perimeter of a large, lighted square on the floor, their movement is incremental, jolting, and inward twisting. Feet are mostly pigeon-toed. Beamish's round of multiple pirouettes are just as idiosyncratic— the active leg is bent in a perfect isosceles angle and he spins like a top at incredible RPM.

The women's parts are more sedate, but Heather Dotto is a powerhouse. She projects more personality than anyone does, including Beamish. In her remarkable first solo, she suggests a sensual, musical, sphinx, stretching in a split, wearing a gold bra under black jumper shorts. The three men carry her on their shoulders. Throughout, dancers take momentary, gorgeous Apollonian poses, especially Beamish and the men. They take you by surprise and you miss them if you blink.

The "…Party" is essentially a full-evening work consisting of a succession of brief, rapid-motion dances. Some are too complex, and take surprise and gimmick as their subject. They trip up the cast and us. I did say it isn't feel-good.

The movement quality, the articulation of their isolated hands, feet, shoulders, is almost always a declaration. This clarity is welcome. Also interesting is the group work's pronounced rhythm that is almost militaristic. Scott Augustine and David Raymond impress in a wrangling duet. Jacqui Lopez is an excellent, if affectless dancer and well fitted to Beamish's mold. The men are usually very together except when one in the back visibly loses it, causing the momentum in their unison tour of leaps to crumble.

In one interesting, repeating phrase, Scott Augustine stands at the head of a vertical line of dancers. They round robin as he whisks them past go. His b-boy attitude works for him here. Mechanistic and musical, this dance ends in a pile-up. The end of the evening and "…Party" is less conclusive. Alison Denham completes the cast. She also performed in the unremarkable duet "Memento" with Beamish.

The dancing to the mesmerizing Aphex Twin music performed by Alarm Will Sound, is musically satisfying. Passages of male or female vocals that sound like amplified, luscious throat-clearing noises, accompany respective male or female trios. A little hip-hop, a little court dancing, a little ballet and modern, aptly coalesce in one singular vocabulary. In fact, one might wish for a Beamish program with more variety and range. It was almost too cogent.

In the last section they smile on cue. The whole is tied together with Beamish costume and lighting tricks that equal the movement in oddity, playfulness, and effect. Beamish finds an interesting intersection— camp and serious. Sometimes they clash. When he slows down and finds the universal, as in the Dotto sphinx dance, he approaches art.
Josh Beamish
Photo © & courtesy of Mark Brennan
---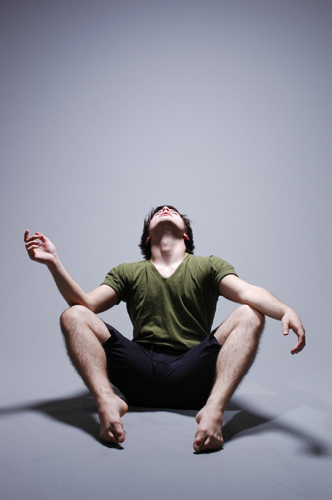 Josh Beamish
Photo © & courtesy of Mark Brennan
---
MOVE: the company dancers
Photo © & courtesy of Lydia Nagai
---
MOVE: the company in "Trap Door Party"
Photo © & courtesy of Lydia Nagai