The practice of yoga and the art of dance are both ancient traditions, going back in history for thousands of years. That they blend together as a near-perfect marriage makes you wonder if indeed, they may have started as a partnership.

Yoga dance, dance yoga, whatever you call it, the marriage is obviously copacetic.

What could be more enjoyable after stretching and limbering up in a yoga session than moving seamlessly into a couple of dance routines? Dancers are supple and graceful by nature and training. So are yogis. Put them together and you have a fluid, joyful, kind of dancing that is enhanced by the yoga session. Dancers who have never done yoga before love what it does to their dancing. Likewise, students of yoga find that it gives them the confidence to get out on the dance floor; they pretend they're just extending their yoga practice rather than making fools of themselves.

This is what happens regularly in yoga dance classes in Massachusetts and New York, and probably around the rest of the country as well.

In Massachusetts, the Kripalu Yoga Center in Stockbridge (close to Lenox) started a program called DansKinetics 28 years ago, putting the two together in one session. Now they have trademarked the practice into "Kripalu Yoga Dance," which Kripalu's media relations specialist Cathy Husid-Shamir calls "meditation in motion," or the "free flow of yoga postures." Among the dancers and yoga teachers who have taught this class, Megha Buttenheim calls two of hers "Let Your Yoga Dance" and "Grace in Motion."

"I started dancing coming out of the womb," Buttenheim laughed. "I was always on the dance floor. I studied modern dance, majored in dance and theater in college and acted professionally in the group Shakespeare & Company. I discovered Kripalu in 1984 and started teaching there soon after. Since a dance class has a certain kind of repertory to it, I use the seven 'chakras,' or energy centers in the body, in my yoga dance classes as the repertory.

"The first chakra is the large muscles of the body, so we warm them up with floor poses, such as the 'mountain pose.' It's a standing,-still pose, but I have the students begin to move around and curl down in a sort of preparation to dance. The second is the sacrum and hips, so I give students a nice faster-flowing aerobic workout using bluesy music and focusing on sensuality. The third chakra is power, so we do 'warrior poses,' and the fourth, the heart, we use movements and postures that open up the heart, so I have them do circle dances using Vanessa Redgrave-style scarves."

"The fifth chakra is sound, and we use wild, crazy, fun movements, and the sixth is quiet, so we do a cool-down with a yoga dance prayer, a very flowing series of movements. Likewise, the seventh and last chakra is meditation and relaxation, taking the energy we've poured out and bringing it back inside."

Yoga practice is solitary, often with the eyes closed, all on your own mat, Bettenheim explains, while yoga dance is movement off the mat, seeing each other as you move rather than remaining closed within yourself. While most musical accompaniment to regular yoga classes consists of East Indian chanting and the like, for yoga dance, Bettenheim uses Latin music, including tango, and Celtic, East Indian, Native American, and Frank Sinatra. "I want people to flourish in their own expression when they study yoga dance," Bettenheim says, adding that some teachers might even include belly dancing in their yoga dance classes. She added proudly that "Year in and year out over the last 25 years, people say this is the best class they've ever had."

Catherine and Paul Calderon, who own a yoga and dance studio in New York called Shambhalayoga, bring their very popular yoga dance class to Kripalu about twice a year. They call it "Salsa and Yoga; Relax, Renew and Cut Loose," and their sessions end with a wild Saturday night performance and dance party for everyone at the Center. My husband and I were lucky enough to take part in one of these parties last fall, and the dancing, led by Catherine Calderon, was so free spirited that it was hard to believe no one had had a drop of alcohol before they danced. (Liquor is a no-no at Kripalu.)

Calderon started as a dancer, and she always loved the Latin rhythms. She began dancing salsa professionally in nightclubs and at salsa congresses all over the world, and danced for a time with the Tito Puentes orchestra. She began to enjoy yoga when she was 17 years old. She learned her special kind of salsa from her godfather, a Cuban dancer and priest who had moved to New York. He taught her the "Yoruba" tradition which is a highly sophisticated West African spiritual system using the energy centers in the body. She also learned African yoga from another teacher in New York and now teaches occasional yoga dance classes at the Esalen Institute in California.

When she took a combination yoga and salsa trip to Mexico a few years back, it gave her the idea of combining the two. "My interest in combining yoga and salsa," she notes, "is that I think maybe they are related from way back." These days she adapts her classes to the vibes she gets from her students. "I look at my students and the yoga I teach that day depends on them. 'Where are the blocks in your energy system?' I ask them."

Judging by the wonderfully frenzied and fluid performance at the end of their two- or five-night program, she clearly finds the secret of "unblocking" each and every one.

Calderon has produced a documentary film called "Dancing With the Spirits," which opened in New York on December 11.

Two or five-night Kripalu Yoga Dance sessions range from $392 to $2060. For Kripalu schedules, go to: www.kripalu.org. You can reach Buttemheim at megha@letyouryogadance.com and Calderon at shambhalayoganyc@aol.com.
Drumming in the yoga dance class
Photo © & courtesy of Maureen Cotton
---
A wild yoga dance
Photo © & courtesy of Maureen Cotton
---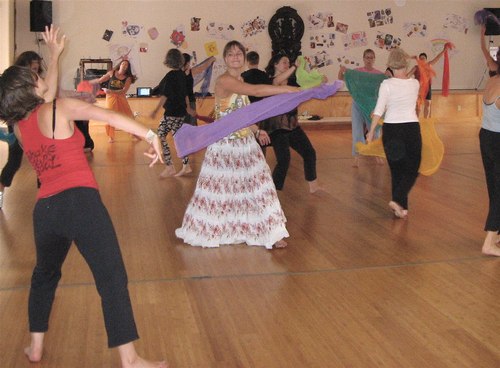 A scarf dance in yoga class
Photo © & courtesy of Maureen Cotton
---
Megha Buttenheim, yoga dance instructor
Photo © & courtesy of Kevin Sprague