Shoes, essential, fashionable, status symbol, tool for the dancer, is a Spring ritual purchase. Whether it is a pointe, jazz or ballet slipper, Spanish, character, ballroom dance high heel or sandals, you can't go out there in a recital, competition or exhibition without a reliable and beautiful pair of new shoes. It's part of the costume.

Historically, as a fashion symbol worn onstage with elaborate buckles, ribbons and heels, court shoes in the Baroque era were beautiful but those heels were a handicap in developing the advancement of technique.

Marie Camargo, (1710-1770) was a brilliant and famous dancer much imitated ("shoes á la Camargo") with a number of culinary inventions named after her as well. She advanced the ballet technique by mastering steps usually performed by male dancers: the category of batterie, or beats, in which the feet exchange place at the ankles during a small jump called an entrechat. In addition, she mastered the cabriole, a difficult beat in which one leg is raised to 45º or 90º and the other leg meets it without lowering the raised leg. Of course, Camargo had to shorten her skirts to accomplish these feats, which added to her popularity.

Madame Sallé (1707-1756) and Isadora Duncan would have none of it and discarded both the shoes and costumes in exchange for bare feet and tunics. Modern dancers, as well, discarded shoes in order to expand their specific technique.

Getting back to your purchase for a special occasion, the choices are constantly evolving inside the shoe although the outer shoe may look the same.

The pointe shoe is broken in with mayhem and abuse…banged on the floor or crushed in a doorway to soften the box, or softened with alcohol or water, darned with pink cotton thread at the tip of the box to prevent slipping, carefully folded and cleaned with alcohol after use. The competing or auditioning dancer may carry three of four pairs in her dance bag in various degrees of pliability depending upon the requirement of her chosen audition or performance piece. Some 19th century variations require the soft rise to point and soundless descent. More contemporary works require a harder box so the dancer can impale herself like a pogo stick and climb up. No shoe can get the dancer mechanically on pointe. Only the metatarsals or a spring from the heel can. The technique for pointe work should begin after the age of 13, when the metatarsal bones are sufficiently ossified.

Male dancers, usually wear white or black soft "ballet" shoes with a touch of washable liquid adhesive on the heel of the tights or in the shoe to keep it secure.

Pointe shoes may be tinted pink with drug-store dye or colored to match a costume by the manufacturer.

To carry a bagful of shoes all day is the dancer's lot. Fortunately, it's a light one.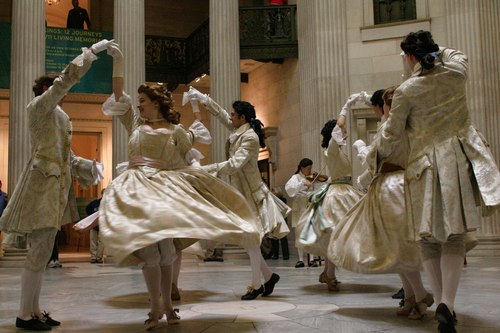 Baroque dancing
Photo © & courtesy of NY Baroque Dance Co.
---
Baroque shoes
(Detail of previous photo)
Photo © & courtesy of NY Baroque Dance Co.
---
An example of a pair of pointe shoes
(Autographed by former member of the New York City Ballet Diana McBrearty and, painted by Michelline Coonrod)
Photo © & courtesy of Michelline Coonrod
---
An example of a pair of pointe shoes
(Autographed by former member of the New York City Ballet Diana McBrearty and, painted by Michelline Coonrod)
Photo © & courtesy of Michelline Coonrod