PARIS — On the way to the Theatre de la Ville - Sarah Bernhardt Tuesday May 26 for the opening night of Brussels-based American choreographer Meg Stuart's new two-hour sans intermission "Do animals cry?," playing through May 30, I picked up a copy of the freebie newspaper Direct Soir, published by Le Monde, and read one of those items that falls into the shocking-but-not-surprising category: Close to 700 items belonging to the estate of the late Marcel Marceau are to be sold off at the famous Hotel Drouot here this week, to pay the debts the artist whose name became synonymous with mime left behind him. The item expected to fetch the most was the hat with the red flower worn by Marceau's eponymous Bip character, for which the opening price was a paltry 800 Euros. (The association A Museum for Bip is hoping to acquire most of the items — "The artistic heritage left by the artist is in danger," they warn — but will need to raise 100,000 Euros to do so.) I cried. Really, I cried. Because I knew the reason Marceau died in debt when he perished from a heart attack at the age of 84 on his farm in southwest France in 2007: Never mind the popularity he singularly brought to his art and the concommitment glory he brought to his country by doing so, in a career that spanned 60 years; Marceau never got the support he deserved from public funds. He got precious little, for his company and for the International School of Mime Drama he founded in Paris in 1977. And when I contrasted this with the largesse doled out to so many companies who don't have one percent of the artistic rigor Marceau prized and yet year after year get funded by public money because they're in with the right French artistic funding circles, I cried. They get public money because they appeal to the cultural funding elite and a coterie of enabling arts journalists with high concept art that frequently boggles the actual public, whereas Marceau actually used his art to move the audience with a pure simplicity that has little to do with 'concept' and everything to do with tragi-comedy rooted in real life.

I could not help thinking of this as I watched Meg Stuart's multi-nationally funded and somewhat indulgent "Do animals cry?" unroll before me (on the stage the greatest tragedian of them all, Sarah Bernhardt, once owned), a few weeks after its world premiere at the Theatre Garonne in Toulouse which, together with the Theatre de la Ville, Berlin's Volksbuhne am Rosa-Luxemburg-Platz, Essen (Germany)'s PACT Zollverein, Brussels's Kaaltheater and most of all the Belgian state of Flanders funded this work.

I had deliberately avoided seeing Stuart's work for the eight years I've been in Europe, assuming it would be like the one piece of hers I had seen, on Mikhail Baryshnikov's White Oak, which featured a lot of beautiful dancers standing around and doing nothing to atmospheric ambient music. But as Stuart's "Do animals cry?" happens to be one of the pieces showing in the limited time I'm here this month for ExploreDance.com and the Dance Insider, I decided I could no longer avoid her.

The good news is that "Do animals cry?" has a lot more movement than I'd expected. I'd even go so far as to say it's legitimately placed in the category of dance. One of my favorite moments was an early one. After the main five of the six performers appear in pajamas (or in one case, wrapped in towels) to introduce themselves with the various varients of their real names they've gone by, they're all seized, ever so slightly, by that desire to laugh that you try to repress to keep it from taking over. I liked how this played out in their bodies in subtle ripples, and wanted Stuart to go farther with the idea.

Another exquisite segment emerged in a pas de deux between Anja Muller and the American dancer Frank Willens, a California native who played a sort of Opie/Richie Cunningham character throughout, even to wearing white shorts and slicking back his dirty-blonde hair. (As Willens didn't know what I was referring to when I mentioned this to him later — "I don't want to offend you," he told me, making me feel all of my 48 years, "but it's a bit before my time" — I guess I should explain for the youngsters out there that these were youthful characters the director Ron Howard played on t.v. in the '60s and '70s.) The duet hinted at, let's say, a mixed-up relationship, with the red-dressed, Rubenesque Muller perhaps a mother figure who was perhaps flirting with Willens, who may or may not have been her son, her clever maneuvers — at one point she collapses on and in his lap, and he uncertainly nudges her away — stopping just short of moral indecency. What I liked about this duet from a dance perspective was its restraint, hard to portray in a sexually charged — and loaded — context. Later the relationships became more clear, physically and morally, as a new man (Adam Linder) showed up to flirt with Muller's mother figure, and Willens responded simply as a son jealous of a potential rival for mom's motherly affection. As the adults essayed their own exploratory duet, Willens tried to insert himself between them literally and figuratively, for example by nudging himself between Muller and Linder, who duly ignored the child, Linder at one point even stepping over and on him to re-commence with 'mom.' Less clear was a bit of (English, with no sub-titles for the French audience) text some of which seemed to be inserted just for shock value. "Good news! Mom thinks she's a rock star." Willens announced, as Muller pounded on a drum set. "Good news! A girl stuffed into a suitcase was found in the bottom of the river."

I should pause to inform you that at this point in a spectacle which — a half hour into it — I found interesting, about 20 people had discretely fled the theater. By the end of the first hour, about 100 had left. This is not an anomaly at this particular theater — indeed the subject is good fodder for a thesis — and that's not so much a comment on the programming as on the fact that the Theater de la Ville - Sarah Bernhardt, located centrally on the River Seine, must attract a lot of tourists, or people who just want to check it out because it's 'branché' or cool, and often don't know what they're getting into until it's too late. Still, it had me reconsidering the real value of a statistic relayed by Paris Mayor Bertrand Delanoe at a press conference earlier in May announcing this theater's next season, namely that this season the theater was sold at 95% capacity; if that figure doesn't account for people who walked out before the end of the show, how accurate is it really as a gauge of the success of the Theatre de la Ville's programming?

Because really, what I see in Meg Stuart is the unfortunate result of too much indiscriminate and barely considered arts funding. Flanders is infamous for this. The frustrating thing is that Stuart is actually good; if she'd kept her spectacle to an hour as opposed to two without interruption, I wouldn't need to throw the term self-indulgent at her. (The men's room banter right after curtain backed me up on the piece's being about an hour too long.) But she went on, and on, and on…. Even Hahn Rowe's original score, which at first struck me as so right-on in the precise manner in which it matched the various moods and inflections of the dance, had me aching to escape from its minimalist drone during a final — and encore slo-mo — section which seemed to go on for at least 15 minutes, which was 15 minutes too long. The main movement motif, too — a sort of palsied theme — also had me itching to leave.

Of course, it's not Meg Stuart's fault if she, a foreigner, has been given the means to commission an original score and create a sumptuous set (including a compelling over-ground tunnel made of thin logs) because she chose the right European country in which to settle, arts-funding wise, and because the Europeans love American artists who have made the actual choice to install themselves here, whereas one of their own with a lot more artistic fiber and rigor, not to mention human rapport with normal people, Marcel Marceau, was ultimately left to hang out to dry by the cultural funding cabal in his own country. (I can hear the gendarmes at the door!) Still, she can be reproached for a certain, if not disdain for than certainly aloofness from her audience.

My ExploreDance.com editor recently gently requested that I find some 'normal dance' to write about during my sojourn in Paris. I answered that here in France, at least — and this probably applies to Europe at large — for the past ten years typical dance concerts have included a heckuva lot of theater, or let's say, 'talking.' In theory, there's nothing wrong with this, if it's not done at the expense of the dance and if the theater is rendered at the same professional level as the choreography. Indeed, if I've been surprised by one thing here in Paris since I returned this month after a two-year hiatus, it's that if the dancers are still talking on stage, they've at least learned to act and the choreographers to write; the recent show from another Belgian-based artist, Wayn Traub, is a great example. That man can move, act, and sing. The text was at the same high level as the dance — maybe even higher. Meg Stuart, unfortunately, is another story. The text was mundane — a lot of it consisting of clichés of phrases one might employ to scold a child — and the acting was mixed. As an echo of Richie Cunningham/Opie, Willens was perfect. And Muller's mother was right on too, alternately repressed and exuding sexuality. But a spastic segment with Kotomi Nishiwaki was simply atrocious — I wasn't sure if she was a dog, a horny adolescent, or simply an under-directed dancer trying to act a trite and stereotypical script she created herself and failing miserably.

But where Stuart's disdain comes in — besides the unjustifiable length of her piece — is the simple fact that while her dancer-actors spoke in English, THERE WAS NO TRANSLATION. FOR A MAJORITY FRENCH AUDIENCE. When I asked Stuart about this later, she answered, rather lamely, that no one told her it was important and that it seemed it would be hard to offer sub-titles at the Theatre de la Ville, reflecting an extraordinary ignorance of this theater for an artist being presented by this theater, as it has frequently presented spectacles featuring English text, usually translated, quite easily, by sub-titles hanging down above the lip of the stage or projected on an upstage scrim. When Stuart asked me if the lack of translation bothered me, I answered, "Well, it's not an issue for me as I speak English, but is it important to you that your audience gets the words?" She answered yes.

How did the French, non-English-speaking members of the audience — the majority, after all! — feel about this? The response I got was mixed. On the one hand, the French lady sitting next to me said she thought the dead dog which wouldn't fetch the stick Nishiwaki tossed, leaving her fellow living humans to do so, was simply playing dead because it didn't want to fetch the stick; as I'd understood an earlier text, I knew it to be dead. (Indeed, Stuart found it at a taxidermist's, she confirmed to me.) On the other hand, this didn't seem to bother my French friend; she thought it was funny that the humans had to fetch the stick because the dog wouldn't. (And there's another, more important consideration here: It's ultimately disrespectful and even abusive to exploit animals' dead remains in this fashion. Indeed were the corpse human, it would be illegal here. If I wasn't being paid to stay in the theater, as a reviewer I mean, at this point I would have left, yelling loudly: Shame on you, Meg Stuart!)

Throw a dog a bone.

PS: If you sense a certain degree of anger in this review, inappropriately directed at one artist, you're not off. What irks me — besides the relative lack of support for much more meritorious artists like Marcel Marceau — not so much about Stuart but about her endorsement by presenters across Europe is that there is so much original American dance which has emerged over the past 25 years which is ignored because for an American dance artist to be acknowledged over here, by presenters in Paris, anyway, he/she has to be named Merce Cunningham, Trisha Brown, Lucinda Childs or, maybe, Alwin Nikolais. Any American who's emerged the last 25 years is ignored — even, I'd even say particularly if his/her invention has been copied by European artists who take a few classes in New York and then come back and claim what they've picked up as their own. The exception to the 25-year rule is artists who make the choice to actually move here, as is the case with John Neumeier, William Forsythe, and Meg Stuart. Never mind if, as appears to be the case with Stuart (from just one viewing, I should admit), they're not adding anything original to the canon but simply offering poorly, verbosely executed imitations of European dance theater. (And worse: If Stuart's overall command of the stage is good, she appears to have left it to the individual performers to develop their own movement within set movement directions, which of course makes the dancers their own choreographers and eventually makes for a lot of repeated and after a certain point meaningless noodling.)
Meg Stuart's "Do Animals Cry?"
Photo © & courtesy of Gerald Koll
---
Meg Stuart's "Do Animals Cry?"
Photo © & courtesy of Gerald Koll
---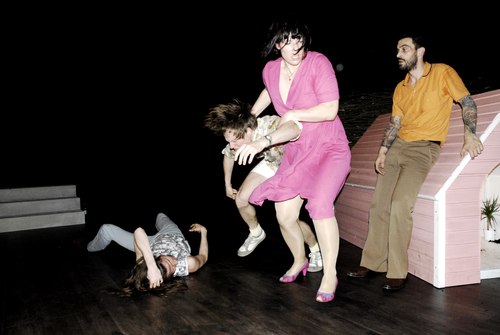 Meg Stuart's "Do Animals Cry?"
Photo © & courtesy of Fred Kihn