In the 25-years Jean-Pierre Bonnefoux has headed The Chautauqua Institution's summer dance series at the famed Chautauqua, New York resort, he has steadily built the summer performance series into one of the finest in the country — bringing in dancers from all over the country to dance under the moniker of The Chautauqua Ballet Company. In the past several seasons the series has become more of a Southern affair with The Chautauqua Ballet Company giving way to Bonnefoux's Charlotte-based North Carolina Dance Theatre who has become the Institution's resident dance company. This season NCDT will be the featured company in all but the first of the 8-week summer series' 6 programs.

The season kicked off July 2 with the 6-member Chautauqua Dance Salon's "Green Pieces," a program of new dance works choreographed by Chautauqua regular Mark Diamond and North Carolina Dance Theatre principal dancer Sasha Janes – all with environmental themes.

The Diamond and Janes show has become a regular occurrence in the annual Salon evening, where live music and intimate dance take center stage.

On July 14, North Carolina Dance Theatre begins its 6-week residency at the Institution joining the Chautauqua Symphony Orchestra under the baton of guest conductor Grant Cooper for an eclectic program of dance works that will include a reprise of Alonzo King's striking contemporary ballet "Map," set to music by Arvo Part, that the company performed at Chautauqua in 2004. Also on the program will be excerpts from a new work by Diamond set to Gustav Holst's "The Planets", a work by the NCDT resident choreographer Dwight Rhoden, and a bit of Christmas in July in the form of excerpts from the second act of Bonnefoux's "The Nutcracker" ballet.

On July 29, the company will present "An Evening of Pas de Deux." Slated are a mix of contemporary and classical works including Victor Gsovsky's "Grand Pas Classique" (1972); the balcony scene pas de deux from Bonnefoux's "Romeo and Juliet"; works by Diamond and Janes and George Balanchine's famous "Tchaikovsky Pas De Deux" (1960), a ballet originated by the evening's honoree, longtime Chautauqua dance teacher and dance icon Violette Verdy.

The program will also include the premiere showing of a new video about Verdy produced at the Institution.

August 5 the company returns in "Dance Innovations", featuring excerpts from Rhoden's steamy "Dirty Truth And Pretty Lies," inspired by Tennessee Williams' "Cat on a Hot Tin Roof" and set to torch songs by Nina Simone. Joining Rhoden's work on the program will be Balanchine's Ballet Russes masterwork "Apollon Musagete" (1928), choreographer Mark Godden's "Romeo and Juliet"-inspired "Constructing Juliet" (2002), and Diamond's "There Again, Not Slowly" (2003) set to music by British duo Chemical Brothers.

The 2009 dance season wraps up August15 with NCDT once again being joined by the Chautauqua Symphony Orchestra in a program celebrating Chautauqua School of Dance teacher and former New York City Ballet star Patricia McBride's 20th anniversary at the Institution. The program will feature a new ballet from husband Bonnefoux set to Rossini's Overtures; Diamond's "Immortal Design," inspired by the film classic "Death Takes a Holiday" and its remake "Meet Joe Black;" and Balanchine's "Western Symphony," staged by McBride.

All shows begin at 8:15 p.m.
Tickets/Info: $17-$38, (716) 357-6250 or www.ciweb.org
North Carolina Dance Theatre's David Ingram and Sarah James in Balanchine's "Apollon Musagete"

Photo © & courtesy of Steve Sucato
---
North Carolina Dance Theatre's Traci Gilchrest in Jean-Pierre Bonnefoux's "The Nutcracker"
Photo © & courtesy of Steve Sucato
---
From Jean-Pierre Bonnefoux's "Romeo and Juliet"
Photo © & courtesy of Steve Sucato
---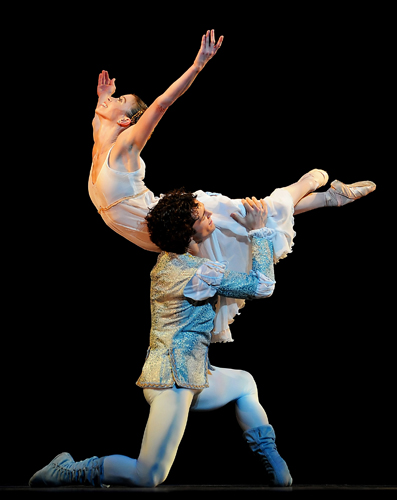 From Jean-Pierre Bonnefoux's "Romeo and Juliet"
Photo © & courtesy of Steve Sucato