On June 30, just eighteen days after the premiere of her latest work at her company's home in Germany, the extraordinary and prolific choreographer-dancer Pina Bausch died unexpectedly at the age of 68, having been diagnosed with cancer only five days before. The dance world reels with the unexpectedness of it all; obituaries and tributes come pouring in; new postings appear on the web hourly. We are all just beginning to mourn this amazing artist, woman, human being.

At 18 Ms Bausch studied at New York's Julliard school and later worked with American choreographers like Paul Sanasardo and Donya Feuer 'til she returned to Germany four years later to join the company of Kurt Joos, father of German Expressionism in dance and, in many ways, her mentor. Six years later she even ran his company, Folkwang-Ballett until in '73 she became director of Wuppertal Opera Ballett. During the next thirty-six years, with this company – renamed Tanztheater Wuppertal Pina Bausch – she made some forty-four works which inspired a generation of choreographers, as also artists, and film makers like Pedro Almodovar and Wim Wenders.

Pina Bausch's works have a world-wide reach. In the next year alone Neues Stucke 2009 ('New Piece 2009') will be performed by her company not only all over Europe but in Latin America, Asia, Africa and, we hope, on this continent as well (no doubt at the Brooklyn Academy of Music which has over the last twenty-three years presented 18 of her works). Pieces as old as the gut-wrenching Fruehlingsopfer ,'Rite of Spring' ('75) and Café Mueller ('78), based on a café once run by her parents, are still in the current repertory, and as much in demand as newer works like Vollmond ('06) and Bamboo Blues ('07).

Many came out of residencies in different parts of the globe - from Japan (Ten-Chi, '04) and Korea (Rough Cut ,'05) to Brazil (Agua,'01) and Chile (Neues Stucke 2009). Her company, too, consists of dancers from all over the world. You notice this not only from their names, but also from the variety of delicious accents they use in the spoken vignettes that have become a hallmark of her work since the early 'eighties. Ms Bausch may have begun as a quintessential example of German Expressionism in dance, but she soon became a choreographer who embraced how human beings thought, and lived, all over the world.

Having started out shocking people with the disturbing emotions and ideas expressed in her dances, as she got older she became more and more lyrical. Nothing captures as well the whimsy and lightness of her being as the solo she performed in Danzon ('95), one of the few times she appeared in one of her own pieces. The image of her standing alone dressed in black against a projection of water and fish floats through my mind. I see her upper torso sway in complement to delicately clear arm gestures and think of the many, many people round the world who feel an acute sense of loss – her family, friends, colleagues, company members, and of course her fans.

We will miss her – and the many new pieces we assumed we were yet to see – but it is a great solace to know that her company continues to perform. Barely five days after she left them, and even as they must grapple with their deep sense of loss - even shock - they perform in Spoleto, Italy, her piece inspired by India which was presented at BAM six months ago: Bamboo Blues.
Pina Bausch in CAFE MUELLER
Photo © & courtesy of Jochen Viehoff
---
Bausch's FRUEHLINGSOPFER ("Rite of Spring') danced on a stage covered with earth
Photo © & courtesy of Jochen Viehoff
---
Bausch's VOLLMOND ('Full Moon') danced in a deluge of rain
Photo © & courtesy of Jochen Viehoff
---
Bausch's BAMBOO BLUES with Bollywood projections
Photo © & courtesy of Jochen Viehoff
---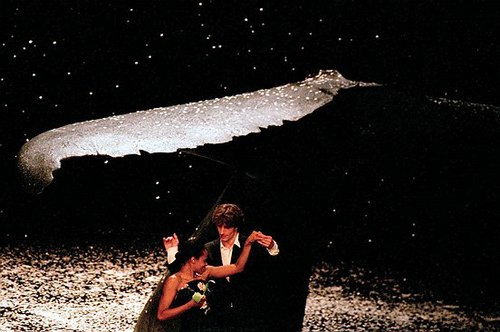 Bausch's TEN CHI ("Heaven and Earth) under a whale bone
Photo © & courtesy of Jochen Viehoff
---
Bausch's ROUGH CUT on a rocky mountain
Photo © & courtesy of Jochen Viehoff
---
Bausch's AGUA ('Water') against a rainforest image with jaguar
Photo © & courtesy of Jochen Viehoff
---
Pina Bausch in her solo in DANZON
Photo © & courtesy of Jochen Viehoff