Co-Artistic Directors Matthew Neenan and Christine Cox say that they see BalletX as offering an open "playground" to the visiting choreographers that encourages them to explore their new ideas without boundaries. "They come from working with major companies," noted Cox, "and we want them to be able to create as much interesting material as they can, doing exactly what they want to do with our dancers."

"I want to create a mood piece," said choreographer Meredith Rainey about his work, THEY BREAK. Rainey was inspired by a Chris Armstrong painting of the ocean before the storm, called Summerhead. It is set to World to Come, a contemporary music piece by David Lang performed by cellist Maya Beiser. According to Rainey, his piece will evolve from what the dancers think and feel when they see the painting of a slightly stormy beach. "My goal is to have the audience feel. I want them to genuinely get in the piece, so they forget about the choreography and just watch and be in the moment."

Rainey, a former soloist with Pennsylvania Ballet, danced with BalletX for two seasons.

Alex Ketley's dance, entitled SILT, explores how personal ideas about oneself can get lost in the sweep of life. "With an eye towards what is created through erosion and loss," says Ketley, "the work will explore the blunt edge that exists when textural dynamics collide, and the stream of movement that is altered through these collisions." SILT is set to a musical collage by Tar©JMB of the compositions by Chris Clark, Giovanni Pergolesi and Arvo Pärt.

Ketley is a San Francisco-based independent choreographer and co-artistic director of The Foundry. A former member of San Francisco Ballet, he has received acknowledgement for his work through the inaugural Princess Grace Award for Choreography and many other awards and scholarships.

Matthew Neenan will present LAST OF THE YEAR, featuring individuality of each dancer, set to a classical score by Alexander Borodin, Antonio Vivaldi and Franz Schubert. "We are lucky to have some strong male partners," said Neenan, "and I want to use their talents. For example, Colby Damon is a very unique dancer, hungry for new movement." Neenan said he was also looking forward to working again with Elizabeth Gaither, principal ballerina with the Washington Ballet.

Fall Series 2009 features dancers Colby Damon, Elizabeth Gaither, Jennifer Goodman, Tara Keating, Jesse Marks, Anitra Nurnberger, Eric Otto, and Bradley Schlagheck. Drew Billiau designed the lighting and Martha Chamberlain designed the costumes.

Audiences are invited to participate in two post-performance Q&A discussion sessions with the choreographers following the opening night performance on November 19 and the Saturday matinee, November 21.

Performance Times:
Thursday 11/19 at 8 PM, with post-performance Q & A with Alex Ketley and Meredith Rainey;
Friday, 11/20 at 8 PM;
Saturday, 11/21 at 2 PM, with post-performance Q & A with Alex Ketley and Matthew Neenan;
Saturday, 11/21 at 8 PM;
Sunday, 11/22 at 2 PM.

Tickets: $30 General, $25 Senior, $20 Student, at the Wilma Theater Box Office, 265 South Broad Street, Philadelphia. Call 215-546-7824 or go to [link text here]Groups of 10 or more save 20%. More information at [link text here].

BalletX's Spring Series 2010, April 14-18, will feature guest choreographers Thang Dao and Lauren Putty.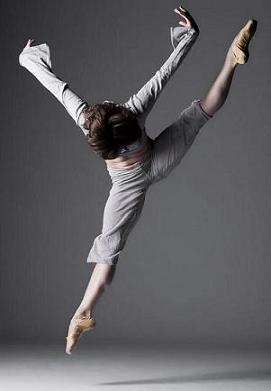 BalletX dancer Laura Feig, 2009.
Photo © & courtesy of Gabriel Bienczycki
---
BalletX: Fall Series 2009. Preview poster image. Dancer Kevin Yee-Chan. Design: Matthew Bouloutian.
Photo © & courtesy of Gabriel Bienczycki
---
Choreographer Matthew Neenan (left) is working with BalletX dancers Elizabeth Gaither and Eric Otto during rehearsal of his new work "Last of the Year." Photo: Lois Mauro.
Photo © & courtesy of Gabriel Bienczycki