This past weekend, the first annual Los Angeles Flamenco Festival turned the Redondo Beach Performing Arts Center into a flamenco marketplace of sorts. In the lobby, you could find vendors selling flamenco fashions, handcrafted silk roses for the hair, guitar strings, music CDs, and even paella.

Inside the theatre, on the proscenium stage, a flamenco "marketplace" of a different sort unfolded, as flamenco artisans from around the city and across the country gathered to perform the music, dance, and song of this ancient Andalusian art form. Though flamenco has a rich history in Los Angeles – legendary dancers Carmen Amaya and Lola Montes called it home – as well as a lively present, citywide recognition for the flamenco community here is exceptionally rare. The festival offered a welcome opportunity to call attention to performers who regularly appear at smaller venues such as the Fountain Theatre in East Hollywood and demonstrate that their caliber closely rivals the headliners that traveled from much farther afield.

The master of ceremonies for the closing night event was Johnette Napolitano, best known as the singer/songwriter/bassist for the alternative rock group Concrete Blonde. Despite her rocker roots, Napolitano professed her devotion to flamenco in a heartfelt "open letter" to Mayor Antonio Villaraigosa. In the wake of some natural disaster such as an earthquake, she said, there'd be no need to worry. Even if the electricity fails and the freeways crumble, the soul-wrenching wail of flamenco would carry on.

This proved to be an apropos introduction for singer Jesus Montoya, hailing from Seville, Spain, whose soul-wrenching baritone was the backbone for the evening's program. Though flamenco is usually best enjoyed in smaller spaces, where you can feel the stomping of feet and rhythm of the cajon in your belly, Montoya's spine-chilling vocals carried well throughout the theatre and created a greater sense of intimacy. (Editor's note: see a review from Madrid's Teatro Lope de Vega for another Flamenco performance that presented well in a large theatre.)

Aside from Montoya's singing, many different shades of guitar and dance were on display. José Tanaka, from a Japanese family steeped in flamenco arts, provided his lively style of plucking to accompany dance performed by Mizuho Sato, a fellow Japanese national whose brand of flamenco expression was sharp, sleek, and angular. Local virtuoso Adam del Monte gave a solo guitar interlude steeped in soothing arrangements.

Ben Woods (guitar) and Sage Baggot (percussion) accompanied the evening's finale, a performance by Bay Area dancer La Tania and two dancers from her company, Sandra Gabas and Gina. Dancing together, the three highlighted the Moorish flavor of flamenco by incorporating sensual bellydance elements into their choreography. As soloists, they teased out different notes, with one of La Tania's dancers crossed-dressed in masculine garb and the other offering a study in delicate footwork.

La Tania's solo was overwhelmingly the highlight of the night. This master of flamenco is lit from within, and even her smallest gestures – the flick of a wrist, the slight roll of her head – are thrilling to watch. She appears in total command of her material, creating tension with enraptured pauses and telling a story with stillness as well as with her gorgeously executed flourishes of movement.

Overall, the night capped a festival that is a welcome addition to the Los Angeles dance landscape and will hopefully raise the profile of the flourishing flamenco community here in years to come.
Images from the Los Angeles Flamenco Festival 2010
Photo © & courtesy of Sari Makki
---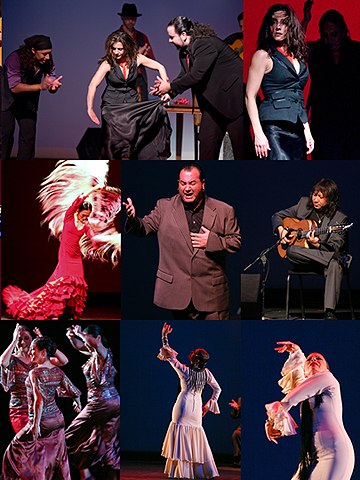 Images from the Los Angeles Flamenco Festival 2010
Photo © & courtesy of Sari Makki