December 16, 2010, I'm seated in the very packed Murat Theatre at Old National Centre in Indianapolis to witness the Broadway Across America production of Wicked for the second time. I'm definitely in the minority. Almost everyone around me is a third or fourth time returnee and they don't need a program or a song sheet. They're already singing snatches of favorites and anticipating dialogue with key opening words, to be completed by a seatmate. For the immediate assignment I'm concentrating on dance. As the production unfolds from opening orchestral blast and swarm of seeming Les Miz leftovers in "No One Mourns the Wicked" I block out the muted whispering of groupies and concentrate on movement. But in fairness to the work at hand here's my prequel review that ran in NUVO Newsweekly, June 2009:


Wicked, the prequel extravaganza to Dorothy's adventures in Oz, wowed the June 4 audience, many of whom were experiencing this event for the second, third or fourth time. Based on Gregory Maguire's 1995 much beloved book by the same name, Wicked is a musical nod to a myriad of predecessors. Similar to making a patchwork quilt, Stephen Schwartz (music and lyrics), Winnie Holzman (book) and Joe Mantello (director) in concert with designers and arrangers ingeniously combined scraps from ancestral and contemporary "fabric" to create a unique work of art. Visually, Wicked is both a wonder and a challenge. It does indeed take more than one viewing not only to "see it all" but to absorb the nuances and details. The play is stitched with aphorisms ("No good deed goes unpunished") and conjectures ("Are people born wicked?") as well as nods to Frank Baum's original text. While it warms the heart and eases the brain through glibness and familiarity, Wicked also challenges common notions surrounding glamour and love and our heart's desire. It's a fast-moving spectacle with a fine cast. Through June 21; 1-800-982-2787, www.BroadwayAcrossAmerica.com.


Wicked is not a dance show per se, "each actor's moves have been carefully worked out and choreographed" according to David Cote, author of "Wicked: The Grimmerie." Choreography here is to keep actors out of the way of ultra-fast costume and setting changes and to keep apace with computerized running of the show. Split-second timing and no deviations are the rule. Yes indeed, "we don't know where the direction starts and the choreography ends," in the words of Wayne Cilento, whose original musical staging by-passed the expected succession of production numbers and instead created non-stop choreography "to keep the story moving." Cilanto's character driven choreography is telling a story through "off-center" distinctive movement for each character growing out of the character's core and relationship to other characters, and coming from a wide-ranging dance vocabulary. The cast has to rise to the demands of constantly shifting styles and this youngish touring troupe earns praise for maintaining throughout the high-energy oomph from "What is This Feeling" to the "Finale."

At the top of the show, I'm immediately alerted to the deftly drawn mini-ballet between Elphaba's Mother, Father and The Traveling Salesman. Hmm clicks into gear as machinations of the shifting setting thrusts us into "Dear Old Shiz" and Hmm doesn't stop niggling around my head until the mid-Act II "Wonderful" vaudeville-inspired song and soft-shoe routine. The nuances are lovely and though not deigning to be a spoiler, be alerted to pay attention to seemingly disconnected choreographic elements. Greek tragedy is afoot – do those with misguided power sacrifice those they most love?

Equally absorbing are the connecting links between the show's stand out production number, "Dancing Through Life," and the serene balletic rendering of "As Long As You're Mine." In contrast to the swiftly etched Mother-Father-Salesman opening of frenetic flim-flam, the Act II moment between Elphaba and Fiyero accentuates lasting love.

Observing characterization through movement became essential. Madame Morrible's swaying and Fiyero's loose-limbed physicality imbued foretelling. Watch for the masks to drop.

Watching borrowings provided fun-filled asides. Galinda's quirky, smirky "Popular" contrasted with Elphaba's mimicry is in league with virtuoso delights of The Step Sisters of Cinderella fame.

And then there's the brilliant Elphaba's Dance at Ozdust Ballroom. Casting a lyrical spell with hands, body in first position, initially telling her story, her way first Elphaba and then Glinda and finally the company pace us through the basic ballet positions morphing into modern dance.

For a show that not a dance knockout, Wicked casts a spell over a dance critic, who is expecting to experience aha flashbacks for weeks to come.

For the record of the December 16, 2010 show, let it be noted that Rachel Potter and Vicki Noon were exquisite as Glinda and Elphaba, respectively. Also bringing breadth and depth to their characters were: Chris Peluso as Fiyero, Michelle London as Nessarose, Zach Hanna as Boq, Marilyn Caskey as Madame Morrible, David DeVries as Doctor Dillamond, Don Amendolia as The Wonderful Wizard of Oz, KC Fredericks as Chistery. Applause as well for the rest of the troupe, on stage and off, and for the orchestra, traveling with the show and joining as locals, for a fine production.
Wicked
Chris Peluso
Photo © & courtesy of Joan Marcus
---
Wicked
Chris Peluso and Vicki Noon
Photo © & courtesy of Joan Marcus
---
Wicked
David de Vries
Photo © & courtesy of Joan Marcus
---
Wicked
Don Amendolia
Photo © & courtesy of Joan Marcus
---
Wicked
Kristine Reese
Photo © & courtesy of Joan Marcus
---
Wicked
Marilyn Caskey
Photo © & courtesy of Joan Marcus
---
Wicked
Marilyn Caskey
Photo © & courtesy of Joan Marcus
---
Wicked
Natalie Daradich
Photo © & courtesy of Joan Marcus
---
Wicked
Natalie Daradich and Vicki Noon
Photo © & courtesy of Joan Marcus
---
Wicked
Natalie Daradich and Vicki Noon
Photo © & courtesy of Joan Marcus
---
Wicked
Vicki Noon
Photo © & courtesy of Joan Marcus
---
Wicked
Vicki Noon
Photo © & courtesy of Joan Marcus
---
Wicked
Vicki Noon
Photo © & courtesy of Joan Marcus
---
Wicked
Vicki Noon and Natalie Daradich
Photo © & courtesy of Joan Marcus
---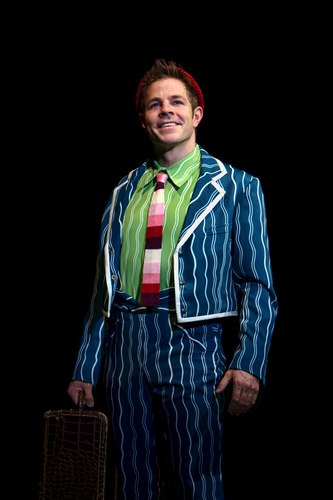 Wicked
Zach Hanna
Photo © & courtesy of Joan Marcus