DK dancers provided an especially "enchanted performance" June 24 as a farewell to four-year company member Caitlin Swihart who left for California within an hour of the close of the 2010-11 season. The poignancy of Caitlin and Timothy June's reprise of "Some Enchanted Evening" leaves a lasting memory as the paradigm shifts within DK for the 2011-12 "40th Anniversary Season."

Fun and angst are the yin and yang of the pairing of David Hochoy's "There's No Business Like Show Business" which premiered October 2010 and Cynthia Pratt's "Taking Care of Business" which premiered January 2011.

Both closely partner choreography with lyrics and music, interpreting heart and soul of each song, taking you on and into the journey of dancers interpreting emotions "in the moment." This program's pairing offered a rich landscape of music touching on matters of the heart and defining personhood. Tracing Elvis' singular path Pratt gives the dancers individuality in company pieces—"Patch it Up," "Always on My Mind," "Burning Love," "Such a Night " and the newly added "Jailhouse Rock," which closed the show. "Slicin' Sand" which opened the act in January was omitted.

Hochoy's company pieces provide a survey of world dance to the ever-changing tempos of "Candide, Overture," a foray into childhood with "The Lonely Goatherd" [including special guests Lauren Kwan and Sandy Reiberg], and the spirited, uplifting "Being Alive." Three pieces are memorable soliloquies — Jillian Godwin's resolute "Something's Coming," George Salinas' shy "If I Loved You," Mariel Greenlee's haunting "Losing My Mind."
Especially intriguing was the chance to experience Liberty Harris and Kenoth Shane Patton in seamless partnering — irony and disappointment reflecting Hochoy's snapshots to the ballad "Send in the Clowns;" sexy, snarling, provocative blues moves for Pratt's "Trouble."

Equally engaging was comparing the approaches to ensemble pieces. Pratt surprises with "Fever," "Steamroller Blues" and "I Was the One" even though you've seen them before. Hochoy brings whimsy and daring to stagings of "Bloody Mary" and "Drive a Person Crazy."

Throughout DK dancers "sizzle" with energy. As mentioned in prior reviews the multicolored flowing costumes for Show Business and the slinky black and silver for Elvis are perfect, as is the lighting.
DK's Liberty Harris and Kenoth Shane Patton
Photo © & courtesy of Crowe's Eye Photography
---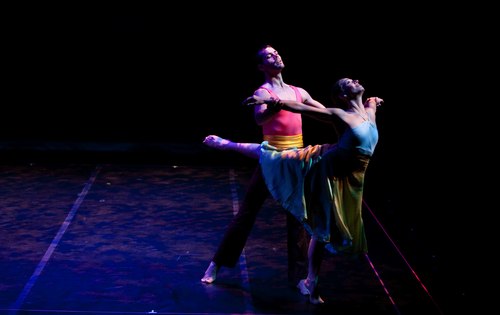 DK's Tim June and Ciatlin Swihart
Photo © & courtesy of Crowe's Eye Photography