When I took my first dance class in the mid-1980s, I was already an adult. A tomboy as a child and queen of "freestyle" in my teens and early 20s, I had eschewed dance lessons of any sort. But after winning a role in a musical comedy showcase in an audition that involved only acting and singing, I was stymied by my small part in two dance numbers. The choreographer said, "You'd better take some dance classes," and she sent me to the only professional studio with true beginner-level classes in New York City at the time—Luigi's Jazz Center. There, I learned principles of posture and movement, as well as a dance vocabulary that would serve me through subsequent years, long after I had stopped taking dance classes.

Around the same time, I decided to explore other types of dance, and soon found myself at Broadway Dance Center. There, after a brief flirtation with tap and other jazz styles, I started taking classes with Frank Hatchett. I was thrilled to learn all sorts of undulations and movements that seemed to work with my hyper-mobile body. But within a few years, I gave up dancing and performing, and crossed over to aerobics and weight training.

Fast forward to 2008. A friend introduced me to partner dancing, and from there, I went on to perform ProAms in swing, salsa and hustle, doing routines with my instructor that involved acrobatic tricks. Audiences enjoyed the shows and I had a blast…but deep down, I knew I would never progress to my own satisfaction without working on my dance technique. Back to Luigi's. Back to Broadway Dance Center in May 2011…25 years after I had stopped. There, a fellow student who is also a dance teacher told me how much she looked forward to the Dance Teacher Summit (DTS) every year. It was coming up in July, and I was amazed to see my two former teachers included in the program. Curious to see how they were being received by a new generation, I was grateful for the opportunity to cover the event for exploredance.com.

At DTS, Luigi and Frank Hatchett—each luminaries in their own right, but for different reasons and with markedly different styles—taught back-to-back in the large ballroom. And that ballroom was packed for those two hours with an intergenerational crowd of wildly enthusiastic dance teachers, apparently relishing the opportunity to reprise the role of student, if only for the weekend.

It was heartening to see that the work and vitality of both Luigi and Frank have endured, despite the fact that both men have had health challenges. Luigi recently had a stroke, yet the 86-year-old maestro was sitting on stage, giving instructions for his classic warm-up technique. Frank recently recovered from some major health problems, yet his voice sounded as strong as I remembered it from when he was at his peak. Both had younger associates and assistants demonstrating their work and encouraging participation. For me, it was like a homecoming—an opportunity to connect the dots in a checkered "avocation" history.

Of course, many other sessions were offered at DTS. On Friday and Saturday, I moved in and out of hip-hop classes and business seminars, and peeked at tap, ballet, and modern classes. All seemed well attended, and the participants I spoke with were uniformly complimentary.
The Capezio ACE (Award for Choreographic Excellence) competition gave me an opportunity to see what today's choreographers and dancers are doing. My dance teacher friend served as a sounding board, and we were both in agreement that the results were uneven. Here's what I mean: I recently started taking classes at the Alvin Ailey extension school, and am preparing for its student showcase—a great way to force myself to learn technique and enhance my performance skills. I have two exceptional instructors—Vic DiMonda (theater dance) and Q (hip hop/street jazz). Both share a common emphasis on connecting with the music and the lyrics and having an intention that "reads" to the audience—in other words, it's critical to be authentic when performing, not just going through the motions, no matter how technically proficient you happen to be.

And that's where many of the ACE award competitors fell down. The adage is, "the camera doesn't lie." Well, neither does the stage. It was obvious when performers were truly connected to the piece and to each other—examples include Kim Barker's Owlz Du Freak, Dana Chapman-Carroll's 1864, Chloe Arnold's We are the Music, and Billy Bell's Time to Tell—and when they were not. In fact, in one number, there was only one dancer out of at least a dozen who was clearly living his role, and he was the only one I could watch. I understood why Vic and Q keep driving home that message—the audience really can tell.

The bottom line: DTS clearly has much to offer participants, and from what I hear, next year will be even better. I do hope Frank and Luigi will teach then, too, as they have been for a number of years.

My lesson learned, as a student: technique, yes — -but connection, critical. I'd say that's also true of life.
Frank Hatchett taking in the ballroom crowd.
Photo © & courtesy of Marilynn Larkin
---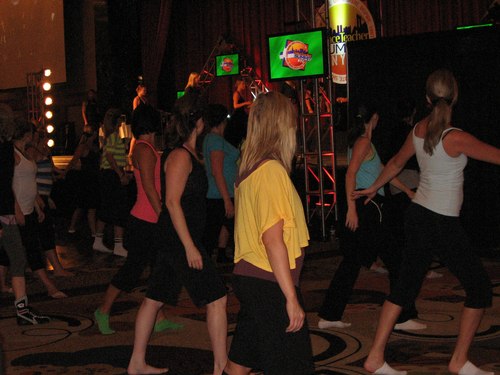 Frank Hatchett's routine—high energy required!
Photo © & courtesy of Marilynn Larkin
---
Luigi: The maestro is still going strong.
Photo © & courtesy of Marilynn Larkin
---
Francis Roach leads Luigi's classic warm-up.
Photo © & courtesy of Marilynn Larkin
---
Hip-hop session was hot.
Photo © & courtesy of Marilynn Larkin
---
Marketing session was jammed.
Photo © & courtesy of Marilynn Larkin