I have plenty of experience with dance student showcases—as a performer, audience member and reviewer. But this was my first time viewing a choreography showcase—an event both intriguing and informative, as enthusiastic dancers clearly worked hard to convey the choreographers' messages/story lines.

Choreolab began with an interactive installation, "Ripping up the Finish" by Marita Abril, in Dance New Amsterdam's gallery space outside the theatre. It starts with a dancer literally "getting into the room" by taping herself as part of the floor. The audience participates in her deconstruction by throwing balloons and other items at her. This engaging but vaguely unsettling work in progress will be presented in Mexico in 2014.

We then moved to our seats, where we were treated first to "Broken," choreographed by Jessica Bauer, whom I interviewed briefly after the show. Bauer conceived her work as the journey of a young dancer who goes to another country to try to get into a dance company. "At first, she is welcomed by the company members, but she soon discovers it's a scam and that the company just wants to take her money. This kills her dance spirit," Bauer says. The story line makes sense and was well executed, but I let Bauer know I saw a somewhat different story—a coming-of-age tale in which a young girl starts out joyful, then is subjected to the demands of her parents and society, then rebels and ultimately submits, becoming little more than a puppet. The essential theme of joy turning to disappointment clearly was communicated, and I guess this is part of what contemporary dance is about—sending a message that audience members receive through their own filters.

The second work, "BUZZ" by Emily Smyth Vartanian, successfully conveyed in a whimsical way the frenetic pace of city life. Coffee cups were used to symbolize the energy many people in the city need to conjure up as they deal with their daily commutes, particularly on the subway. The space was used well to reinforce a feeling of continuous motion.

"The Exit Point" by Pushpanjali Sharma followed—a sensitive multimedia portrayal of life and death. Sharma includes a poem in the program that starts "We come, We Go…The Exit Point I'm Yet to know…" In "Studio 12, the union of the difference" by Susana Arambula Miñarro, the very adept dancers displayed a variety of styles from ballet to contemporary to hip hop. Miñarro (who entered into the work as a teacher) succeeded in providing a window into the varied pace and life in a dance studio. The final work, Hum-Kins by Gautam Nima, seemed to be about connection and loss—an interesting ensemble piece.

Choreolab is the culmination of DNA's Choreographic Investigation Course, which is held twice a year. According to DNA, during the four-month vocational-training program, "students can explore their choreographic voice in a safe environment guided by active, professional dance-makers." Bauer came from Germany to New York City to participate in the program. "It's been a wonderful opportunity to learn and grow," she says. "The tools and feedback we received challenged me to take some very different perspectives on my work."
Ripping up the Finish
Photo © & courtesy of Jesse Stein
---
Ripping up the Finish
Photo © & courtesy of Jesse Stein
---
Broken
Photo © & courtesy of Jesse Stein
---
Broken
Photo © & courtesy of Jesse Stein
---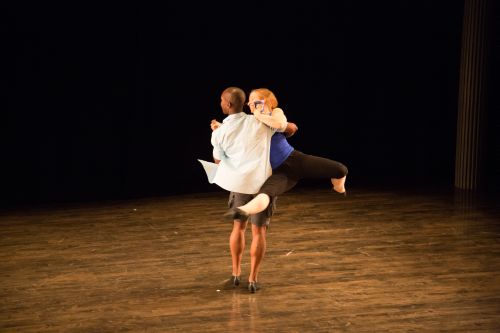 Buzz
Photo © & courtesy of Jesse Stein
---
Buzz
Photo © & courtesy of Jesse Stein
---
The Exit Point
Photo © & courtesy of Jesse Stein
---
The Exit Point
Photo © & courtesy of Jesse Stein
---
Studio 12
Photo © & courtesy of Jesse Stein
---
Studio 12
Photo © & courtesy of Jesse Stein
---
Hum-Kins
Photo © & courtesy of Jesse Stein
---
Hum-Kins
Photo © & courtesy of Jesse Stein