Now in its ninth year, the concert dance variety show Celebrate Dance continued to build on its strong tradition of thrusting new local talent into the spotlight while providing a forum for more established companies to present landmark work. The lineup included contemporary, jazz, and modern styles along with (for the first time in Celebrate Dance's history) tap. If there was any through line that loosely tied the disparate pieces together, it would be dance's potential to reveal our essential humanity, in opposition to varying forces that threaten it, from technology to violence.

The standout of the evening was the contribution from Ate9 dANCEcOMPANY, a newcomer to the Los Angeles dance scene led by artistic director Danielle Agami. An Israeli native, Agami has become a sort of ambassador of Gaga movement, a technique developed by Ohad Naharin (of Tel Aviv's Batsheva Dance Company) that challenges dancers to discover new ways of physical expression. That training was evident in "EXHIBIT a," an ensemble piece set to a crackling electric soundtrack in which the company pushed their physical limits to become a chorus of robot-like creatures. The dancers exhibited superhuman extension and balance; they created the illusion of machine-like cores through popping and locking joints and warp-speed gyrations that suggested "glitchy" circuits. Rather than simply wowing the audience with the technical skill required to approximate robots, the piece had the effect of prompting viewers to consider what it means to dance, and be, human - guided by intention and will rather than programmed circuitry.

The shimmering "NexuS 4/6," by Commonality Dance Company, mined similar territory. Artistic director Adam Parson, a former computer programmer, drew inspiration from the film Blade Runner for this piece exploring "human-android relationships." The performance began with a clan of what you might call "femme bots fatale" (presumably the androids) dressed in black leather leggings and tribal face makeup pounding out sensual, neo-African and contemporary jazz movements. They were joined by equally fierce male counterparts who guided them in a kind of post-apocalyptic hoedown, and Eileen Cooley's magnificent lighting design silhouetted the dancers in such a way that their shadows seemed to multiply the company onstage. That effect also supported the thematic thread/threat of android as human shadow - sharing human likeness, yet not animated by flesh, blood, and soul.

These days, of course, "android" is uttered more in reference to the smart phone operating system than to robots that take human form. Marrow Dance's "Brother" (artistic directors Nicole Hogg and Jason Gorman) explored the ways in which our enmeshment with technology, as well as tyranny, threaten our humanity. The first third of the dance was brilliantly choreographed to the spoken words of Charlie Chaplin, an excerpt from his "Greatest Speech Ever Made" from the 1940 film The Great Dictator. The dancers executed an impassioned staccato of movements to each syllable of an oration that proclaims things like, "Machinery that gives abundance has left us in want…We think too much and feel too little. More than machinery we need humanity." It was a masterful, impactful combination of gesture and text, followed by a sweepingly beautiful lyrical jazz portion of the performance that drew an audible sigh of wonder from the audience. The dancers' tender embraces at the end affirmed Chaplin's words in the speech that, "More than cleverness we need kindness and gentleness. Without these qualities, life will be violent and all will be lost."

Mizerany Dance's entry also dealt with themes echoed in the Chaplin speech, which was aimed at World War II soldiers fighting for autocratic Nazi Germany, a warning about the evils of championing fascism. In Mizerany's "Tin Soldier," a solo dancer (Justin Viernes) enacted the human aspect of the body as a pawn of battle, be it literal or metaphysical. Wearing nothing but flesh colored briefs, Viernes swept through a range of emotions - hope, fear, awe, sorrow - that embattle the spirit through strong, graceful poses that carried him from writhing on the floor to grasping for the heavens. It was the 20th anniversary performance of this Lester Horton Award-winning piece by artistic director Michael Mizerany, and its power is still evident two decades later.

LEVYdance drew its power from a different source: light bulbs. In "Holding Pattern," The San Francisco-based company led by artistic director Benjamin Levy presented a trio of dancers circumscribed by a "solar system" of light bulbs dangling from the stage's rafters. Here, the technology of electricity was a metaphor for an inescapable aspect of the human condition: our lives often go in a kind of circle that's not unlike the recursion of electric current passing through a filament. We get caught up in loops, whether they be bad habits or merry-go-round relationships, that leave us in a perpetual holding pattern. The trio's nonstop, interlocking pas de deuxs and tag-team duets imparted the corporeal equivalent of Sisyphisian pursuit, a never-ending burden of human tasks and triangulated relationships that nonetheless drives our lives.

Newcomer LollieWorks (artistic director Lindsey Lollie) also tread on the notion of going around and around, but in this case presumably through a consciousness-altering substance. A voiceover at the beginning of "Interval" suggested that this was a symbolic performance of an LSD drug trip. The choreography creatively conveyed the sensation of time alternately stretching out and speeding up; the piece opened with the ensemble of dancers creating a kind of human second hand of a clock. Jerky stop-start movements juxtaposed to groups of dancers melting into one another imparted the sense of altered perception and dissociation of mind and body that drugs can induce.

SoleVita Dance Company (artistic director Joelle Martinec) returned to Celebrate Dance for a second year with the premiere of "Divine in Nature," a piece that focused on the natural gifts of Mother Earth, manifested here in the feminine spirit. A group of female dancers - some of the most technically accomplished of the entire evening - frolicked in flowing orange half-skirts in front of a screen depicting a simulated cloud-dappled sunset (lighting design by Eileen Cooley). They moved together like heavenly muses or sprites and were ultimately joined by a Ninja-like male dancer whose combative tendencies were soothed by their feminine grace. In contrast to so many pieces that referenced the entities that erode humanity (technology, drugs, violence), it was refreshing to have an entry that contemplated what nourishes our connection to a universal life force.

The spirited finale of the night came courtesy of urban tap crew BPM beatsperminute. Glyn Gray and Christopher Lee Rutledge carried out a rousing tap duet of layered rhythms and were later joined by dancer Brooke Paulsen-Zelus as well as a live band and singer. The addition of the band made it a bit hard to hear the nuances of the tappers, and the Adele-meets-Donna Sommer song selection was crowd-pleasing to the point of verging on corny. But the feel-good display was an ideal end cap to a night that at times felt like a challenging philosophy course on the essence of the human condition and consciousness. Sometimes, even as sentient beings, we need to stop thinking and just dance!

As the show ended, patrons set their smart phones alight once again and prepared to "do battle" on the Los Angeles freeways on their drive home - an instant return to the very technology and ideology that many of the night's pieces critiqued. Although the respite from Twitter and traffic jams was all too brief, in the chatter following the show there was a palpable sense that what was shared on stage would continue to impact viewers in the days and months to come. That is what Celebrate Dance does so well; producer Jamie Nichols is a savant of concert dance who consistently curates a lineup that dazzles and invites deep analysis all at the same time.
BPM beatsperminute. Choreographers Glyn Gray & Nathan Sheens
Photo © & courtesy of Tim Agler
---
"Brother" Marrow Dance. Choreographers Nicole Hogg & Jason Gorman
Photo © & courtesy of Tim Agler
---
"Divine in Nature" Sole Vita Dance Company. Choreographer Joelle Martinec.
Photo © & courtesy of Tim Agler
---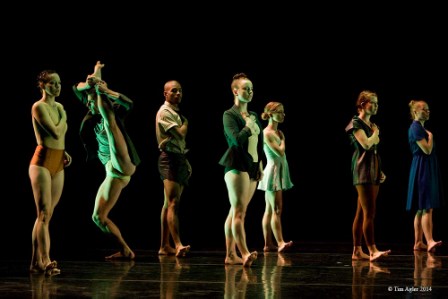 "Exhibit a" Ate9dANCEcOMPANY. Choreographer Danielle Agami.
Photo © & courtesy of Tim Agler
---
"Holding Pattern" LEVYdance. Choreographer Benjamin Levy in creative partnership with LEVYdance.
Photo © & courtesy of Tim Agler
---
"Interval" LollieWorks. Choreographer Lindsey Lollie.
Photo © & courtesy of Tim Agler
---
"NexuS 4/6" Commonality Dance Company. Choreographer Adam Parson.
Photo © & courtesy of Tim Agler
---
"Tin Soldier" Mizerany Dance. Choreographer Michael Mizerany.
Photo © & courtesy of Tim Agler