On the one-day lull between retreating and newly ascending winter storms, with friends I ventured from Indianapolis to Cincinnati not sure what to expect either from nature or the ballet — the reason for the drive to the 'Queen City'.

Seven hours later, safely home I was grateful for cleared roads and in the thrall of aesthetic lucidity. Beyond the cliché of "everything is lovely at the ballet," as I reflected on what I had experienced as an audience member I recognized that the abiding sense of humanity uniting the essential elements of Cincinnati Ballet's world premiere of King Arthur's Camelot promises to make this work not only a company signature, but also a seminal 21st century ballet.

Why Camelot on the Ohio River? A bit of the backstory

To mark Cincinnati Ballet's 50th anniversary, artistic director Victoria Morgan proposed a bold idea to commission a new full-length work. CB supporter Rhonda Sheakley countered with the equally visionary suggestion that the ballet be based on the King Arthur legend.

Morgan was not entirely convinced the concept would fly, much less float with Cincinnati Ballet's constituency. Along with shelves of retellings in books for all ages and as an iconic musical and motion picture with a score that has achieved pop culture status, the choice was fraught with all sorts of pitfalls. What's left "new to say"? How not to disappoint people coming with expectations of what they know about the legend? Who among donors would back yet another version of Camelot?

Fully aware of all this, but looking toward the multiple regional ballet company 50th anniversaries coming up in 2014 — Boston Ballet and Pennsylvania Ballet in Philadelphia along with Cincinnati — Victoria Morgan went for the bold.

Pulled into Rhonda Shakely's passion, Morgan made the case for support in-house and throughout greater Cincinnati and set out to assemble a creative team for a Camelot that would, could, bring together disparate forces for a lasting greater good. Acknowledging, "The cost of Camelot would be high. Mountains wouldn't be moved. They had to be built," Morgan also rightfully assessed, "Cincinnati is in a renaissance. Our ballet company is in a stronger position financially than it has been in any other time in our 50-year history." As donors, grand and modest representing a wide swath of demographics, came forward Morgan proceeded with "the extravagant dream."

Staging 'a story' is a story unto itself

Recognizing the partnerships she had built over her career as a dancer with Ballet West, San Francisco Ballet and on television and in film; as resident choreographer with San Francisco Opera; and through service with organizations connected with dance, Morgan called her colleagues from various disciplines and they said 'yes' when invited to join the creative team.

Librettist and dramaturge Eda Holmes, reflecting on why she signed on, comments in the printed program if she had been asked that question three years ago she would have answered, "Victoria asked me to help. However," she adds, "as I delved into all the versions, permutations, adaptations and re-inventions of the story it became clear that certain stories survive through the ages because they expose human nature in all of its glory and terror."

Holmes, who now serves as associate director of the Shaw Festival and as dramaturge for ballet companies, was a soloist with San Francisco Ballet, The Dutch National Ballet and William Forsythe's Frankfurt Ballet. Thus she brings the bones and heart of a dancer and a theatre artist to the libretto of King Arthur's Camelot. Her retelling overflows with "love vs. passion, conflict vs. peace, loyalty vs. betrayal—opposing forces that the mythical King Arthur attempted to tame in the brief moment of honor and brotherhood that we have come to call Camelot."

Holmes' emotion-filled libretto in hand, composer John Estacio set out "to create music that would inspire choreographer Victoria Morgan who in turn would motivate her dancers." With award winning operas, symphonic works and film scores on his resume but no prior association with ballet, why did Estacio sign on? Well, Victoria asked.
"The process was in many ways like writing music for a film without ever having seen the film," comments Estacio in the program notes adding, "But Victoria encouraged me every step of the way and willingly took a leap of faith on my musical telling of King Arthur's heroic story."

For those of us in the audience, "heroic" was the operative quality of Estacio's sweeping score that dips into the soul of each character, providing music to draw out every sinew of motivation and soars with the show of passion for good or evil; compassion or jealousy; joyfulness or hatred. The composition's luxurious palette spun from the 61 players of the Cincinnati Symphony Orchestra, the basis for animating the stage with dancers interpreting Morgan's choreography in a retelling that zeroes in on the bare essentials—in a war-torn place left smoldering and barren, a boy wanders onto the stage and, in succession, is mentored by Merlin, is crowned king, betrothed and married, celebrated for inspiring peaceful co-existence, pulled into evil's machinations, mortally wounded, and in the end is compelled to re-examine his dream based on the might of a sword as a new boy wanders in amidst new carnage.

Victoria Morgan's choreography centers on releasing the dynamics consuming and engaging each character, momentum building toward the legend's progression of hope [arising from chaos], love, humor, pathos, agony and rebirth, all woven within the alchemy of Joe Tilford's set design, Sandra Woodall's costumes, Eric Van Wyk's puppets, Trad A Burns' and Benjamin Gantose's lighting design and John Boesche's projection design.

A feeling of transformation apparent from the moment of entering the Aronoff Center Theatre was unleashed with the sweep of the Overture. Conducted by Carmon DeLeone, the players of the Cincinnati Symphony Orchestra created an ethereal world beyond our reach and, as our imagination swirled into this ideal, we were plummeted smack into its demise. In a blink, the initial glorious landscape writhed in anguished moaning. The seething stage slowly reset itself for a new order and the story commenced.

In the being we are the story

The dancers enveloped us in the essence of place in the unfolding story. We breathed their air, their body language transferred into our emotions.

At the Feb. 16 performance, Charlie Klesa as Young Arthur mirrored our initial dismay and then relief upon the magical emergence of Merlin. Imbued by Liang Fu with the translucence of wisdom Merlin escorts the bewildered child into assured kinghood with sterling qualities of leadership.
We witness the first of many split second timings as the boy spins off-stage and, whirling back on, in the child's stead is a young man capable of sleights-of-hand. A handkerchief becomes a bouquet, a butterfly—we smile and sigh.

A grove appears before us. As a group of maidens playfully swirl, Arthur is drawn to Guinevere. Embodied by Janessa Touchet, throughout the ballet we witness Guinevere's changes from initial shimmering qualities of youthfulness and Joie de vivre to unrestrained passion and ultimately horror at what she had undone as much as with what she had done. Only in the genius of Martha Graham's "Clytemnestra" do we witness such an unearthly admission of grief by Helen of Troy. It is the counterpart to Picasso's "Guernica" and Munch's "The Scream".

After basking in their 'love at first sight' the closing heart wrenching exchange of glances between Guinevere and Arthur will stay with me for a very long time—her flame engulfed body floating off the pyre onto the agitated horse; his whole being rebounding from slashing the ropes into thrusting the sword toward Merlin's malicious capering.

Between these extremes we witness a company in top notch technical and dramatic form. In character, they unfurl astonishing leaps, show tender asides, deflect parries in jest and seriousness. Zack Grubbs as Gawain and James Gilmer as Percival, along with Joshua Bodden, Selahattin, Erkan, Samuel Jones and Christopher Lingner as Knights of the Realm, each bring specific personalities into reactions with Lancelot, whose hubris bristles with Patric Palkens' symbiotic sexuality. Palkens as Lancelot moves and people swoon, in direct contrast to our reaction to Rodrigo Almarales' Mordred, whose every presence makes one desire his instant absence. Almarales becomes the essence of evil from the instant Mordred emerges from the undulating corps of nine dancers creating a tortured Undercurrent atop which the Ladies of the Lake writhe. When Mackenzie Dessens, Milena Garcia and Katherine Sawicki as the Ladies engulf Merlin and blind him our collective gasp elicits smiles from this malicious trio.

Lending joy and lightness to the happier celebratory moments, Guinevere's Friends, Ladies and Children of the Realm, and Peasants interact as a series of vignettes, bringing their zest to Morgan's folk choreography. Julio Concepcion creates a stunning puppet Butterfly and then partners with James Ferguson, Samuel Jones and Daniel Powers to inhabit the horses built by Eric Van Wyk. They display equestrian essence with Morgan's choreographed gait in jousting and in battle.

The remarkable fight choreography directed by Regina Cerimele-Mechley resounds throughout with split-second leaps, twirls, turns, thrusts, and in the ballet's final moments as Mordred's machinations fracture Arthur's reign, Fighters and Knights facing off amidst clanging metal suspends time and place—history repeating its horrible self. Bodies drop, chaos plummets into silence.

Onto a stage littered with the dead and dying wanders a boy—this time portrayed by Anthony DeGreen. As he picks up Excalibur and raises it above his head, Arthur rises from near death, grabs the sword from the boy's hand, hurls it upward and, mustering final strength, teaches the Dance of Hope to tell the story of the dream –this time without the sword.

The impact of what we have witnessed is so intense we cannot applaud. Not until the music carries us from the horror into brightness as Excalibur shatters into starbursts can we rise to our feet in acclimation of an amazing feat.
Risk-taking at fifty has its rewards.

King Arthur's Camelot alternate cast features Joseph Michael Gatti as Arthur, Adiarys Almeida as Guinevere, Romel Frometa as Lancelot. Charlie Klesa and Anthony DeGreen alternate as young Arthur at the opening and The Boy at the close. The other roles remain constant.

Guinevere's Friends: Danielle Bausinger, Jacqueline Damico and Maizyalet Velazquez;
Ladies of the Realm: Sarah Hairston with Courtney Connor Jones, Gema Diaz, Sirui Liu and Abigail Morwood;
Peasants: Courtney Hellebuyck, Samantha Nagy-Chow, James Ferguson, Daniel Powers and Kris Santos;
Fighters: Julio Concepcion, James Ferguson, Kevin Hamilton, Justin Hughes and Daniel Wagner.

Children of the Realm: Emma Fridenmaker, Megan Fridenmaker, Georgia Fuller, Ava Keller, Olivia Lohre, Alyssa Manguiat, Emilia Mieczykowski, Emma Phillips, Aubree Recker, Lorelei Robinson, Emma Roush and Corinne Smith.

Johann Bernstein Wilt and William Whitener serve as Repetituers; Suzette Boyer Webb is the Children's Ballet Mistress; Melinda Dobson delivers as Production Stage Manager.

One could nitpick about a moment here or there where the choreography seemed too restrained for the fullness of the music, yet on reflection one wonders—is this unbalance symbolic? Is this why the dream was not fulfilled? Did those involved not reach the full potential because it was not yet willed, written, witnessed to be fulfilled? And, what would it have been like if I had been at another performance?

And so a Sunday in deep winter to commemorate a 50th anniversary for me became a golden moment in the legacy of ballet. Bravo to all involved—particularly the supporters, without whom not much happens.

Next up for Cincinnati Ballet
Symphony in C and Bolero
March 28-29, Aronoff Center, 650 Walnut St, Cincinnati, OH 45202

Cincinnati Ballet & Over the Rhine live
April 25-26, Aronoff Center, 650 Walnut St, Cincinnati, OH 45202
Go to cballet.org or call 513-621-5282

Cincinnati Ballet New York Tour 2014
May 6-11, Joyce Theatre, 175 Eighth Avenue at 19th Street
Information & tickets at: cballet.org/newyorktour
Or 212-242-0800; joyce org.

For more information go to:
https://www.cballet.org/50/camelot
https://www.cballet.org/50
https://www.cballet.org/
Janessa Touchet, Cervilio Miguel Amador and Liang Fu.
Photo © & courtesy of Peter Mueller
---
Cincinnati Ballet dancers
with Rodrigo Almarales, Cervilio Amador, Cervilio Amadorodriguez and Zack Grubbs.
Photo © & courtesy of Peter Mueller
---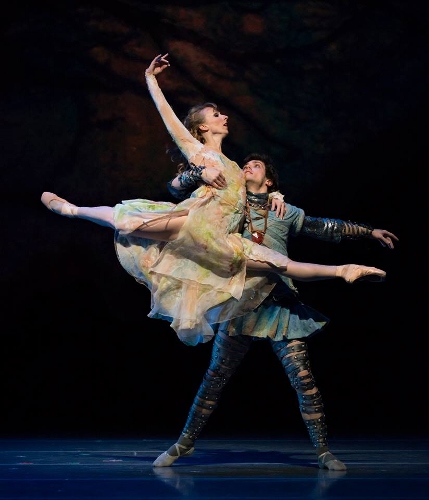 Janessa Touchet and Patric Palkens.
Photo © & courtesy of Peter Mueller