Chocolate Dances – A tasting performance for lovers only was a sampler box of a show with chocolate truffles of a variety of flavors, both literal and metaphorical – and an Argentine Tango lesson.

Audience members were blindfolded when they arrived at the theater and then were guided to their seats in darkness and trust. A pitter patter of odd sounds – stomps, isolated words, shuffles – were an audible counterpart to the light rain outside.

The audience was served a thick hot chocolate while blindfolded. Drinking without sight was an interesting challenge. Each audience member was asked to say a word that describes chocolate.

After a while, audience members were asked to hold out their hands, ready to receive cacao nibs. We were instructed to feel the chocolate, pass it from one hand to the other and listen to it. And eventually eat it. The cacao nibs, crushed bits of raw chocolate, were chalky and bitter, definitely raw, with a quiet aftertaste.

The blindfolds were removed and collected.

The audiences' chocolate words, written on slips of paper, were placed in front of each audience member. Dancers picked them up one at a time, read each out loud, placed each in a bin in the center of the room, and created a dance to represent the word.

The next "truffle" in the show was a danced and enacted explanation of chocolates and how they are made. This dance was accompanied by a pairing of a milk chocolate truffle and a dark chocolate truffle. The milk chocolate truffle was smooth. The outer layer of the truffle offered resistance. The creamy middle of the truffle slid over the tongue. The dark chocolate truffle had an intense center that was more granular than smooth. I found this dark chocolate truffle to be rewarding, but then I like dark chocolate.

These actual truffles were followed by another enacted explanation dance truffle, this time about how cacao beans are transported.

To introduce the next actual truffle, a mint chocolate truffle, dancers passed by with mint leaves for the audience to smell. (The dancers had radiant smiles, just like the students at the NYC Dance Educators/UFT 12th Annual Celebration of Dance Student Dance Festival I had attended earlier in the day.) This truffle had a brisk, minty flavor that melted in your mouth and your fingers. The flavor saturated the nerve endings in my mouth. For some of the truffles, this one especially, some wipes would have been welcome, but the show made me feel like I was among friends, so the KFC finger-lickin' approach to eating and cleanliness seemed acceptable.

Next, each person in the audience had a choice. Each person could choose between an Earl Grey truffle and a chocolate chai truffle. To help people decide, a dance and story monologue for each tea was presented. I happen to be partial to chai, both because I like the taste and because I associate it with East Africa, where I was introduced to it, so I chose chai. I could feel and taste the complex spices in the truffle. A dancer asked the audience members in the chai circle for a word each that described the truffle. The dancer then invented a movement to go with the word. This audience and dancer developed movement vocabulary lead to an improvised dance. And then the two circles merged and, with the two dancers reporting out, the Earl Grey and chai movement vocabularies were combined. The audience was encouraged to make the movements with the dancers, and most or all did.

And then, taking audience involvement even farther, we had a metaphorical strawberry (not a chocolate covered strawberry, just a very nice strawberry): a mini Argentine Tango lesson. This Tango lesson featured a good breakdown of the principles of lead-follow and weight change for beginners. The audience was very involved, and seemed to take to it. It enabled the show to combine performance dance with social dance in a way that is rare. The Tango lesson didn't seem to have anything to do with the theme of chocolate, other than that Tango was related to lovers and chocolate was related to lovers, but it was fun and I didn't mind. The Tango lesson definitely needed couples, because the show had been promoted as for couples, and so everyone there was in a couple. The show was heavy on the couples theme, so it is possible non-couples people might have felt out of place, but if the company could assure that singles would find someone to dance with, it could have worked. With a little recrafting, the show could also work as an adventurous singles event.

There was also a mystery truffle.

The finale was a dance where three dancers, wearing beautiful, iridescent copper-brown chocolate colored dresses, brought out bowls of brown chocolate sauce. They dipped their hands in the chocolate sauce, covered their arms and faces in chocolate, and danced.

During the curtain call, it was announced that everyone would get a gift box of chocolate, but on the way out, we were told that only people who had obtained their tickets through a certain event service would get the gift box, and everyone else could purchase it. I understood that they had offered a special deal for the event service to promote the show, but only giving the gift box to some had the potential to make people feel left out. (On the other hand, I appreciate the value of dynamic pricing. It helps Disney's Broadway shows be profitable, so small companies should be able to utilize dynamic pricing too. This is a dilemma that deserves further thought.)

My main suggestion for the show is to provide a palette cleanser between chocolates, both to clear the mouth – perhaps water, and to clear the taste buds – perhaps sorbet, which is often used with wine tastings, but then there would be refrigeration issues. I am sure the company can come up with something creative and appropriate.

The show was performed in a white box theatre with the 24 audience members sitting in a ¾ round in one row of seats. The setting felt very intimate.

Overall, I would say Chocolate Dances – a tasting performance for lovers only was child-like, avant-garde, intelligent, articulate and fun. And delicious. I thought they didn't take themselves seriously, in a good way.

As a friend of mine who attended the show suggested, the arc of the show was lacking to some extent, and it was unlikely that everyone would like all of the varied parts of the show, but I think if you understand the show as a sampler, and given that at a little over an hour it was relatively short, the partial lack of an arc was okay. I also think the show can be seen as a concept: take some daring ideas and try them, see how it works, and learn from the experience for the next show. In this context, the show felt a little like what I imagine a "happening" might have been like.

Tickets to the show were $100 per couple in advance and $150 per couple at the door. A luxury price, perhaps, but given how good the chocolates were, a good value in my opinion. The choreographer asked each audience member if they had chocolate preferences or food allergies in advance of the show, so this kind of careful personalization is consistent with the show as an affordable luxury product.

While Chocolate Dances – a tasting performance for lovers only was original in some ways, it was not unforetold: back in 2007 I suggested that a show like this should be created. If you love chocolate, you will be glad that Chocolate Dances has come to pass.

For Lovers Only is not Chocolate Dances' first show, and I am sure it will not be their last. In fact, there are several shows that could be developed from elements of For Lovers Only. In particular, I would suggest taking the movements derived from chocolate making, and push them farther into abstraction so that the dancers have more of a chance to show off their abilities. And serve chocolate.

As a final test, I opened up the gift box of chocolates three days later. There were eight assorted truffles in the box. I chose a truffle at random and bit into it. Heavenly. I felt myself relax immediately. If everything in life were half as good as the Chocolate Dances truffles, the world would be a much better place.


---

Dancers: Kaley Pruitt, Catherine Murcek, Larissa Sheldon
Vocals: Juana Aquerreta
Piano: Giacomo Lamparelli
Special guests: Kay Ottinger, Dante Polichetti
Media: Sasha Santiago
Chocolate Dresses: Rachel Walters
Recorded voice: Andrew Broaddus
Stage Manager: Dave Chontos
Chocolatier/choreographer: Megan Sipe
Larissa Sheldon (dancer), Megan Sipe (choreographer), and Sari Miller (friend) making Lady Grey truffles
Photo © & courtesy of Sasha Santiago
---
Megan Sipe with chocolate in hand
Photo © & courtesy of Sasha Santiago
---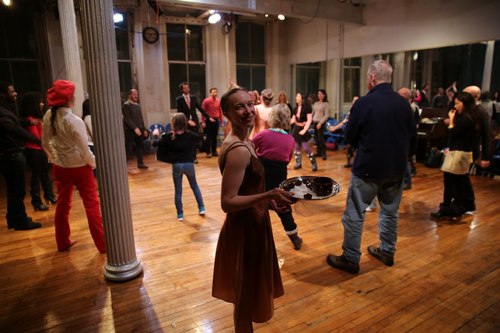 A Chocolate Dances performance
Photo © & courtesy of Dan Ozminkowski
---
A Chocolate Dances performance
Photo © & courtesy of Dan Ozminkowski
---
A Chocolate Dances performance
Photo © & courtesy of Dan Ozminkowski
---
A Chocolate Dances performance
Photo © & courtesy of Dan Ozminkowski
---
The audience at a Chocolate Dances performance
Photo © & courtesy of Dan Ozminkowski
---
Chocolate Dances gift box in natural light
Photo © & courtesy of Robert Abrams
---
Chocolate Dances gift box with flash
Photo © & courtesy of Robert Abrams