Dance Kaleidoscope's new set of revivals scintillates with a company of dancers finessing the intent of each program. Remembering the original performances and succeeding comebacks over the years, what happened May 2 at The Toby seemed magical to those of us who 'have been there and seen that' one or more times. Choreographer David Hochoy admits to delving into nuances as he brings back a work and the dancers speak of finding depth and breadth to portrayals they either are repeating or are taking on for the first time.

For "Girl at the Piano: Recording Sound" (1994) Timothy June speaks of the leap from previously dancing the lover to now encompassing the not-so-nice father. There is a metamorphosis as a work matures, and one of the bonuses of being a long-time subscriber is finding oneself in the midst of artistry at work. Hochoy constructed a story around they melancholy feel of Theodore Roszak's painting. Jillian Godwin embodies the vicissitudes with such compelling honesty you want to reach out and snatch her from the clutches of the epitome of a dysfunctional family. June, Liberty Harris, Mariel Greenlee, Justin-David Sears-Watson, Brandon Comer, Noah Trulock and Caitlin Negron equally match mood and movement to Rachmaninoff's richly textured Rhapsody on a Theme of Paganini, Op. 43. Barry Doss's costumes remain amazing, as does the set by Laura Freison, Doss and Frank Weiner. Hochoy commented that he wished Roszak could have seen this performance. "I think he would be pleased," mused Hochoy. We replied that somehow transcendence did take place.

With "Georgia O'Keefe: Heart of Joy," (2003) the dancers also bring individuality to the essence of Hochoy's vision of a floral landscape coming alive. Building upon three movements from Philip Glass's Symphony No. 4 "Heroes," the work moves from the framework of the painting "Jimson Weed" as a flowing interaction within itself, to a broadened landscape as flowers relate to the elements, and finally, as Glass's music buzzes to a sense of germination and recreation. It's a fast-moving, emotionally building exercise. Laura Glover's subtle lighting interacts so beautifully with Cheryl Sparks' costumes it's hard to define where one ends and the other begins.

A beautifully satisfying program, with the DK-IMA partnership as a fulcrum. Being in the presence of the paintings at the IMA prior to the program is a boon.
"Girl at the Piano: Recording Sound". Timothy June, Brandon Comer, Jillian Godwin, Justin David Sears-Watson, Noah Trulock
Photo © & courtesy of Crowe's Eye Photography
---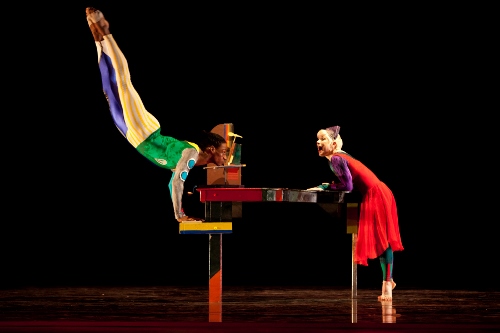 "Girl at the Piano: Recording Sound". Justin David Sears-Watson, Jillian Godwin
Photo © & courtesy of Crowe's Eye Photography
---
"Girl at the Piano: Recording Sound". Brandon Comer, Jillian Godwin
Photo © & courtesy of Crowe's Eye Photography
---
"Girl at the Piano: Recording Sound". DK Company
Photo © & courtesy of Crowe's Eye Photography
---
"Girl at the Piano: Recording Sound". Jillian Godwin
Photo © & courtesy of Crowe's Eye Photography
---
"Georgia O'Keefe: Heart of Joy".
Mariel Greenlee, Noah Trulock, Emily Dyson
Photo © & courtesy of Crowe's Eye Photography
---
"Georgia O'Keefe: Heart of Joy".
DK Company

Photo © & courtesy of Crowe's Eye Photography
---
"Georgia O'Keefe: Heart of Joy".
Liberty Harris (center), with Aleksa Lukasiewicz, Caitlin Negron and Emily Dyson
Photo © & courtesy of Crowe's Eye Photography
---
"Georgia O'Keefe: Heart of Joy".
DK Company
Photo © & courtesy of Crowe's Eye Photography
---
"Georgia O'Keefe: Heart of Joy".
Noah Trulock
Photo © & courtesy of Crowe's Eye Photography