The experimental dance piece "What I Learned About Outer Space" refers to the point of view of dancers trained in distinctly different realms of their aesthetic universe. It is one of the centerpiece performances opening the 2014 FringeArts Festival in their newly completely theater on the Delaware Riverfront.

The 'Outer Space' project is a high-wire collaboration between choreographers and composers with dancers from the Pennsylvania Ballet. The choreographers - Zoe Scofield, Georg Reischi and Itamar Serussi- are simultaneously working with composers Richard van Kruysdijk, Rene Orth, and Alyssa Weinberg- for each of their sections in the days and weeks leading into the festival.

It reflects the artistic goals of festival producing director Nick Stuccio to explore ballet and modern dance as vital artistic dialogues on a continuum. The collective that has been in a creative lab in the weeks leading up to the premiere and it is just as much about the creative process of everyone involved as it is about the performance itself. 'Outer Space' is more like a dance version of a late night jam session.

Indeed, the process is the antithesis of what ballet dancers usual experience rehearsing a performance throughout their season, rehearsing mostly from the company's repertoire, or work for several months preparing for the opening of a new work.

For 18 years Stuccio has presented has presented a wide spectrum of vanguard dance from virtually every discipline. 'Outer Space' takes him back to his performance influences and the artistic impulses that inspired him to establish the Fringe Festival. Stuccio danced with PAB in the early 90s when dancer-choreographer Christopher D'Amboise was artistic director for a short time. D'Amboise brought in innovative choreographers who wanted to fuse, expand or deconstruct ballet vocabulary.

Stuccio, sticking to PAB's core Balanchine aesthetic, admits to first resisting it on artistic grounds, and then he just as forcefully, completely embraced the concept. "I never forgot that experience. It was so artistically liberating," he said last week as was surveying the finishing touches for the opening of the FringeArts Theater and restaurant.

Last week, dancers Alexander Peters, Amir Yogev, Jermel Johnson and Kelsey Ivana Hellebuyck- strolled in to work on their section of the work with choreographer Serussi. They were immediately struck by the natural lighting that floods the space from the building's large arched windows. "This is so nice," Peters, says. The dancers are coming off their triumphal performances at the Vail International Dance Festival earlier in the summer. PAB garnered some of its best reviews ever and lusty audience approval, doubly sweet because it comes at the end of an otherwise tumultuous 50th anniversary season for company.

Stuccio starts showing them around the adjacent rooms leading to the new restaurant where they grab a coffee before rehearsal. Serussi is also a dancer himself in his own company on an as needed bases, and sees things from their perspective, but, necessarily, with more objectivity as a choreographer. There is an obvious casual bond and respect almost instantly.

The choreographer is much in demand, working frequently in England and Italy, this is his first outing at FringeArts and he "so far, so good," he said without pause, even though he recognizes that his "approach is very different for these dancers. Yes, you could say my universe and their universe is so different," he said.

Strict classical technique from whatever ballet school might now be considered more fringe now than the diaphanous post-modern dance as many ballet companies engaging contemporary choreographers to build dances using ballet technique as just one of many choreographic tools. This generation of ballet dancers reflect that sensibility too as they aspire to be trained in more than one 'school' of dance and many recognize the necessity of performing in different idioms.

Serussi observes, "I think we dancers, somewhere in our past, had some ballet training. So I can see maybe a different, development with them. Very interesting, and bring it close to what I do. Also to use their skill and intelligence," he said. Working with live musicians is always an instructive opportunity and artistically satisfying for the dancers. "It more tuned, sensitive working on the choreography and details," Serucci said.

The score to 'Outer Space' will be performed by Ensemble39, a Philadelphia-based chamber group, all alums of the prestigious Curtis Institute of Music. This is also can create a rare synergy between the dancers and musicians that doesn't occur when musicians playing from the orchestra pit.

For Stuccio, all of the elements in this project fulfill what he categorizes as interdisciplinary dialogues between artists, one of the key missions of the cultural richness of the FringeArts Festival.

The Philadelphia FringeArts Festival runs through September. Go to www.FringeArts.com for a complete listing of events.
Photo © & courtesy of Jacques-Jean Tiziou
---
Photo © & courtesy of Jacques-Jean Tiziou
---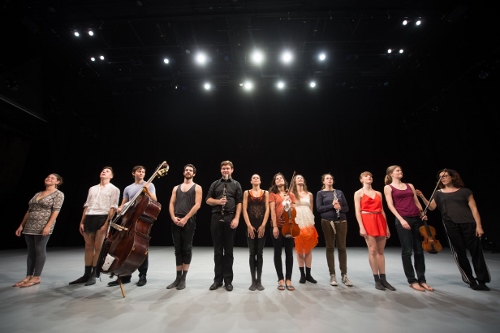 Photo © & courtesy of Jacques-Jean Tiziou