Two promising Indianapolis School of Ballet dancers with very different personalities but with equally strong work ethics and passion for dance are earning national attention and making a case locally for the 'cool' part of being a boy opting for ballet as a profession, along with strong suits in tap, contemporary, modern and American musical.

Fifteen-year-old Luther DeMyer appears somewhat shy though with a ready smile, dancing eyes and bit of wit that shimmers above a conversation and a turn around the stage. From a choice of offers, he's opted to return to the George Balanchine School of American Ballet for a second-year-in-a-row 5-week summer intensive on full scholarship. Prior to flying to New York City June 22, he's at the ISB studios at Capitol and Michigan for a 2-week intensive. Luther's dance story started with tap at age three. His mother, Mary Jo DeMyer, suggested he wait a few years until his bones got stronger. At age 5 he enrolled at Jordan Academy of Dance. When the Academy closed in 2011 Luther came to ISB, where ballet became his primary interest.

Twelve-year-old Ryan Ward, glowingly out-going immediately neon-lights with charisma. Nevertheless his father Andy Ward describes him as "very low key; he takes everything in stride." From among offers Ryan chose the Houston Ballet Academy for six weeks on full scholarship starting June 16. Ryan's dance story started four year ago after a Michael Jackson clip on television prompted Ryan to tell his mother, Kristi Ward, "I want to do hip-hop." Her response: "If you want to do hip you are going to have to take ballet.; you need to get the basics of all dance." Though a bit put off, Ryan assented and at age eight enrolled in the Indianapolis School of Ballet. "I fell in love with ballet," confesses Ryan, asserting, "Dance is my home."

While both have been featured in local news stories in print and on radio and television, Ryan's honors gained the attention of ABC's Good Morning America young talent showcase on May 29 for a guest appearance with Pro Football Hall of Famer Michael Strahan. Former DK dancer and current ISB teacher Roberta Wong prepared Ryan for the requested 40-50 second variation from "Sleeping Beauty" that Ryan had to adjust to the very much smaller space for the live newscast.

But this wasn't Ryan's first dance-related trip to NYC. Two years ago he answered an audition call for "Billy Elliot: the Musical," and was offered the tap-dance role of Michael, which he turned down. "I wasn't interested in tap at that time." He came home feeling assured he had made the right decision. Since then, like Luther, Ryan has honed skills as a fine tap dancer and both showcased in ISB programs.

Luther last summer turned down a SAB offer to relocate to NYC to train full-time on scholarship. "I didn't feel I was ready to leave Indianapolis to be on my own in the City even though I'd adapted to a different faster-paced environment —you walk all over," he quipped. "Your mother's not there to drive you around. I might be ready for a move in another year."

For the 2014-15 Indianapolis School of Ballet season expect to see two ambassadors for 'boys can dance' in a variety of performances.
Luther DeMyer on left and Ryan Ward on right
Photo © & courtesy of Moonbug Photography
---
Carnival of the Animals - Luther DeMyer as the Lion and Ryan Ward as Francis
Photo © & courtesy of Moonbug Photography
---
Luther DeMyer in Gershwin Gems
Photo © & courtesy of Moonbug Photography
---
Luther DeMyer in Andalucia
Photo © & courtesy of Moonbug Photography
---
Luther DeMyer in Sorrowful Souls
Photo © & courtesy of Moonbug Photography
---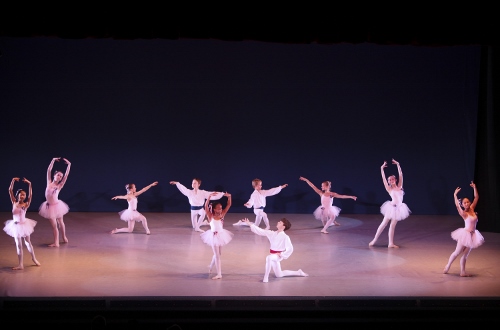 Ryan Ward center front in Boccherini Minuet
Photo © & courtesy of Moonbug Photography
---
Luther DeMyer in Diamanté
Photo © & courtesy of Moonbug Photography
---
Ryan Ward in Singin' in the Rain
Photo © & courtesy of Moonbug Photography