Scratch the surface of any resident of Los Angeles, from surfer dude to Beverly Hills housewife, and you'll find an earthquake story. In fact, in this vast and disparate mosaic of cultures, it could be argued that the awareness of the ever-present threat of the "Big One" is a common denominator, the archetype standing front and center in nocturnal wanderings from Reseda to Rolling Hills Estates. Some people have an earthquake kit assembled in the garage; some have it on the to-do list. Everyone has it in the back of their minds, a constant, interloping awareness of the Mephistophelian bargain made in exchange for year-round sunshine and bougainvillea.

After It Happened, a dance theatre event presented by Invertigo Dance Theatre which ran for three weekends at the Odyssey Theatre in West Los Angeles, tells the story of what happens after a community has been leveled by a natural disaster. Through powerful, elegant choreography, live music, and such theatrical elements as spoken word and use of props, these topnotch artists – nine dancers, four musicians and one crossover, Hyonsyn Choi - who dances and plays cello – bring the story of death and rebirth to life.

Invertigo's artistic director, Laura Karlin, found inspiration for After It Happened at a Barcelona photography exhibit featuring Haiti a year after the famous earthquake hit. She was struck not so much by the visible signs of destruction as by the way tiny hints of life managed to burst through the rubble: a soccer match, a woman adorning herself using the only means available: a blue tarp deposited by the Red Cross.

Karlin describes her work as "dance theater" and cites Europeans Pina Bausch and Wim Vandekeybus as inspirations. For this highly intelligent Cornell-educated choreographer, movement serves a larger dramatic narrative and is often accompanied by non-movement elements in order to facilitate the telling of the story. Right out of the gate, as the dancers are swept up in the wild winds that turn their world upside down, After It Happened sweeps the audience up into the life of the story with its fierce energy and stunning choreography. The dancers move as one – reaching, spinning, then diving onto the floor, propelled by a force not of them. They spin and somersault, extend and pull in. Their breath and gasps are audible, adding to the intensity. We are immediately drawn in.

Then, it passes and slowly, on a dark stage, the dancers begin to reconnect, to find each other. A plant in the corner grows into a tree which serves as such an intelligent device to show time passing and life continuing. But lest we get too serious, a bumbling newscaster – played by Jessica Dunn - attempts to interview the survivors. What she gets is an irate Hyosun Choi, whose rants in Korean are translated – and edited for content – by her husband played by Cody Wilbourn. This injects a burst of humanity into the piece and serves to assure the audience that the journey will include a side order of levity with its drama.

Props illuminate the human experience – in one case, literally, as two dancers engage in a pas de deux with a hand-held light that almost makes their dance a pas de trois. In another segment, Cody Wilbourn performs an adagio in the claw-footed bathtub in the corner of the stage. The movement is so achingly lyrical and his attachment to this random piece of furniture so profound, that it is as if he is dancing with – no, mourning for – an animate object.

Moments of sweetness appear like butterflies: the playful mating dance to Dorsey Burnette's "Hey Little One" where the two dancers shyly engage with one another. As Burnette hangs onto the notes for dear life, so do these two young lovers hang on – to each other, to the sense of possibility, to hope. Later, dancers play soccer with a ball made out of the blue tarp material – the infamous blue tarp that inspired Karlin to begin this creative journey – with lights occasionally dimming and dancers freezing mid-motion as if appearing on an ESPN feed.

And then, following an elegiac dance to Jaques Brel's "Ne Me Quitte Pas" featuring ribbons descending from the ceiling to which the dancers hook up like IV drips, they begin to rebuild. The cello, at first an object of mourning and reminder of a lost life, is now brought out and played. A beautiful, multi-tiered dress has been constructed out of the blue tarp. Singer Diana Lynn invites us into a "new dawn" and slowly, the ensemble begins a percussive, celebratory dance letting us know that life does indeed go on.

Karlin uses her props – be them lights, a soccer ball, or a bathtub – deftly, never letting them overshadow the powerful and clever choreography that is the centerpiece of "After It Happened". Her dancers are strong technicians and she seems to trust them implicitly with complex and technically challenging steps. Interestingly, though, as skillful as her movement is, it does not call attention to itself and serves the story seamlessly.

And it's a story we know all too well. True, as an Angeleno the idea may resonate particularly strongly. But as a human being, the idea – and the allegory – of death and rebirth is as old as storytelling itself. Magically, that night at the Odyssey Theatre, we saw it again, in a different medium, with different characters, different music and with a blue tarp.
Photo © & courtesy of Joe Lambie
---
Photo © & courtesy of Joe Lambie
---
Photo © & courtesy of Joe Lambie
---
Photo © & courtesy of Joe Lambie
---
Photo © & courtesy of Joe Lambie
---
Photo © & courtesy of Joe Lambie
---
Photo © & courtesy of Joe Lambie
---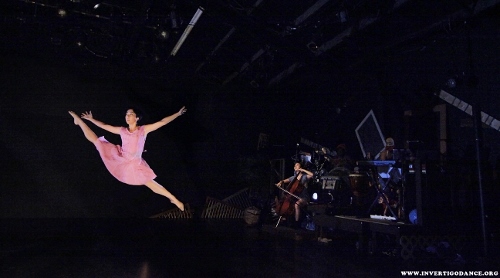 Photo © & courtesy of Joe Lambie
---
Photo © & courtesy of Joe Lambie
---
Photo © & courtesy of Joe Lambie
---
Photo © & courtesy of Joe Lambie
---
Photo © & courtesy of Joe Lambie
---
Photo © & courtesy of Joe Lambie
---
Photo © & courtesy of Joe Lambie
---
Photo © & courtesy of George Simian
---
Photo © & courtesy of George Simian
---
Photo © & courtesy of George Simian
---
Photo © & courtesy of George Simian
---
Photo © & courtesy of George Simian