About thirty minutes into Sara Baras' evening length show Voces, Suite Flamenca, I found a way to understand the structure of the show. Voces, Suite Flamenca was a sampler box of a show. The show presented a wide variety of Flamenco flavors just as a Valentine's Day box of chocolates presents a variety of chocolates. Ms. Baras' visit to the New York City Center was timely. If February is a good time of year to fall in love, March proved to be a great time of year to remember why you love dance. Voces, Suite Flamenca reminded me why I love dance.

Flamenco comes in both improvisational and choreographed flavors. Voces, Suite Flamenca showcased both. In many of the improvisational numbers, where dancers and musicians play off each other, the show felt like a tablao writ large. There were solos and ensemble numbers. Some numbers felt traditional, while others felt contemporary, stripped of all of the embellishments, skirts and shawls, just a simple top, pants and shoes, but still clearly, and powerfully, Flamenco. With such a variety, it is likely that some of the numbers would not appeal to some audience members. Some of the numbers felt merely good, but I think this was due to juxtaposition with numbers that were brilliant. Voces, Suite Flamenca was a show that took risks. Those risks led to success multiple times. I wanted to see the show a second time, which I might have done if the show's run had been longer. There is always next year's Flamenco festival. Or Madrid.

To talk more about risks and successes, the early part of the show confirmed that, in Flamenco, it is necessary for musicians and dancers to be together to be their best. One of the strengths of Flamenco, when contrasted to some other styles of dance, is the way live musicians and dancers improvise together. This was confirmed for me because some of the choreographed numbers early in the show that did not include musicians on stage felt not quite as good as the improvised numbers with musicians on stage. And then the show proceeded to prove my conceptions of Flamenco wrong, or at least incomplete, because there were plenty of numbers without musicians on stage that were powerful and compelling.

A success: Phrases sung through the dancers' feet that build on top of a background rhythm created by the musicians.

A success: Alternating solos by Ms. Baras and José Serrano that made City Center feel intimate.

A success: A solo by Ms. Baras, gossamer in brilliant white light. If a flower could dance, this was the wind it would create. This segment was so memorable that it, by itself, would have been enough.

A success: A slow dance by Mr. Serrano with a red cape.

A success: A choreographed number with women in red dresses that worked well theatrically. Part of this number also showed that Flamenco can be a partner dance, maybe with some borrowing from Argentine Tango. This was a number with no musicians on stage.

A success: Ms. Baras, all in black with mirrors for a set, danced Flamenco stripped of the shawls and skirts, just black pants and a simple black top. She was precise. She didn't need any embellishment to be beautiful. This number had one guitarist on stage, so was an example intermediate between full on-stage accompaniment, and no musicians on stage.

A success: Rhythmic play between Ms. Baras and two musicians. It was like an avant garde artist exploring a concept.

A success: A number with the women of the company in blue and tan "calico" dresses where the company gelled.

A success: A solo by Mr. Serrano with musicians. The rhythm was hypnotic. Not a note was misplaced. Mr. Serrano was clearly happy and so was the audience.

A success: A solo by Ms. Baras in a green dress that lay flat when still and spun out when moving, achieving an effect rather like Diana Vishneva in Waters Flower, amplifying the dancer's movements, but in Ms. Baras' case, with a dress one could wear to social occasions.

A success: Ms. Baras was also hypnotic in a green bolero jacket, surrounded by palmas. This was towards the end of the show. Throughout the show, mostly palmas sordas was used. Suddenly, towards the end of this number, they switched to the louder, brighter palmas claras. As a signal, it was right on cue. (There likely were other uses of the two kinds of palmas during the show that I didn't pick up on, but this sonic moment was particularly dramatic, and was a case where having some technical knowledge of Flamenco enhanced my appreciation of the art.)

Regardless of whether the company was dancing with sound or silence, they danced with intention. Especially with Ms. Baras' and Mr. Serrano's solos, I couldn't take my eyes off of them. They were passionate. If I could have, some of the time, half as much passion as they communicated, I would count myself fortunate.

The company took deserved bows. Ms. Baras made an emotional speech in Spanish. And then…

And then Ms. Baras pulled a saxophone player, Tim Ries, from the audience. He had a saxophone with him – the straight kind (probably a soprano saxophone). Ms. Baras danced to Mr. Ries' sax, slowly, with a beat box or two, and surrounded by soft palmas in a semi-circle. This was different. Flamenco Jazz? It was completely unexpected, and now, of course, how can anyone dance Flamenco without a sax?

The show came to an end with a traditional group dance as the dancers marched off the stage. Followed by a second set of bows, which were also very deserved.

As great as the show itself was, the evening was even better for the audience members who showed up about an hour early. There was a Flamenco dance class before the show. The lesson was taught by Nelida Tirado (and see an interview with Ms. Tirado). There were about 30 people taking the class, of whom about four or five were wearing dance shoes. There were also about 20 to 30 people watching the lesson. The City Center Grand Tier lobby area was fairly full.

One of my hypotheses is that people who are fans of concert dance and who have tried dancing themselves, in any style, will have a stronger connection to dance than people who are fans of concert dance and have not danced themselves. I thought this lesson was a valuable service to the dance community, and that more shows should emulate this example. Ms. Tirado clearly explained many elements of Flamenco, and enabled the lesson participants to experience some success as a Flamenco dancer. (I wouldn't have recognized the switch, towards the end of the show, from palmas sordas to palmas claras if Ms. Tirado hadn't demonstrated the different types of palmas in her lesson before the show.) Flamenco is difficult to do very well, but Ms. Tirado made it accessible, which should deepen the participants' appreciation for the Flamenco shows they attend. Judging from the participants' shoes, I would estimate that about 20% of the participants were experienced Flamenco or dance students, and the rest were newcomers, which means the lesson had the potential to grow multiple segments of the dance community. One of my main suggestions for the Flamenco Festival organizers would be to include a $5 discount off of Flamenco lessons with every ticket. As good as the lesson was, it wouldn't have been possible to fit very many more people into the City Center Grand Tier lobby, so discount coupons redeemable with a variety of NYC Flamenco teachers would give more audience members an opportunity to deepen their connection to Flamenco and dance.

Speaking of community, at various points in the show Ms. Baras addressed the pictures of people on the set pieces. She seemed to be acknowledging her lineage, which was a nice touch.

The show started with a short speech by Flamenco Festival director Miguel Marin, who thanked the recently deceased dance critic Valerie Gladstone for her work. Mr. Marin said "Thank you, Valerie. I am so honored and grateful that I have been able to share this with you." I like to think that there is a combined lineage of movement and text that enables our community to share our love of dance with the next generation. Ms. Baras' Voces, Suite Flamenca was dance worth remembering and building upon.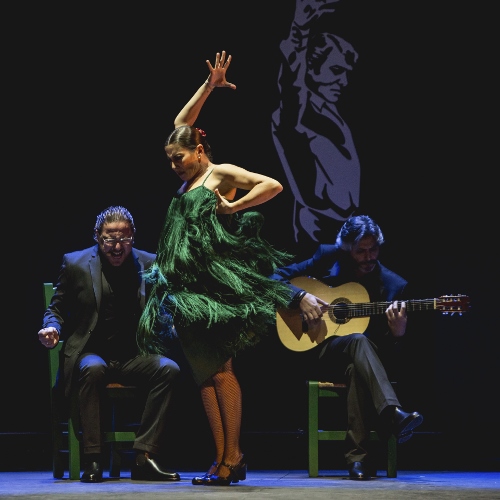 Photo © & courtesy of Santana De Yepes
---
Photo © & courtesy of Santana De Yepes
---
Photo © & courtesy of Santana De Yepes
---
Photo © & courtesy of Santana De Yepes
---
Photo © & courtesy of Santana De Yepes
---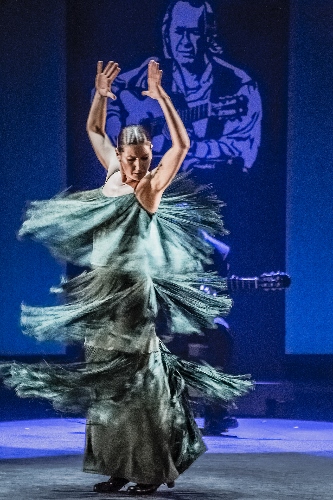 Photo © & courtesy of Jullete Valtinedas
---
Photo © & courtesy of Jullete Valtinedas