When painter and sculptor Henri Matisse was diagnosed with cancer in 1941, the disease left him virtually bedridden. However, the inventive artist refused to take it lying down and created a new art form utilizing a new type of medium, cut paper collages, or decoupage, which occupied the last decade of his prolific life.

Inspired by the joie de vivre that Matisse expressed in this lively medium and by the recent MoMA exhibit, "Henri Matisse: The Cut-Outs," the Brooklyn Parkinson Group (BPG) will pay homage to the iconic artist with "The Matisse Performance Project: A celebration of the power of Dance, Music and Art." It will take place at the museum's Cullman Education and Research Building on Thursday, April 2, 2015, from noon to 1:30 p.m. It is free, but space is limited for this unique ten-minute piece and reception, so reservations are required.

Olie Westheimer, founder and executive director of BPG, pitched the idea for this multi-sensory project to Laurel Humble, the assistant educator of MoMA's Community and Access Programs, which serves individuals with disabilities and underserved audiences (the latter being the purview of Community Programs). Humble, who has been working with BPG since 2011, led them on two gallery tours of the exhibit, followed by an art-making session, where they created their own cut-outs.

"We both have an interest in performance art," said Westheimer. "I'm pretty sure that MoMA's education department has never done anything like this before, so I think it is an experiment for them to see if it works. The BPG Movement Lab class has done this kind of thing before, so I could assure Laurel that we know what we are doing."

"One of the ways we see our role, especially in the education department at MoMA, is to catalyze experiences, programs and relationships with art," added Humble. "This particular collaboration is a great example of that. It is related to Matisse and the cut-outs exhibition, a really accessible art-making process he employed. I think it's really exciting to see where people take those ideas. Oftentimes when we work with a group, we'll have a tour of the galleries. With this, we get to see which ideas and images stuck out and then how people adapt and reimagine them through their own art-making."

Westheimer divided the two activities into Brooklyn chorus and Manhattan movement, with visual art overlapping both. "I am very happy because it gives people an opportunity to contribute to a performance either by being in it or through the art, which can be worked on at home," Westheimer said. "At the same time we are trying to get people to do things that are meaningful and fun."

BPG is headquartered at the Mark Morris Dance Center, where on Fridays Philip Hamilton is rehearsing about a dozen Sing for PD participants. I watched a rehearsal, which consisted of vocalizing, chanting, popping out words, singing and rhythmic handclapping—"this tribal thing," said Hamilton, who comes from a jazz, rhythm and blues and soul background. He is one of two Sing for PD teachers and has been here for almost three years. "Olie knows my work and love for vocals and asked me to be part of the project," said Hamilton, a recipient of the 2004 New York Dance and Performance Award (Bessie) for his Body of Work in the field of Composition for Dance.

"This particular group of vocalists is open, energetic and are all working together," Hamilton enthused. "I don't always realize they are limited and have PD," Hamilton admitted, "but they are some of the smartest people you will ever know. I have only seen them three times [at this writing], but I see them jell. There's a trust and it doesn't matter what I throw at them, they are game."

"What we are doing is complicated, and we've never done this before, said Bebe McGarry, a former poet and rock band member, who is very game. "Take the beat, play within the beat, going against the beat. It's a primitive evolution of energy."

Leonore Gordon said that feeling part of this experience "is wonderful, creative, perks me up and gives me something to look forward to." Gordon taught poetry in public schools, was a social worker and private family therapist and is currently leading a support group at BPG and training healthcare professionals to understand what it is like living with the disease.

BPG also attracts a loyal cadre of volunteers for its programs, especially those who have an emotional connection to PD in some way. Michael Sazonov, whose father has PD, is performing with the singing group. "I am learning as much as I can for myself and later on," he said. "The knowledge I gain from this group as well as what I have learned through assisting with Dance for PD over the last year is a blessing," he said.

Choreographer Pam Quinn was sitting in on Hamilton's vocal rehearsal, all the better to harmonize the two art forms. On Tuesdays she rehearses the dance component at Cullman. Quinn was diagnosed with PD in 1996 and has used her dance background to devise coping strategies to deal with PD movement challenges in her Friday PD Movement Lab class. (Dance for PD Mark Morris Dance Center on Wednesdays consists of movement and tap, ballet and jazz steps from actual Mark Morris Dance Group repertory.)

After Westheimer got the green light from Humble, she suggested to Quinn that they bring Hamilton aboard. "We had wanted to collaborate for some time, so we started meeting and coming up with some ideas—in the spirit of his playfulness of his art," said Quinn.

When Quinn went to MoMA to look at the show, she observed that the shapes were very organic and had an underwater seaweed creature feel, bursting with vivid colors. "We wanted to use some images that related to those impressions, and it evolved into movement, like the jellyfish and underwater sections," Quinn explained. They also made a score to the sounds of scissors opening and closing. She had wanted to use tailor's scissors, which is what Matisse used to transform paint and paper into a world of whimsy, but at $150 a pair that proved prohibitive. Westheimer looked at wooden spoons in her kitchen, which are a little bigger than normal, lashed them together with rubber bands, and they produce a great rhythmic percussive effect.

Helen Jacobs, one of the dancers, said it was exciting to be doing this at her age, "my first performance." Jacobs, diagnosed with PD about six years ago, goes to the Manhattan Juilliard PD dance program. "It has put a lot of structure into my life," she said. "It is very helpful to be around people that are going through the same thing. The whole program is just fantastic."

Co-set designers Cheryl Green and Carol Enseki come from disparate art backgrounds, but both have PD. Enseki was president of the Brooklyn Children's Museum for 12 years, has served on the governing Council of the New York State Council for the Arts since 2010 and is working in an advisory capacity for BPG and the NYU Langone Medical Center's Parkinson and Movement Disorder Center. While all the participants will wear black, Enseki will accessorize them with a colorful scarf. Green is an accomplished artist and set designer, who worked and got her degree from the School of Visual Arts, was the National Arts Club exhibition committee chairperson and worked with inner city at risk kids in the 1980s for five years, putting up huge murals throughout the city, where she "learned how to do things big," she said.

The mural measures nine feet tall and almost 20 feet across and is inspired by but not a copy of Matisse's "The Parrot and the Mermaid" (1952), explained Green. "We have involved as many people in BPG as we could reach who are interested in art. They went home with papers and a Xerox copy of Matisse's work. They cut out similar shapes and added anything reminiscent of the ocean. We said to involve your kids, grandkids, make it a family project."

Two days before the event, a number of PD people who are artists will come together to arrange the collected cut-outs on the floor, glue them down, and MoMA will hang the finished mural. "It's a collective effort that is really fun, colorful, and everyone will have a great time," said Green.

"The arts are for everyone, from kindergarten to 90," added Quinn. "It stimulates conversation, gets you out of yourself, you experience beauty and are provoked by ideas. It's a wonderful thing that MoMA is making it as democratic as possible."

To RSVP for the April 2 performance and reception from noon to 1:30 p.m. at Cullman Education and Research Building, 4 West 54th Street, call BPG at 718-522-0553, or email Oliewestheimer@brooklynparkinsongroup.org or Maria@brooklynparkinsongroup.org. For more information about BPG, call or email the above, or go to the website, www.brooklynparkinsongroup.org. For information regarding Community and Access Programs at MoMA, visit www.moma.org/learn/disabilities/index.
Manhattan dance rehearsal at Cullman, with choreographer Pam Quinn, background in all black, directing the group.
Photo © & courtesy of Bonnie Rosenstock
---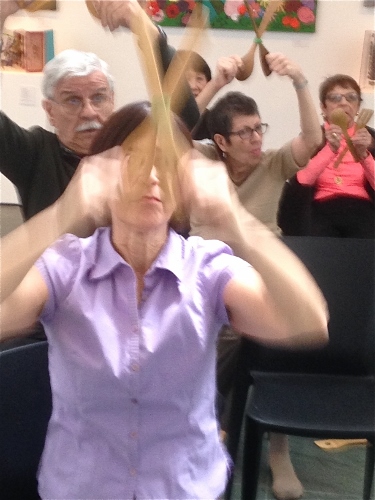 Manhattan dance rehearsal at Cullman. Making music with wooden kitchen spoons.
Photo © & courtesy of Bonnie Rosenstock
---
Manhattan dance rehearsal at Cullman, with Helen Jacobs (standing).
Photo © & courtesy of Bonnie Rosenstock
---
Brooklyn vocal rehearsal at Mark Morris Dance Center, with Philip Hamilton (Sing for PD) leading the group.
Photo © & courtesy of Bonnie Rosenstock
---
Brooklyn vocal rehearsal at Mark Morris Dance Center, with Philip Hamilton (Sing for PD) leading the group.
Photo © & courtesy of Bonnie Rosenstock