You have to like to be challenged to like Veiled Moon. Fortunately, I like to be challenged.

Preeti Vasudevan's Thresh presented a work that was definitely classical Indian dance, but just as definitely not traditional Indian dance. Veiled Moon was also definitely thought provoking.

The afternoon presentation began with a lecture by William Dalrymple about Deccan Indo-Islamic civilization in general and specifically about the people he discusses in his book "White Mughals", including James Kirkpatrick (a British official), the Nizam (Muslim ruler of Hyderabad), Khair u nisaa (a daughter of a high Muslim family, who Mr. Kirkpatrick fell in love with), Kitty (Khair u nisaa's daughter) and the Deccan poetess and courtesan Mah Laqa Bai Chanda. This lecture was followed by Veiled Moon, a dance commissioned by The Met and based on Ms. Chanda's life. This combined presentation coincided with a fascinating exhibit of Deccan objects and art at The Met.

The Deccan period in India's history was a time of artistic flowering amid instability, turmoil and change. I could easily see a somewhat abstract representation of this turmoil in the dance.

Veiled Moon was a kind of contemporary Bharatanatyam, an evolution of classical Indian dance that draws upon modern dance either by fusion or convergence. One of Mr. Dalrymple's main points was that the Deccan period represented a time when very different worlds (Indian and British) could be "spanned and reconciled." These worlds "met and mingled in the past and will do so again." A key resolution in Mr. Dalrymple's story was the reunion of Kitty with her grandmother (via correspondence). In the same spirit, the kind of reunion of past and present represented by Veiled Moon was worth the attempt, and should be repeated in the future. I, for one, would be happy to see Veiled Moon or Thresh's next work again. (1)

Veiled Moon was also important to me considered side by side with DWITA, which I had seen the night before. DWITA and Veiled Moon were both contemporary versions of Bharatanatyam, but it seemed to me that Veiled Moon was more contemporary than DWITA. I mean "more contemporary" in a neutral sense, as a characteristic of the work, not as a judgment. By seeing both works close together, it gave me a fuller understanding of how Indian dance is evolving than either work alone might have. And, seeing both works led me to believe that it might be possible to quantify the contemporariness of specific dance works. I will attempt to work out the math in a future article.

Some of the ways that Veiled Moon was a contemporary take on classical Indian dance included starting the work with a dancer with her back to the audience, murmured chanting and simple costumes such as black dresses over white pants. The singers and dancers were generally the same people (or at least they seemed to be - the singers certainly often had a dynamic role placed central to the stage), whereas in more traditional Indian dance, these roles are separate. Sometimes the chanting felt looser than I was accustomed to, more like a party.

On the other hand, Veiled Moon was very recognizable as Indian dance. For instance, choreographed eyes are often a feature of classical Indian dance, and Veiled Moon included good use of the dancers' eyes as well. The root movement vocabulary used in Veiled Moon was unmistakably Indian.

The work started out with very slow movements, but then opened up, becoming faster and insistent, in both the rhythm of the music and the feet. The movement was musical with bells on ankles, but also could be silent. Key elements of the choreography, such as a dancer with her back turned to the audience, were repeated to good effect.

Especially given that the dance was paired with a lecture, I would have liked to have understood what was being said in the chanting, perhaps with translations shown in supertitles, because it might have made the story clearer for people whose main language is English, but Veiled Moon, as with other Indian dance performances, worked without it. Another option, if the intention is to emphasize Ms. Chanda's story, would be to try a version of Veiled Moon with narration. Ms. Vasudevan might take a few segments of the work, and add narration in English to make sure the story is clear. Then, she could present both the original and narrated excerpts as two acts of the same performance, collecting both audience and artist feedback. This could serve as a dance equivalent of Silicon Valley's "fail fast forward" product development concept, or as an experiment in applying Vygotsky's Zone of Proximal Development to help audiences build their understanding of contemporary dance.

Traditional classical Indian dance is very comfortable, especially for those audience members who grew up with it or have come to love it. Thresh's Veiled Moon, by contrast, deliberately takes risks. Some audience members likely will not like Veiled Moon, or works like it, because they want to be comfortable. That's okay. Like anything new, some parts of Veiled Moon didn't work as well as others. That's okay too. Traditional classical Indian dance has been practiced, polished and perfected over many years, centuries depending on how one marks the history. A newer form, such as represented by Veiled Moon, takes time to find its resonance, practice and audience. I thought Thresh's Veiled Moon was worth the risk and contributed to the advancement of the conversation of dance. I would love the opportunity to be challenged by Veiled Moon a second time, in the hopes of deepening my understanding of Indian dance.


---


Postscript: This was the second dance performance I have seen at The Met, the other being Nrityagram at the Temple of Dendur. I thought the "historical lecture to give context to the dance" format was worth curating again. The Deccan period, both the art and the characters, proved fascinating. Using Mr. Dalrymple's lecture as evidence, his book "White Mughals" should be worth a look.


---


(1) While Kitty was not intended as a source of Veiled Moon, she and her family were contemporaries of Ms. Chanda in Hyderabad. Since Mr. Dalrymple's lecture primed the audience's observation of this performance of Veiled Moon, it is understandable how Kitty and her grandmother could be seen in Veiled Moon, especially since the dance was more abstract than representational. I may have also been primed to some extent by DWITA the night before, since that was in part a mother-daughter story. But that is art: the artist may give birth to it, but the art can only speak when the audience observes it – art with potential often guides with a light touch, not just guiding the audience but the artist as well.


---


Preeti Vasudevan (Choreographer/Dancer)
Samita Sinha (Composer/Singer)
Roopa Mahadevan (Music)
Brian Chase (music)
Elif Işıközlü (Dramaturg)
Tony Giovannetti (Lighting)
Deanna Berg (Costumes)
Scott Kugle (Literary consultant)
Aditi Dhruv (Dancer)
Nilaya Sabnis (Dancer)
Deesha Narichania (Dancer)
Jenny Ainsworth (Stage Manager)
Veiled Moon production by Preeti Vasudevan and Thresh Dance Company
Court Dance - Preeti Vasudevan with Deesha Narichania, Nilaya Sabnis and Aditi Dhruv
Photo © & courtesy of Ian Douglas
---
Veiled Moon production by Preeti Vasudevan and Thresh Dance Company
Duet - Samita Sinha and Preeti Vasudevan
Photo © & courtesy of Ian Douglas
---
Veiled Moon production by Preeti Vasudevan and Thresh Dance Company
Court Dance - Preeti Vasudevan with Deesha Narichania, Nilaya Sabnis and Aditi Dhruv
Photo © & courtesy of Ian Douglas
---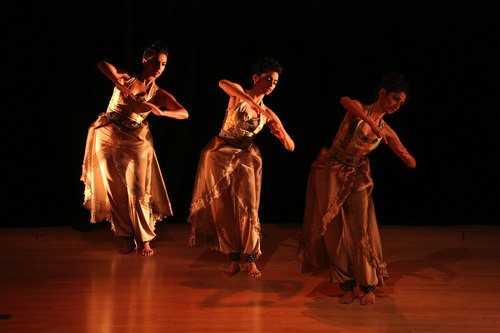 Veiled Moon production by Preeti Vasudevan and Thresh Dance Company
Court Dance - Nilaya Sabnis, Deesha Narichania and Aditi Dhruv
Photo © & courtesy of Ian Douglas
---
Veiled Moon production by Preeti Vasudevan and Thresh Dance Company
Court dancers
Photo © & courtesy of Ian Douglas