Choreographer Hans Van Manens "Kleines Requiem" opened the April 16 performance of Nederlands Dans Theater 1's Strong Language. The ballet for seven dancers was choreographed in 1996 for NDT to Henryk Miko?aj Górecki's Kleines "Requiem fu?r eine Polka."

Van Manen started as dancer, choreographer and artistic leader for NDT in 1960, left in 1971 for Het Nationale Ballet, and returned as choreographer between 1988-2003. He created 62 ballets (of the 120) for NDT and his work,after the ballets of choreographer Jiri Kylian, are the most important and appreciated in the NDT repertoire.

Three couples danced graceful love duets. The women wore leotards, the men pants. These couples related to each other with strong sensual tension. They reconfigured at times into trios and other groupings including a duet for two men. Their classical movements with stretched legs and arms in clear lines followed closely Gorecki's dark, propulsive music. Suddenly a polka is heard in the music and the seven dancers changed their movement language to that of a gay rhythmic polka. This continued until church bells rang again in Gorecki's music ushering in a last serene duet to end the piece; leaving behind a thankful audience.

Sharon Eyal and Gai Behar, a young Israeli duo, choreographed their second creation for NDT, "Bedroom Folk," in close relation with composer Ori Lichtik and scenery and light designer Thierry Dreyfus. On vibrant dance music, in a red-light nightclub atmosphere, a group of eight dancers clung together moving in small rhythmic steps. With torso's straight, knees and arms angular and sometimes shaking their heads, the dancers performed the unique choreography with precision. Those moves were restrained and finely performed during swells in the music; the expression on their faces stayed mysterious. What were they up to?

The tall dancer Marne van Opstal had a leading role in the center of the group and was at his best. In this contagious piece movements grew and shrank, some dancers escaped from the group, but were drawn back as if belonging to one organism.

Rounding out the program was Canadian choreographer Crystal Pite's "In the Event." An associate choreographer for NDT since 2008, Pite created a striking piece set to an original score by Owen Belton. Against exciting scenery by Jay Gower Taylor depicting caves from ancient times, the group dance developed an ongoing motion as a wave of water; the dancers were holding each other, turning, bending and straightening up again, going forwards and backwards at different speeds. Grief and sorrow were expressed as recognized in their moves and on their faces, supplemented by the pounding music and lightning. We follow the dancers as a tribe in nature, struck by electric power.

Couples broke from the group, a female dancer mourned in a male dancer's arms, a soloist drifted nervously in space. All this was temporary until the dancers came together to hold each other for strength against unknown powers.

Pite expressed the cohessiveness of the group by repeatedly bending all arms one by one in a single direction creating very fine sculptures.

With "In the Event," Pite has surpassed her other ballets for the company and provided an outstanding finale to Strong Language NDT's season.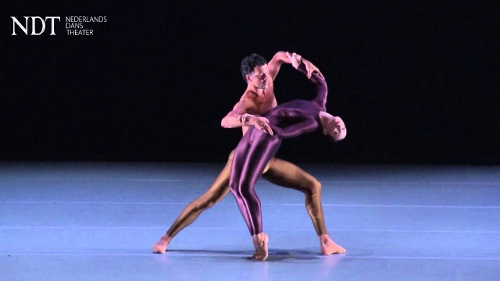 Nederlands Dans Theater 1 in Hans Van Manens' "Kleines Requiem."
Photo © & courtesy of Joris Jan Bos
---
Nederlands Dans Theater 1 in Sharon Eyal and Gai Behar's "Bedroom Folk."
Photo © & courtesy of Rahi Rezvani
---
Nederlands Dans Theater 1 in Crystal Pite's "In the Event."
Photo © & courtesy of Rahi Rezvani