Celebrating the 100th Anniversary of the Panama-Pacific International Festival (which took place even then at the Palace of Fine Arts), the 37th annual San Francisco Ethnic Dance Festival presented its usual widely varied program of music and dance. The events ranged from Academy of Danse Libre (Ragtime Era Social Dance) to the djembe drumming and dance of West Africa.

The Academy of Dance Libre is a Stanford University based group who study vintage dance with Richard Powers. The eighteen dancers dressed in period costumes reconstructed dances that were done by Irene and Vernon Castle (and others) in the early 20th century. Among these were the "Castle Walk" (and variations), "Rio Tango" and best of all, the "animal dances" (bunny hug, grizzly bear, turkey trot) that were the craze in their time. All were wonderfully executed with much humor and skill in the Palace Lobby before curtain.

LIKHA, a Pilipino Folk ensemble featured dances from three Cordillera ethnic groups, Chalichog, Manmnok, and Banawok. These were intended as a staged celebration for peace and unity. The colorful costumes worn by the dancers were woven from bright colors, representing roosters and other birds. The movement of the dancers feet and heads echoed that of birds. Men and women danced together as a sign of tribal unity. The group is based in San Francisco with choreography by Rudi C. Soriano.

In "Petenera" Hilt Maniv danced to "flamenco cane jondo" a song of loss and suffering. The song reflected the music of the Jews of the time of the Spanish Inquisition. The musicians were accompanied Ms. Maniv on guitar, cajon, and vocal. This was a unique Flamenco event.

Ballet Folklórico Mexicano Fuego Nuevo performed "Carnival in Campheche," a suite of dances representing both old Spanish and classic Cuban influences. Director Miguel Angel Martinez blended these lively traditions with dancers dressed in Spanish and pre-Columbian costumes adorned in Mayan symbols and colors. The large company also boasted at least two very young, very lively members. The performance captured the vitality of Carnival.

Wild and wonderful in its unique way was Gurus of Dance in a Bollywood Indian Folk extravaganza choreographed by Aditya Patelcombining "raas and garba" and more than a bit of Bollywood." The women wore very colorful dresses and a lot of jewelry while the men were dressed in special kedias and scarves. Bamboo sticks added to dramatic effects as did earthen lanterns. Bollywood was a new dimension for the Festival, but it is the current dance craze from India.

Four more companies work completed the long afternoon's program. These were El Tuante, in a charming Peruvian courtship dance featuring fluttering handkerchiefs, called "marinera"; OngDance Company offering traditional Korean dance in a three part narrative work, Tara Catherine Pandeya and Abbos Kosimov Ensemble a duo from Uzbekistan that mixed the unique use of the doira (a Central Asian frame drum) and a solo dancer in a beautiful embellished dress, and Diamano Coura West African Dance Company. All were accomplished and generous in their vitality, costuming and ethnic extravaganza. This reviewer would enjoy fewer offerings so as to concentrate the experience.

The Ethnic Dance Festival continues for Week 3, June 21 with performances on the Marina Green and Weekend 4 on June 27 with two more companies to recognize Carlos Carvajal and CK Ladzekpo for Lifetime Achievement. Julie Mushet, Executive Director of the Festival exhorted the audience to encourage the city of San Francisco to join them in creating a world center of culture at the Palace.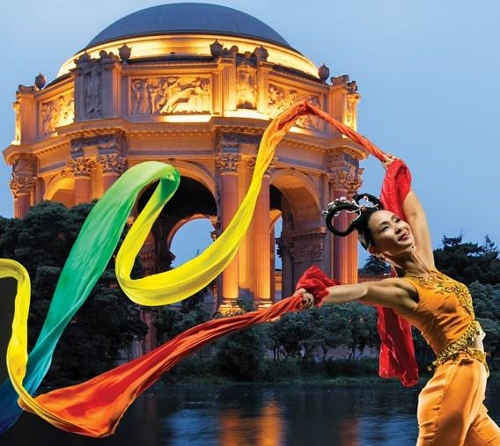 Photo courtesy of 37th ANNUAL SAN FRANCISCO ETHNIC DANCE FESTIVAL