We celebrate Nick Owens' choreography for its richness and sincerity; physicality and grace. The dancers of the Kenyetta Dance Company embrace Owens' expansive vocabulary, making each work unique unto itself, yet over its decade-long tenure the company has become stylistically recognizable in the same way when we read a poem we can recognize it is Maya Angelou's voice leading us into infinitely varied discoveries of the human condition.

Basically, Owens is poetic confronting us with global perspectives rendered as personal statements that remain timely and timeless. The dancers' passion to the message (never didactic) translates viscerally to us in the seats.

The simple elegance of "Purging the Darkness," a world premiere that opened the program Black Dance Matters, September 4-5 at the Indianapolis Museum of Art's Toby Theater allowed truth to lure us into the conversation despite Sunni Patterson's disclaimer "Can't afford the truth to leak" in her poem "We Made It," performed by guest artist Devon Ginn. Off to stage left, Ginn recites as the strains of "A Pagan Use" by Pablo's Eye rise up with lights revealing a church setting. The juxtaposition of elements— Ginn in white itemizing a litany of inhumanity, dancers in black reaching toward embracement—mesmerizes. There is a feel of the power of faith that transcends faith in the face of hatred.

"Moody Blues" (2007) takes its cue from Gare du Nord's lament, when your lover is gone what have you got as a hedge against the bitter winter? "Pablo's Blues" is pushed by fluidity and speed—distress explodes with energy.

"Roots Suite" (2008) is a "spiritual passage" that grew from the "stories of South African families who maintained their strength through the 2007 raging inferno." The blink-by-blink cinematic groupings between blackouts retell the events leading to disaster; the expanded mime that follows shows rebuilding present upon the past.

With "Skin Deep" (2006) Nina Simone's rendition of "My Way" becomes a joyous mélange of dancers taking the beat above and beyond jazz as we usually know it. Barriers are beaten down or used to climb over.

The cast collaborated to create the choreography for the world premiere of "Message to the Messengers," based on Gil Scott-Heron's 1994 reminder to the new generation of hip-hoppers of "the responsibility they have to their community and the world at large" and the respect and debt they owe to their Elders.

Lalah Hazelwood built her world premier choreography for "Peace on Earth" on Dinah Washington's 1960 song "This Bitter Earth." With dazzling physicality the momentum drives a sense of hopefulness from the introspective "some one might answer the call and this bitter earth may not be so bitter after all."

Closing the 10th anniversary program, Owens' Fight On "Shelter Me" (world premiere) rises from an incendiary backdrop, dancers in military fatigues populating the stage with constantly changing patterns breaking into corps and individual moves turning inside itself and out as an explosion of energy.

Moral and social issues are at the core Kenyetta, co-founded by executive artistic director Vanessa R. Owens and choreographer Nicholas A. Owens. What became apparent as I engaged with the offerings is how much the current crop of presidential contenders needed to be in the audience. They need to be disabused of their pontificating about Martin Luther King (were he alive) being opposed to the Black Lives Matter Movement. An evening in the company of Kenyetta might lead them towards considering what they can do to establish "liberty and justice for all" instead of seeking more ways to thwart universal rights of human dignity.

The dancers who gathered from their respective current positions for this gala included: Tamara Ammons-Jones, Arika Casey, Tierre J. Clark, Brittany Dixon, Dr. Helen Flippin, Lalah Ayan Hazelwood, Paige Henry, Adrienne D. Jackson, Gregory Manning II, Evan Sanders, Khadijha Stewart and Aquanita Yancy.

Devon Ginn also performed his original spoken words "Human" and "The Brown Paper Bag Theory."

Kevin Johnson served as stage manager.
Photo © & courtesy of Lenny White / Pride Photography
---
Photo © & courtesy of Lenny White / Pride Photography
---
Photo © & courtesy of Lenny White / Pride Photography
---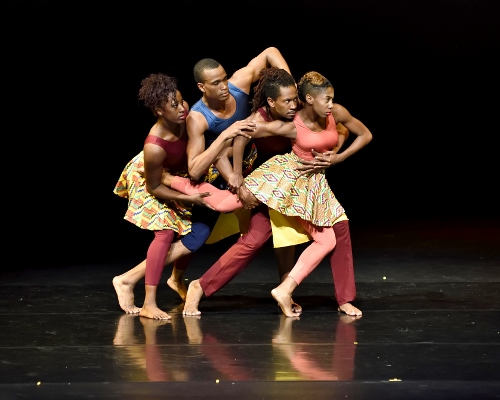 Photo © & courtesy of Lenny White / Pride Photography
---
Photo © & courtesy of Lenny White / Pride Photography