Russian choreographer Leonid Yakobson has often been characterized as the "UnBalanchine." While George Balanchine and Yakobson shared a common birthplace (St. Petersburg, then Leningrad) and a nearly similar birthdate (a week apart, in 1904), their lives took two vastly divergent directions. In 1924, while on tour with a Soviet dance company in Germany, Balanchine defected, made his way to Paris and eventually to New York, where he co-founded the New York City Ballet and achieved acclaim and accolades.

Yakobson, on the other hand, chose to stay. He was often censured and censored by the government and banned from working on innumerable occasions, not only for what were considered his iconoclastic, non-traditional, scandalous ballets, but also because of virulent anti-Semitism, particularly during the Stalin years (mid-1920s to 1953). During his lifetime, there was scarce mention of him and his works in the official press. When he died in 1975, despite no official obituary in the newspapers, scores of mourners turned out for his public funeral near his hard-won theater, granted to him in 1971. (Today, it is known as the Leonid Yakobson St. Petersburg State Academic Ballet.)

But thanks in part to Janice Ross, the Boston Ballet, where five of his choreographies were restaged and presented this past summer, and the San Francisco Ballet, among others, Yakobson is enjoying a mini-revival. To honor his belated recognition, Yakobson was the subject of a recent Fridays at Noon discussion/performance at the 92nd Street Y's Harkness Dance Center, entitled "The Hidden Erotic Body of Soviet Ballet: A Tribute to Leonid Yakobson on the 40th Anniversary of his Death (1904-1971)." It was moderated by Stanford professor Ross, who is a Yakobson scholar and author of the recently published "Like a Bomb Going Off: Leonid Yakobson and Ballet as Resistance in Soviet Russia."

Ross introduced the program with a lecture about Yakobson's legacy and life, drawn from her comprehensive biography, which was accompanied by rare film clips and stills of Yakobson's choreographies and dancers. (He made 180 ballets under adverse circumstances, of which only a handful survive. (YouTube is a wonderful source for archives and revivals.)

What made Yakobson so controversial and "dangerous," Ross said, was that dance became a "very charged arena for resistance." "Only Yakobson choreographed in the middle of defiance." His works were in marked contrast to the established rules of classical ballet. For some works, he stripped away pointe shoes and tutus and substituted sandals and tunics. His dancers also expressed real facial movements and emotions. While Soviet and ballet officials were outraged, he was popular with dancers and the discerning public. He excelled at miniatures, brief dances that often used grotesque, athletic or pantomime movements to address social, dramatic or erotic themes, often accompanied by contemporary music. One of his acclaimed ballet miniatures, "Vestris" (1969), was choreographed for Kirov dancer Mikhail Baryshnikov, who acknowledges his debt to Yakobson. (Baryshnikov defected in 1974.)

Two of Yakobson's most controversial pas de deux from his Rodin miniature series, "Eternal Spring" (1958) and "The Kiss" (1958), with music by Debussy, were performed by Natasha Sheehan and Davide Occhipinti, both second-year trainees at the San Francisco Ballet School. For this series, Yakobson wanted to use flesh-colored leotards, but censors forced him to use tutus. In revivals, leotards are back. Ross said that Yakobson gained access to the Hermitage from a contact in order to study the Rodin sculptures in detail—each dance begins and ends with precise freeze poses—eschewing the then prevailing hulking Soviet-style sculptural forms. These two dances were staged by Wendy Van Dyck, former principal dancer with the San Francisco Ballet, who learned them from Yakobson's widow, Irina Yakobson.

The first solo variation of his "Pas de Quatre" (1971), music by Bellini, was performed by Maria Baranova, a soloist with the Boston Ballet, in a long flowing white tutu. It was staged by veteran dancers Vera Solovyeva and Nikolay Levitskiy, who were Repetiteurs with Leonid Yakobson's State Ballet Theatre. Ross observed that the dance "showed meticulous attention to detail. It is a sisterhood. The dancers move with fluency as one." (We saw a black and white film clip of the quartet.)

Following the dances, Solovyeva made corrections to Baranova's exquisite performance with precision changes to the feet, body and arm positions. "They must be sharp movements, with extension," she said. Although it was a short piece, the quick constant movements were challenging, and Baranova was out of breath by the end of it. Levitskiy worked with Occhipinti and Sheehan on "The Kiss," urging him to "get closer and lower and to embrace."

The two maestros could not stay for the panel discussion, which included Ross, the three dancers, Van Dyck and Leningrad-born photographer Nina Alovert, who shot the Kirov (now the Mariinksy Ballet) and Bolshoi from the early 1950s. Several dance critics in the audience and Van Dyck sparred over whether or not Yakobson was influenced by Isadora Duncan, who spent time in Russia, where the two would have known each other.

Alovert commented that she was disappointed with the Rodin miniatures performances, as was this reviewer. They were neither erotic nor particularly choreographically interesting. "Too American," said Alovert. I remarked that perhaps the dancers were just too young. Alovert responded that the Russian dancers were just as young when they performed them, but they had more passion. Or perhaps with the passage of time, the once modernist Yakobson doesn't seem all that innovative or modern anymore.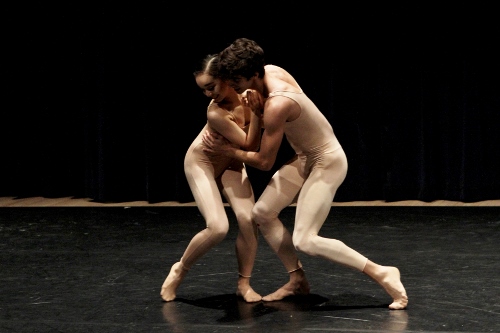 Rodin: The Kiss (1958)
Choreography: Leonid Yakobson
Music: Claude Debussy
Dancers: Natasha Sheehan and Davide Occhipinti
Photo © & courtesy of Julie Lemberger
---
Pas de Quatre (1971)
First Solo Variation
Choreography: Leonid Yakobson
Music: Vincenzo Bellini
Dancer: Maria Baranova
Photo © & courtesy of Julie Lemberger
---
Rodin: Eternal Spring (1958)
Choreography: Leonid Yakobson
Music: Claude Debussy
Dancers: Natasha Sheehan and Davide Occhipinti
Photo © & courtesy of Julie Lemberger