BALAM Dance Theatre (BALAM) premieres its new Out & About series program, A Multicultural Ramayana, a performance of a beloved Hindu myth, featuring Balinese fusion and Spanish dances performed to live Indonesian gamelan music. The nonprofit, professional dance theatre company's performance will be presented at The Pied Piper Children's Theatre of NYC & Delphi Theatre The Community Theatre Outreach Ministry of Holy Trinity Episcopal Church located at 20 Cumming Street in New York City on Friday, April 15 from 6:00 p.m. to 7:00 p.m. The family-friendly program is free and open to the public.

The story of the Ramayana presents a narrative of good versus evil between archetypal characters with good triumphing and restoring the balance of order between cosmic forces of creation and destruction. "This new rendition of BALAM Dance Theatre's signature work of the story ballet inspired by the Hindu epic, "Ramayana: Abduction of Sita," reveals with greater clarity one of its deeper themes, a call for unity and peace. Presenting work that express a message of inclusion and forgiveness is particularly poignant," said Carlos Fittante, Artistic Director, BALAM Dance Theatre.

The New York City-based company offers a new vision of contemporary dance by combining ballet, modern and diverse cultural dance styles from around the world and historic periods with Balinese theatre. This latest program from BALAM's community Out & About series features the company's Artistic Director Carlos Fittante as Rama and performer Toshinori Hamada as Rahwana. Yumiko Niimi returns to the company to perform the role of Princess Sita. Boonyarith Pankamdech, a specialist in Martha Graham Contemporary Dance Technique, joins as Hanuman-The Monkey King.

BALAM's resident actor Inma Heredia, the world's first and only flamenco stand-up comedian, will perform "La Chispa de Andalucia" (The Spark of Andalusia). She will tell the story in English and Spanish and offer dramatic narration interspersed throughout the dance and music segments.
"I am happy to bring the heart and warmth of Latin culture to BALAM's multicultural program!" stated Heredia.

Barbara Romero, BALAM's Spanish Escuela Bolera dance specialist, debuts as the "Golden Deer." Her piece will utilize a 19th century Spanish escuela bolera dance movement, while playing castanets performed to the live gamelan music.
Gamelan Son of Lion will perform live an original gamelan score of vibrant Indonesian music. The New York City based instrumental ensemble specializes in contemporary pieces written for the instruments of the Javanese gamelan.
The costumes, designed by the company's late founding director Islene Pinder, were created in Bali and are variations on traditional Balinese dance costumes. The props used in the ballet were handcrafted in Bali and suggest the forest of Alengka, where, according to the Ramayana myth, the story unfolds. The movement styles utilized in the fusion ballet blend Balinese, ballet, modern, Baroque, and karate movement, reflecting the dance skills of the BALAM company members.
The show will include an audience participation segment and a question and answer period. Limited seating is available. For further information, call BALAM Dance Theatre at 646-361-9183 or send an email to info@balamdance.com.
A Multicultural Ramayana is made possible in part with public funds from the Fund for Creative Communities, supported by New York State Council on the Arts with the support of Governor Andrew Cuomo and the New York State Legislature and administered by Lower Manhattan Cultural Council.

For further information, call 646-361-9183 or visit BALAM Dance Theatre on www.balamdancetheatre.blogspot.com. Follow the company on Facebook, www.facebook.com/balamdancetheatre, and Pinterest at www.pinterest.com/BALAMDance. Check for updates on Twitter @BALAMDance www.twitter.com/BALAMDance and view the company's work at www.youtube.com/user/BalamDance.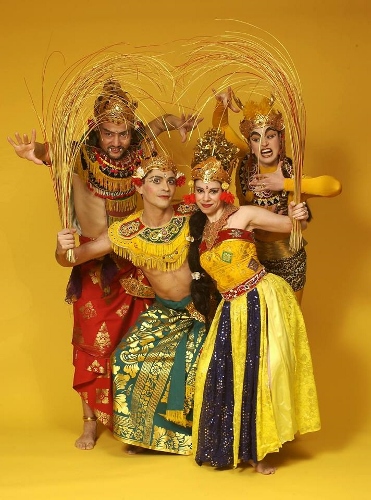 Photo © & courtesy of Luhrs & Associates