When the performance began at Duke University's Reynolds Industries Theater, two dancers were illuminated in stark positions: she with a deeply arched back, head and chest open to the ceiling; he, ready to react. The costumes were white, the lighting intense, the set design spare.

And then small flashes of light began to appear here and there onstage, briefly distracting viewers from the dancers as they began to move. "Typical modern dance," I groaned to myself. "Always adding unnecessary elements to throw off the audience."

But I was wrong. Ten minutes in, I realized that the tiny specks of gold that came and went had nothing to do with the choreographer's intentions: rather, a firefly had somehow gotten onstage and was flitting all over that giant empty space, doing what fireflies do.

How fitting. The piece, Marksman, created by Kate Weare Company as a world premiere for the American Dance Festival in Durham, NC, on June 21-23, 2016 was about nature getting its way, despite our very best intentions to take charge. "I've always been thrilled by the willfulness of formation in nature; a tiny sprout ruptures the earth on its way out, the sea rhythmically rubs a sharp object smooth…As humans we may practice willfulness and seek control, yet nature pours through us still," wrote Weare in the program notes.

And here was a small representative of nature, reinforcing that concept in the most blatant way.

As did the piece's own arc, of course. An ensemble of six dancers—three women, three men—took over the stage in various groupings over the course of an hour. They began in duets and trios, utilizing strong, serious movements that felt almost martial in their fierce staccato clarity. Action, reaction, motion, rest: the dancers pulsed to the mostly-discordant music.

Gradually that shifted, and the dancers became lighter, more fluid, almost joyful as they gathered for full ensemble dances near the end. Their white garments flowed and the music found a rhythm and even, at times, a melody.

But, oh, that firefly. It still seemed to communicate Weare's message of the uncontrolled spirit of nature better than the choreography and movers did.

Now, I don't say that to put down Weare or the dancers. The choreography was complex and beautiful, repeatedly utilizing some of Weare's hallmark movement patterns: sinuous torsos, falling backwards, flexed feet, wide turned-out poses, and arms and legs spoking through the space. Dancers lifted each other and fell, reacted to one another, but never in predictable ways: the movement was always smart and unconventional.

And I was wrong when I'd worried, with those early flashes of light, that this might be one of those typically indulgent modern dance performances. Nothing onstage was unnecessary; no movement was extraneous.

I was particularly moved by a final ensemble section that combined unison dancing—perfectly on point, gratifying in an almost visceral way—with quick changes in grouping and direction. It was as if a wind was blowing across the stage, and the movers' limbs flowed with it.

The dancers themselves were remarkably precise and talented. That's particularly true for two women, Kellie Ann Lynch and Kayla Farrish, whose strength, technique, and balance took my breath away at times. Their dancing bordered on virtuosic.

And yet. Weare's style tends towards the super-technical and exact—so much so that it never felt truly uncontrolled, even when the choreography loosened and lightened toward the end. Her dancers were never really people; they were dancing bodies that represented different states, yes, but they never seemed like actual humans with the range of messy emotions that characterizes us.

At some point, I even felt a little bored; as impressed as I was, as much as I loved the style and grace of the big ensemble pieces, it all began to run together. "Maybe even virtuosity gets old after a while," I thought to myself.

But a minute or two later, the piece abruptly came to a close. All six of the dancers, their backs towards us, took a single simultaneous step in our direction, and then the stage went black. It was sudden and surprising, and so satisfying that I immediately missed the gorgeous dancing I'd just been enjoying. "No," I thought. "Virtuosity doesn't get old."

I only regretted that more people weren't there to see such a beautiful performance. The theater was less than half full on the night I attended.
Kate Weare Company in Kate Weare's "Marksman."
Photo © & courtesy of Grant Halverson
---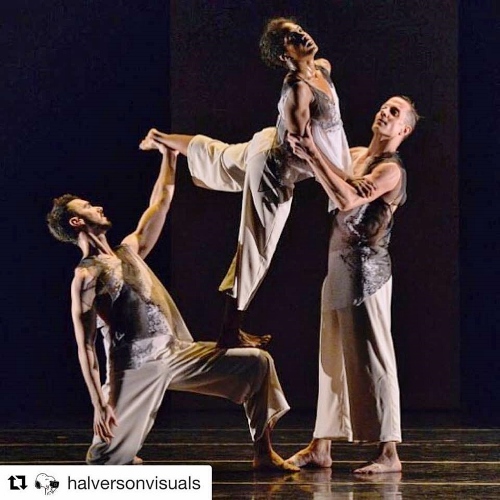 Kate Weare Company in Kate Weare's "Marksman."
Photo © & courtesy of Grant Halverson
---
Kate Weare Company in Kate Weare's "Marksman."
Photo © & courtesy of Grant Halverson