BALAM Dance Theatre (BALAM), a non-profit professional dance theatre company, premieres "The Fountain of Pleasure," a new Baroque inspired choreography created by the company's artistic director, Carlos Fittante, in XWhyY: My Genderation Dances of Exploration, for the Queens College-City University of New York's Faculty Choreographic Showcase. The performance will be presented at M11 Studio Theatre, Rathaus Hall at Queens College, located at 64th Ave in Flushing, New York on Thursday, December 1 and Friday, December 2 at 7:00 p.m.; Saturday, December 3 at 2:00 p.m. and 8:00 p.m.; and Sunday, December 4 at 3:00 p.m.

BALAM, a New York City-based company offers a new vision of contemporary dance by combining ballet, modern and diverse cultural dance styles from around the world and historic periods. The new work features the company's artistic director, Carlos Fittante, and guest artists Alexis Silver and Andrew Trego from the Boston Early Music Festival Dance Ensemble. Queens College student dancers Cindy Centurion, Gavy Contreras, Delsa Heredia, Khiabet Leal, Jaria Morris, and Rochelle Reyes will join them.

The dance style, physical acting technique, and theatrical conventions of Baroque theatre. "In the opening tableaux, personifications of love, passion, compassion, humor, compromise, affection, and trust are performed. The ballet's narrative illustrates a Baroque sensibility in which divinity intervenes on the behalf of humanity to offer insight and guidance," said Fittante, Artistic Director of BALAM Dance Theatre. Fittante's critically acclaimed co-choreographed work has appeared in the prestigious Boston Early Music Festival's Almira and other productions.

The elegant piece is accompanied by an overture excerpt and Chaconne from Les Fountaines de Versailles, circa 1683, composed by Michel-Richard Lalande and performed by the Orchestre de Chambre Hewitt. "The students will learn much from this experience gaining formal refinement and beauty rooted in a tradition of western culture. For some students this is their first performance concert and introduction to Baroque dance and music," explained Fittante.

A choreographer and dance artist of remarkable diversity performing Ballet, Spanish Escuela Bolera, Baroque, Balinese and other movement styles, Fittante has performed throughout the world in Japan, Korea, Indonesia, England, Germany, Spain, Mexico, and the United States. As a Baroque choreographer and dancer, he has performed with several leading period companies such as the acclaimed Boston Early Music Festival, where he is a resident co-choreographer, and Apollo's Fire, Cleveland's period music orchestra. He has also performed with the New York City Opera, Bilbao Opera, Four Nations Ensemble, Sinfonia New York, Teatro Lirico D.C., The Bishop's Band, and others. His period choreography for George Frideric Handel's operas Almira and Acis and Galatea received critical praise.

Other artists involved in the program are costume designer Sarita Fellows and props by Nelly Reyes.

Tickets are $10 for students and $16 for adults. Student tickets may only be purchased at the box office window. Adult tickets are available online at kupferbergcenter.showare.com and at the box office. For further information about tickets, contact the box office at 718-793-8080 and boxoffice@kupferbergcenter.org.

About BALAM Dance Theatre

Founded as a contemporary dance company in 1979 by choreographer and movement researcher Islene Pinder, BALAM Dance Theatre (BALAM) joins diverse dances and historical periods from around the world with the dazzling opulence and magical aura of Balinese theatre. A New York City-based chamber company, BALAM creates an entertainment experience that appeals to audiences of all ages and backgrounds. The company's innovative artistry and movement fusion of athletic and detailed skills are enhanced by eclectic music, striking masks, vibrant costumes and fantasy stories.

Programs include customized choreographies, lectures, demonstrations, master classes and workshops that educate the community at the grassroots level. BALAM has been featured at numerous festivals and venues, including First Night New York, Lincoln Center Out-of-Doors, Jacob's Pillow Dance Festival, and Downtown Dance Festival and appeared throughout the United States and internationally. Praise has been received from the New York Times and Village Voice, the Governor and people of Bali and the Indonesian Consulate of New York, as well as others.

For further information, call 646-361-9183 or visit BALAM Dance Theatre on its blog, balamdancetheatre.blogspot.com, and follow the company on Facebook, facebook.com/balamdancetheatre, and Pinterest at pinterest.com/BALAMDance. Check for updates on Twitter @BALAMDance twitter.com/BALAMDance and view the company's work at youtube.com/user/BalamDance.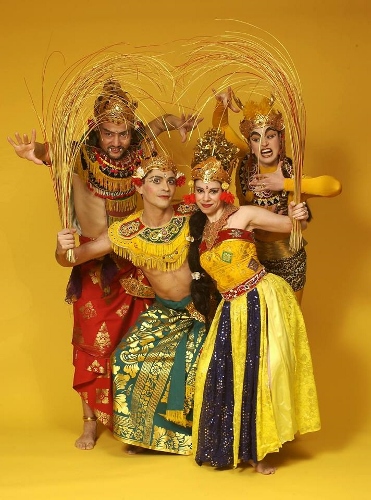 Photo © & courtesy of Luhrs & Associates