Even in Hollywood, the land of movie do-overs, no one would dare try to remake Vincente Minnelli's indelible classic musical "An American in Paris." Inspired by George and Ira Gershwin's music, the story unfolded in post WWII Paris and starred Gene Kelly who played Jerry Mulligan, an American GI who fell in love with Lise, a French ballerina played by Leslie Caron.

Despite the film's iconic standing, British choreographer Christopher Wheeldon has magically converted the movie into a dance-centric musical par excellance. The show picked up a bouquet of Tony Awards in 2015 and is now in its first National Tour this fall. It opened to overflow crowds Thanksgiving week for a weeklong run at the Academy of Music in Philadelphia, November 22-27.

An American in Paris might seem full-proof because of the Gershwin brothers' music, but that actually makes it even more risky, lest it come off as a pasted together revue. As frothy as the book is, writer Craig Lucas balances some of the weightier themes of a ravaged city coming out of the Nazi occupation into a shadowy, but liberated City of Lights that is still very much recovering the physical and psychological toll of war.

Mostly Lucas' script was full of snappy banter in service of the steady stream of songs, sumptuous orchestral music and unpaused inspiration indeed for Wheeldon's dazzling choreographic range of ballet, jazz, showdance and a throughout an homage to Gene Kelly's original choreography.

Wheeldon kept things at a dizzying clip with seamless character dancing and scenes de actione. The supporting cast and 20 swing dancers were uniformly excellent throughout.

Equally dazzling was the set design by Bob Crowley, which was in motion a lot of the time in tandem with ingenious lighting and sound design by Natasha Katz and animated projections by the artistic team 59 Productions.

Jerry Mulligan stays in Paris after the war to to become an artist. He meets composer Adam Hochberg in a café haunt. Adam is writing a ballet score and rehearsing numbers with his pal Henri, a textile heir and would be cabaret singer.

Adam introduces Jerry to a ballet troupe and he is invited to sketch the dancers, where he meets Lise Dassin, a dancer whose career was halted by the war and who works as a shopgirl in a fancy store. She is about to become engaged to Henri Baurel, but Henri can't seem to find the right words to ask her and Henri's mother even asks him if "His feelings go beyond the fair sex."

While Henri is mulling things over, Jerry and Lise meet in secret on a bench on the Seine.

Jerry is also involved with rich arts patron Milo Davenport to advance his career, until he sees she has fallen in love with him. The three pals all sing together of their love, all crooning Gershwins' tune "S'Wonderful" - soon to start fighting when they find out they are all rivals in love with Lise.

As Jerry, Garen Scribner,a former dancer with San Francisco Ballet, has muscled balletic litheness a la Kelly. He steps with ease in and out of danseur turns and is equally unfussy in scissoring jetes to grand tours en l'air around the stage done with dazzling amplitude and polish. He could give the part a bit more dimension, but his overall romantic earnestness makes for magical chemistry with former Miami City Ballet dancer Sara Esty as Lise. Esty communicates as much about Lise in her moves as Lucas gives her to work with in script.

Etai Benson as Adam, the cynical piano man with a penchant for saying the wrong thing at the right time, has a belter baritone that he reveals in key moments such as during the poignant ballad "But Not For Me."

Nick Spangler, is a quiet hero who breaks out in his boffo number "I'll Build A Stairway to Paradise" that begins in the dive cabaret and transports us to a Deco-era Radio City Music Hall showstopper, with top hats, feather fans and a chorus line. Emily Ferranti as brassy society girl Milo is also vocal powerhouse.

The finale is the 17-minute orchestral "An American in Paris" - impressive enough on screen, but in ways just as impressive as a live ballet onstage. The pas de deux finale was flawlessly danced, its extended technical demands were vintage Wheeldon. Esty and Scribner's artistry was diamond hard and completely entrancing.

The North American National Tour of An American in Paris continues through August 2017- www.anamericaninparisbroadway.com
"An American in Paris" touring company.
Photo © & courtesy of Matthew Murphy
---
Nick Spangler and the "An American in Paris" touring company.
Photo © & courtesy of Matthew Murphy
---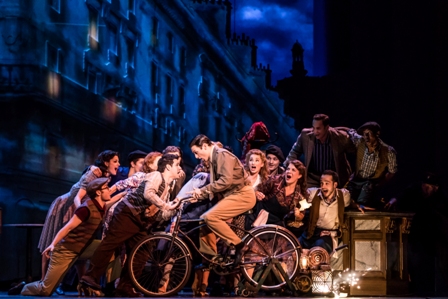 "An American in Paris" touring company.
Photo © & courtesy of Matthew Murphy
---
Garen Scribner and Sara Esty in "An American in Paris."
Photo © & courtesy of Matthew Murphy