Co-producers Kendra Barnes and Laura E. Ellis welcomed the audience the Black Choreographers Festival (August 26-28) at Laney College in Oakland, CA stating that the aim of the festival is "providing another vehicle and outlet to express ourselves as black choreographers in all of our diversity, uniqueness and depth."

Opening night, August 26, offered primarily new works-in-progress. Some will be presented in later concerts. Most moving of those performed were "Body of a Black Man" by Antoine Hunter, "Precious Lord" by Erik Lee and "In a Heartbeat" by Pat Taylor.

Hunter is hearing impaired. His solo work was built with the simplicity of walking and the complexity of floor rolling to Abdulla Ibrahim's song "The Call."

"Precious Lord, by Erik Lee was also a solo, to "Precious Lord, Take My Hand" by Ledisi. Again, the simple gestures made this piece very effective. The audience joined the dancer in the spirit of the work.

Pat Taylor is the founder of JazzAntiqua Dance and Music Ensemble. Her company of eight dancers gave a lively, easy to watch, finale to the program. The music was by Galang and Vijay Iyer Trio.

In it, Taylor created delightful and dynamic patterns that made all the dancers look comfortable with the swing movement and even weaved a little romantic story-line through the piece. Delightful!

A narrative work, "Angst: 3 AM" by Kendra Barnes in collaboration with the Kendra Kimbrough Dance Ensemble (KKDE) used a complex script to tell a story exemplifying a Black family and their boy. Although well portrayed by Alexander Brown, Shawn Hawkins, (a most notable dancer), Cria Merchant and Patricia Ong, the work could have used tightening and shortening to be more effective.

"Reconstruction Study # 1A" a work by Chris Evans with Byb Chanel Bibene and David Boyce (on saxophone) gave us performers who could move between dance and musical ability. It was a good effort at such fusion, but to this reviewer, it needed to be more thoroughly constructed to be effective.

Gregory Dawson, director of dawsondancesf, was formerly of the Alonzo King Lines Ballet. The heritage becomes clear as we see ballet on point to music by Handel sung by the counter-tenor Farinelli.

Dancers Jordan Drew, Ilaria, Erik Debono and Alexander Vargas all display excellent ballet technique in Lines' "fling and extend" style. Dobono prevailed better in his solo "Salve Regina." He was not on point. The major question here is, does this quality of quiet, serene, almost religious music of the 18th century, sustain the busy continually frenetic technical work that this contemporary ballet demonstrates. For this reviewer, it was entirely inappropriate.

Congratulations to BCF for its Summer Series, its technical staff, Laney College and all those who support and make BCF possible. We look forward to seeing the February Festival, reviewing some of these works again and applauding the work of Black Choreographers whenever and wherever they are.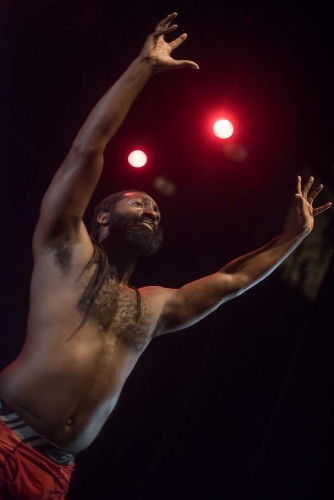 Antoine Hunter of Urban Jazz Dance Company in an excerpt from "The Body of a Black Man."
Photo © & courtesy of Kimara Dixon