Vim Vigor Dance Company lives up to its name as abundant in vim and boundless in vigor. The New York premiere of the hour-long Future Perfect, on February 11 at New York's Baruch Performing Arts Center was choreographed and conceived by Shannon Gillen. It employed five talented dancers to weave an offbeat tale derivative of a pastiche of horror, sci-fi and psychological genres. What you made of it was up to your own imagination and experiences as much as it was in the imagination of the clever choreographer. Or you could just enjoy the exceptional dancing.

Two women come upon two men with a tent, who are camping in the woods. There is a thin stream of fog wafting through. Allie (Emma Whiteley) and Mel (Laja Field) came to watch a meteor shower in the middle of the night. In the woods. There is some flirtation between Nate (Jason Cianciulli) and Mel. She makes goo-goo eyes at him; his friend, Ivan (Martin Durov) and he josh around as only adolescent males of all ages can. The two potential lovers make some small talk, which is hard to hear beneath the pounding, ear-splitting musical score by Martin Durov. Portend.

Meanwhile, Allie sprays herself with enough bug spray (amplified for effect) to eliminate the entire population of Zika-bearing mosquitoes. She is drawn to the sounds emanating from beneath the tarp of the stage right boulder. A female arm is showing. Then the rest appears. At first, she (Rebecca Diab) is dead, then alive, then dead, and finally very much alive, with stirring dance. Then she disappears. We are just as confused as the four are, but they muse and dance about it. Later, there are flashlights. Then the two men and Mel emerge wearing full-faced glittery silver masks and dance wildly. Then the three women are wearing dresses. There is a seduction scene with one of the men the target of their fervor. Orpheus or Pentheus ripped to shreds by the Maenads? Dionysus (Bacchus) and his wild female Maenad groupies? Writhing, wriggling, pelvic thrusts, clawing, clinging ensue. Not as bloody as the Greeks or Romans, but energetic and effective.

Although sex and violence are always omnipresent, an overt mayhem scene occurs: a gun appears in Ivan's hands. An aggressive duet with Mel follows. Fadeout: with the lights back on the gun has cleverly transformed into a can of soda or beer. The dead girl appears; duet with Mel. She pulls Mel close to the campfire and there is burning. The two fake evergreen trees on either side of the stage light up with Christmas decorations. Carol singing. More duets. All five dance fast and furious. Lifts, twists, turns, high jumps, acrobatics to outshine the Olympic gymnastics team.

At the end, the dead girl, or spirit, or ghost or confused person or collective consciousness asks, "You wanna see?" The spot under the tarp lights up. All curious. Do they enter? Finale.

For those who want a definitive conclusion like the last episode of "Breaking Bad," you might have to watch the reruns. But like our favorite meth dealer series, there are complex relationships, conflict, fear, uncertainty, turmoil and none escape. Not bad for a limited run.
Vim Vigor Dance Company in "Future Perfect."
Photo © & courtesy of Arnaud Falchier
---
Vim Vigor Dance Company in "Future Perfect."
Photo © & courtesy of Arnaud Falchier
---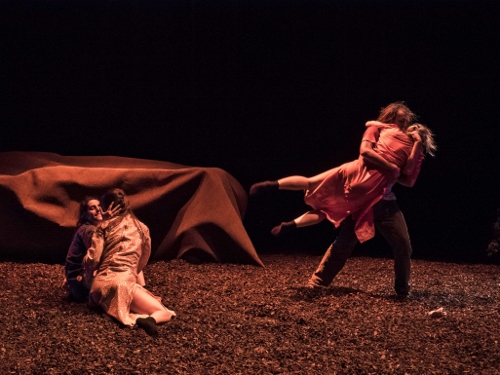 Vim Vigor Dance Company in "Future Perfect."
Photo © & courtesy of Arnaud Falchier