"Murder, mayhem and angst are what everyone expects of Martha Graham," declared Janet Eilber, artistic director of the Martha Graham Dance Company, by way of introducing the February 18 evening's program. This season's two-week run (February 14-26) at The Joyce was billed "Sacred/Profane" because it not only included Graham classics, but also presented works by four contemporary choreographers and highlighted spirituality, ritual, mystery and a bit of the whimsical.

Program C opened with, "Clytemnestra Act 2" (1958), which lived up to Eilber's triad of adjectives. Eilber, a former Graham principal dancer explained, "[The movement] is always two-dimensional as if chiseled off a Greek vase," signature Graham gestures and postures in profile. It is the mythological tale of tragedy, revenge and family dysfunction. Clytemnestra (PeiJu Chien-Pott) and her lover and husband's cousin Aegisthus (Lorenzo Pagano, in the unenviable role of lying motionless on a divan for most of the performance) murdered her husband Agamemnon (Ben Schultz). His ghost, wearing towering platform shoes, haunts the living. Clytemnestra feels trapped in the blood of the family curse, while the children, son Orestes (Abdiel Jacobsen) and daughter Electra (Xin Ying) are prodded to avenge his death. The set by long-time Graham collaborator Isamu Noguchi was stark, but effective: a high throne, two tall crossed poles and a divan for the sleeping Aegisthus. Graham makes use of one of her favorite materials, a stretch fabric (blood red), which Chien-Pott extends to its limits to evoke all kinds of angsty emotions.

Next, Annie-B Parson's world premiere "I used to love you" was a re-imagining of Graham's 1941 dance-theater piece "Punch and The Judy." It is atypical of Graham, notes Eilber, because there is speaking and humor. Perhaps in contrast to Graham's more serious works, this was considered a comedy at the time, but it is far from it. Even Parson, in an interview with The New York Times, admits that she found it "unfunny" when she viewed the extant archival film, last performed in 1948, on which she based her work. Parson noted that about 85 percent of the choreography was extracted from the original work, but with many modifications and iterations.

The theme was marital infidelity, yet another family in dysfunction, so not so far from the Greeks after all. Punch (Lorenzo Pagano) is cheating on his wife, The Judy (Xin Ying), but in a modern update his lover is a man. In the original, Punch had the hots for Pretty Polly. There were also Three Heroes as Idealists: the Solider, the Scout and the Highwayman, with whom The Judy has flirtations but doesn't act on them. Gone also is Pegasus and a blissful Dreamworld as her refuge of hope. In the newer version, The Judy is left on her own to fret, fume and suffer unabated in emotional solos and duets with Punch. The duet between bare-chested Punch and his lover (the versatile Ben Schultz) was performed mostly on a narrow cot, with thrilling lifts, strength and sensitivity. The daughter (So Young An) had a touching duet with her father, a lot of throwing herself at him for love and attention, which he eventually rejected. Playwright Will Eno added text to overlay the dance narrative, recited by the ever-present Chorus or Fates (Laurel Dalley Smith, Anne O'Donnell and Leslie Andrea Williams in bright pink, orange and red tulle skirts). They rolled around on office chairs, spoke into microphones, dangled their legs from the stage and presented some comic relief to the emotions that were unfolding onstage. There was a powerful image of the Earth on a big screen as well as the looming presence of Martha Graham herself in full face and voice. A TV-size screen flashed the original dance in scratchy black and white film, with parts missing. The last spoken words were, "Shall we begin again?" No one got murdered in body, but the soul certainly took a beating.

Also having its world premiere was Belgian choreographer Sidi Larbi Cherkaoui's dynamic "Mosaic," set to traditional Middle Eastern music drawn from Sufi mysticism. The title hints at the theme of diversity and unity, but doesn't politicize it. The nine dancers first appear in a tight pack with hands in many positions. They break away into flowing movements of turning and curvy pelvic slides with graceful Middle Eastern hand positions. They piled up again and shook and trembled. One person was expelled from the group. Then they all broke away. The women stripped down to shorts, revealing hennaed legs and the men wearing long pants, revealed hennaed arms. They all wore flesh colored tops. Fast dumbeks (Middle Eastern drums). Back to group pose, shaking and quaking. A different person was expelled. Repeat. It was a fine, well-crafted crowd-pleaser.

The final piece, the witty "Maple Leaf Rag" (1990), was Graham's last work, created a year before she died, in which she satirized her serious reputation. Her voice on the soundtrack: "Oh, Louis [Horst, her musical director], play me the Maple Leaf Rag," she would say to him when frustrated by a new dance she was creating. There's a springy ballet barre, on which the dancers can sit and move about. The light-hearted choreography was terrific and still bears Graham's stamp. A lone figure swathed in white slow danced and whirled across the stage at regular intervals, a reminder of Graham's formidable presence even in fun.
Lorenzo Pagano and Ben Schultz in Annie-B Parson's "I used to love you."
Photo © & courtesy of Brigid Pierce
---
Lorenzo Pagano and Xin Ying in Annie-B Parson's "I used to love you."
Photo © & courtesy of Brigid Pierce
---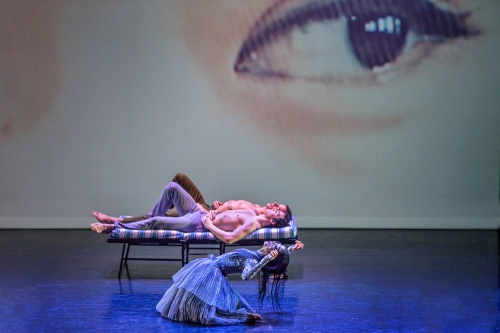 Lorenzo Pagano, Ben Schultz, and Xin Ying in Annie-B Parson's "I used to love you."
Photo © & courtesy of Brigid Pierce
---
(L to R) Anne O'Donnell, Leslie Andrea Williams, Laurel Dalley Smith, and Xin Ying in Annie-B Parson's "I used to love you."
Photo © & courtesy of Brigid Pierce
---
Abdiel Jacobsen and Xin Ying in Sidi Larbi Cherkaoui's "Mosaic."
Photo © & courtesy of Brigid Pierce
---
(L to R) Leslie Andrea Williams, Lorenzo Pagano, Anne Souder, Lloyd Mayor, Anne O'Donnell, and Abdiel Jacobsen in Sidi Larbi Cherkaoui's "Mosaic."
Photo © & courtesy of Brigid Pierce
---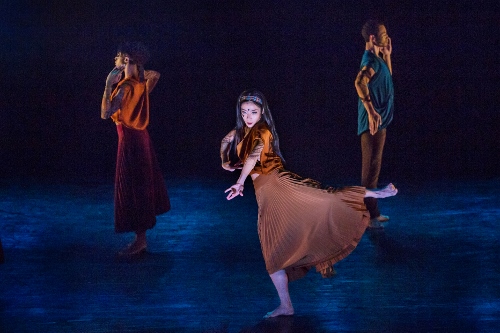 Xin Ying (center), Leslia Andrea Williams, and Abdiel Jacobsen in Sidi Larbi Cherkaoui's "Mosaic."
Photo © & courtesy of Brigid Pierce