Flamenco came to New Mexico from Spain. Along the way it picked up a decidedly New Mexican flavor that is now (sometimes begrudgingly) recognized back in the old country. This summer, the New Mexico style was celebrated by a 27-year-old dancer/entrepreneur La Emi. She headlined with her troupe July 13 - August 26 at The Lodge in Santa Fe, New Mexico, in a theater named for the legendary flamenco artist Maria Benitez, with whom La Emi studied.

Now a teacher herself, La Emi passes on to her students both the classical flamenco form and the contributions of the unique Hispanic culture of New Mexico.

La Emi's graceful and elegant performance is matched by the commitment and verve of two highly skilled and seemingly inexhaustible brothers – José and Nevarez Encinias, ages 20 and 27. Each one performs for half the season.

Stunning costume changes abound during the course of a performance, and La Emi herself dazzles in vibrant primary colors.

The audience on opening night, July 13 ranged from flamenco aficionados to those that were not necessarily fans. By the end of the performance however, there were more than a few converts to the emotional, sensual storytelling.

The intimate setting and the performers' flirtations, fast footwork, balletic movements and the stirring click of castanets pulled the audience into the excitement that unfolded on stage.

In Latino culture la familia (the family) is all-important, and La Emi's troupe became one. Chuscales, a guitarist who started out as a dancer, was tuned into what each dancer needed at each moment –more or less tension, a change of rhythm, something soft or forceful. And he, in turn, became integral to the dance.

Adding to the depth and flavor of each flamenco show, singer Vicente Griego voice was inspiring. With closed eyes, he turned inward to what he knows and feels as he sung of the landscape, people, and culture of New Mexico.

Flamenco is passed to young students, corazon a corazon (heart to heart). La Emi instructs her pupils, who range in age from six to sixteen, in her modest studio located in the heart of Santa Fe. She imparts more than just the steps, postures and hand movements: La Emi develops students' confidence and authenticity, encouraging them to tell their own stories when they dance. They learn to tap into their own feelings of sadness, triumph, pain, longing, hope and love.

When La Emi's students perform they sometimes share the stage with other young dancers, like a Mexican folkloric troupe. Both groups are driven by the same goal: cultural preservation through authentic dancing and music.

With performance series like that at The Lodge this summer, La Emi's star continues to rise. Her intense spirit for Flamenco continues to inspire both audiences and the students she teaches who represent the future of the art form.
La Emi in red.
Photo © & courtesy of Paul Ross
---
Emi and partner.
Photo © & courtesy of Paul Ross
---
A fantasy in white.
Photo © & courtesy of Paul Ross
---
Featured dancers in gold.
Photo © & courtesy of Paul Ross
---
Advanced students in action.
Photo © & courtesy of Paul Ross
---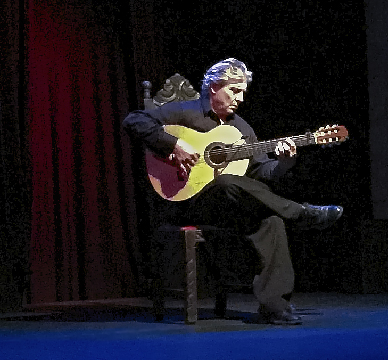 Chuscales.
Photo © & courtesy of Paul Ross
---
Vicente Griego, whose singing is emotional, powerful, and inspired.
Photo © & courtesy of Paul Ross
---
Flamenco school.
Photo © & courtesy of Paul Ross
---
La Emi welcomes all at the doorway to her studio.
Photo © & courtesy of Paul Ross
---
Guest artists at a performance include a Mexican folkloric troupe.
Photo © & courtesy of Paul Ross
---
La Emi and company.
Photo © & courtesy of Paul Ross
---
Intense concentration and dedication insure Flamenco's future.
Photo © & courtesy of Paul Ross